My husband and I used to watch endless hours of Food Network TV back in the day when the majority of shows were actually cooking shows.  Hard to believe that was fifteen years ago.  Our favorite shows were Cooking Live with Sara Moulton, Door-knock Dinners, Corner Table With Bill Boggs, Hot Off the Grill with Bobby Flay, Grillin' and Chillin, and Essence of Emeril. This is was the beginning of Emeril taking over the prime time slot with Emeril Live, which we watched regularly.  We also went online and printed his recipes on a regular basis, I'd say at least every couple of weeks we would try something new.  At last count I have about four of his cookbooks, but it has been a long time since I've pulled them out and used a recipe.
An early Fat Tuesday celebration presented the perfect excuse to pull 'em out again and get cooking.  It is fun to look back through my cookbooks and see the notes I have written about recipes.  I try to make note when I try recipes, I make comment on how we liked it add the date and make notes if I made any alterations.  I decided on Shrimp Etouffee and corn bread, I found it one of his cookbooks then happened to find it in another that had the note "Great. Mardi Gras 2002".  It did not fail to please this time either.  It has a nutty rich taste from the roux, the tomato lightens it up however so that it is not as heavy as a gumbo.  Delicious way to celebrate, and even better as leftovers.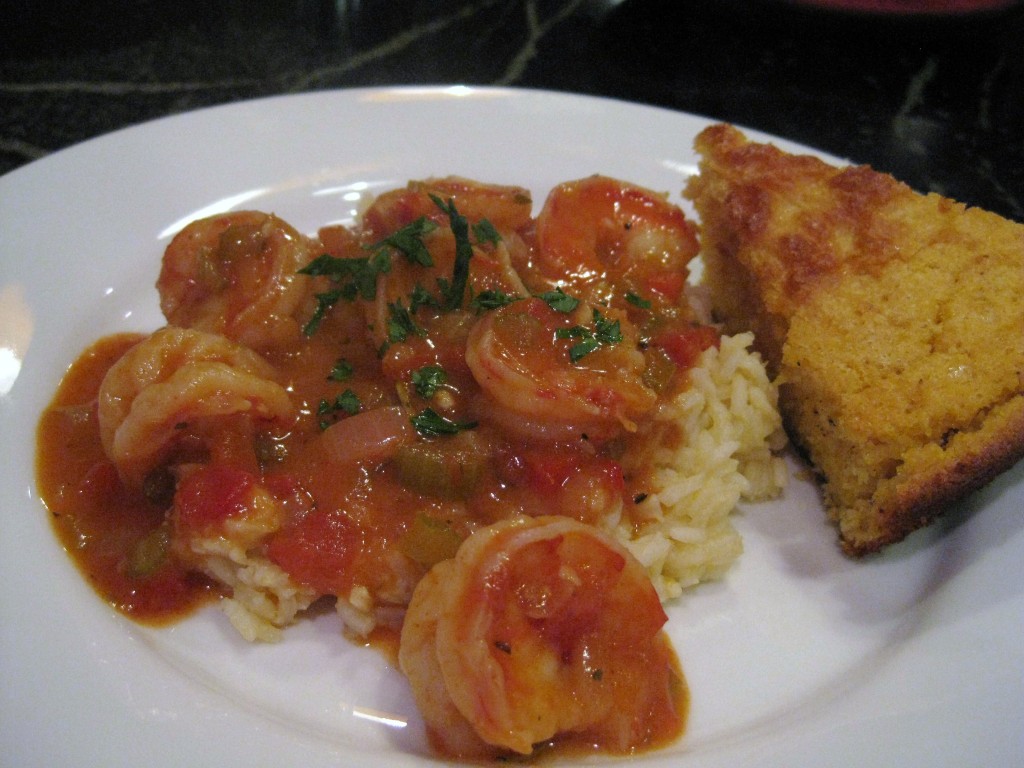 Shrimp Etouffee
Adapted from Every Day's a Party
4 tablespoons unsalted butter
¼ cup all-purpose flour
3 small onions, chopped
1 red bell pepper, chopped
4 stalks celery, chopped
2 garlic cloves, minced
1 (14.5-ounce) can diced tomatoes
2 bay leaves
1 ½ teaspoons salt
½ teaspoon cayenne pepper
2 tablespoons Emeril's Essence
1 quart vegetable stock
2 pounds medium shrimp, peeled and deveined
1/4 cup chopped parsley leaves
Steamed white rice, for serving
1.    Melt the butter in a large pot over medium heat. Add the flour and stir continuously to until the color of peanut butter, 5 to 7 minutes.
2.    Add the onions, bell pepper, celery, and garlic to the roux, and cook, stirring often, for 10 minutes.
3.    Add the tomatoes to the pot and season with the bay leaves, salt, cayenne, and 1 tablespoon of the Essence. Cook the tomatoes for 2 to 3 minutes and then whisk in the stock.
4.    Bring the mixture to a boil, and reduce to a simmer. Cook the etouffee, stirring occasionally, for 45 minutes.
5.    Season the shrimp with the remaining tablespoon of Essence and add them to the pot, stirring to evenly distribute. Cook the shrimp for 5 to 7 minutes, or until they are cooked through.
6.    Add the chopped parsley to the pot and stir to combine.
7.    Serve over steamed white rice.
Shared on Tasty Tuesday Parade of Foods, Cookbook Sunday and Tasty Tuesdays