The weekly boxes contain a lot more produce than I expected.  We still have plenty left from last week, but Easter leftovers made using them up a bit more difficult.  I definitely need to tackle the meal plan more efficiently this week.
I easily used all the spinach last week by making a cheesy spinach dish, one to eat and one to freeze.  The greens were a bit more difficult to get through, even eating salads everyday.  I may have to give some away this week to avoid it going to waste.
The Hakurei turnips were interesting.  I tried them raw first, as was suggested. They were described to me as being sweet, but at first taste they are a bit pungent and left me thinking "do I like the taste of these?", after a few bites I got used to the flavor.  I ate most of them grated into my salads.  I also tried them sauteed, quartered in oil with some garlic.  They looked like roasted potatoes.  Sauteing them brought out their sweetness.  I had the kids eat one before I told them what it was.  The four year-old immediately gave it a thumbs down.  I finally gave him the ok to go spit it in the garbage, he then proceeded to throw up.  Nice.  Betting he never tries turnips in his lifetime.  Everyone else liked it, which it good since we got more this week.
In this week's box…
Spinach
Bok Choi
Hakurei Turnips
Mesclun Mix
Kale (Red Russian)
The box looked a lot like last weeks, with the addition of the kale.  I am going to use the spinach this week in Crab stuffed shells since I have a bunch of farmer's cheese left from my mom's Easter shopping trip.  Will likely saute the bok choi and kale to go with leftover kielbasi from my mom as well.  I never got to make my salad last week so that is on the menu also! 
The cheesy spinach I made last week was a hit, extra yummy with hot sauce.  I even ate some for breakfast one day.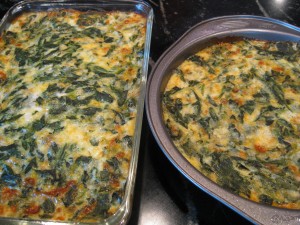 Cheesy Spinach
adapted from Asparagus to Zucchini
Base:
2 eggs
1 1/2 teaspoons lemon juice
1 cup brown rice, cooked
1 1/2 teaspoon dried Italian seasoning
2 Tablespoons Parmesan cheese, grated
salt and pepper to taste
Topping:
3 cups spinach, chopped and steamed
1 cup cottage cheese
1 cup cheddar cheese, grated
3 eggs
salt and pepper to taste
pinch of cayenne
Mix base ingredients and spread in a greased 8×10 casserole dish.
Mix topping ingredients and spread over base.
Bake at 150 degrees for about 50  minutes.
Now what to do with the lamb butter!
Shared on Friday Potluck