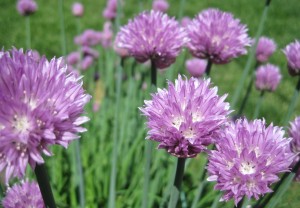 Herbs are most flavorful right before they flower and gardeners say you are not actually supposed to let them flower.  Eh, I make an exception to this rule with my chives.  They come in with a vengeance every year and I can barley keep up during a rainy spring.  But mostly I let them flower because I simply love the flowers!  Reason enough to overlook this rule.  I cut them and let them sit in mason jars as decorations. they last for a good long time too.  Besides there are more chives in my garden then I will ever eat, and the flavor is still plentiful even after flowering.  The flowers are tasty sprinkled in a salad too.  Another great use for the flowers is to liven up a simple white vinegar by my making chive flower vinegar.
There is not much of a recipe for chive flower vinegar, simply fill a jar half full with chive flowers and top with white vinegar.  Let it sit in a dark cool place for two weeks.  The vinegar turns such a magnificent shade of pink.  Strain and enjoy.
The resulting vinegar has a slight onion taste and works great in this simple everyday vinaigrette.
Everyday Vinaigrette
4 tablespoon vinegar
1 teaspoon Dijon mustard
1 large shallot, finely chopped
1/2 cup extra virgin olive oil
Salt and pepper to taste
Combine vinegar, shallot, and Dijon in a bowl.
Slowly whisk in olive oil until combined.
Season with salt and pepper to taste.
Adjust the vinegar to oil ratio to taste, I like mine a bit more on the acidic side.