It was love at first bite a few years back when I had my first garlic scape. I was so excited to see them in the box this week.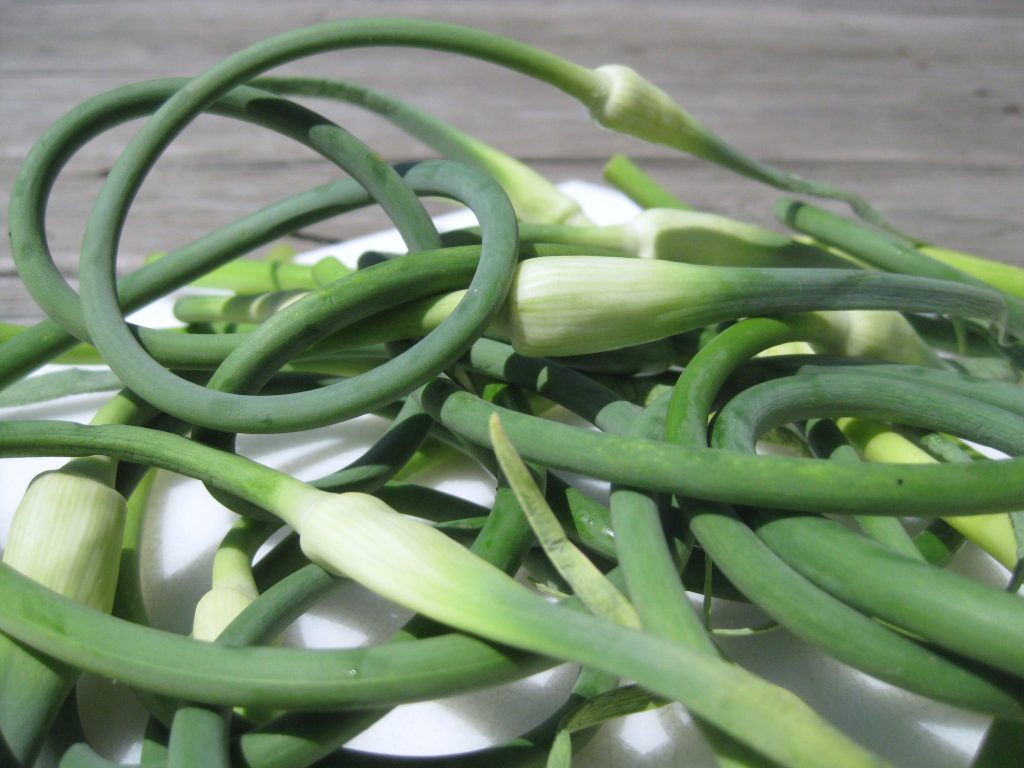 Scapes are the top of the garlic plant. Similar in looks to a scallion, in texture to a green bean, and in flavor has a mild garlic flavor with less bite. Here is what else was in the box this week.
Strawberries
Head Lettuce
Sugar Peas
Broccoli
Radishes (topped)
Kale (Red Russian)
Garlic Scapes
Garlic scapes can eaten raw or sauteed, really can be used in place of garlic or onion in any recipe.  I especially enjoy them cooked up as a stir-fry.  Given our schedule this week I knew it was going to be tough to use them so I decided to make then into pesto so I could freeze it for later.
Garlic Scape Pesto
1 cup garlic scapes (about 10 scapes), top flowery part removed, cut into ¼-inch slices
1/3 cup almonds
1/2 cup grated parmigiana
¾ cup olive oil (can use broth in place of some oil)
½ teaspoon salt
black pepper to taste
Place scapes, almonds, and cheese in the bowl of a food processor and whiz until well combined and somewhat smooth. Slowly drizzle in oil and process until integrated. With a rubber spatula, scoop pesto out of bowl and into a mixing bowl. Add salt and pepper to taste. Makes about 1 cup of pesto. Keeps for up to one week in an air-tight container in the refrigerator or freeze for about 3 months.
You can use walnuts or pine nuts if you like, I just happened to have almonds on hand.  I also keep mine a bit chunky, I like the texture.  My favorite way to use this is on pasta.  For ½ pound short pasta such as penne, add about 2 tablespoons of pesto to pasta after cooking and stir until pasta is well coated.  This is also great as a pizza topping or mixed in food processor with a can of white beans as a dip.
If you haven't tried garlic scapes I highly recommend you look for them at your farmer's market, they are so delicious.