We are headed out of town today so once again the goal is to prep the vegetables to enjoy later.  Here is what I had to work with…
Summer Squash
Torpedo Onions
Eggplant
Garlic
Dill
Red Cabbage
I decided to preserve the onion, garlic, squash and eggplant in oil.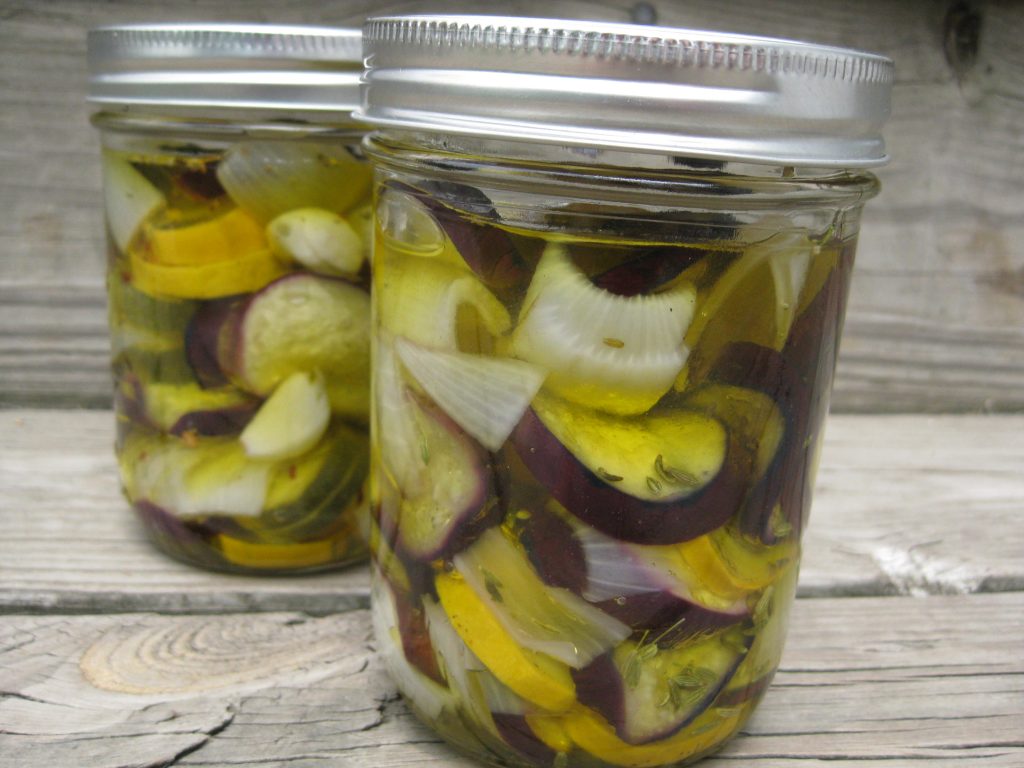 Summer Vegetables in Oil
adapted from PreserveIt!
3 medium yellow squash, sliced 1/4 inch thick
2 small onions, sliced 1/4 inch thick
2 medium eggplants, sliced 1/4 inch thick
8 cloves garlic, peeled
2 cups white wine vinegar
2 t. sugar
2 s. kosher salt
1-2 cups olive oil
1 t. crushed red pepper (also choose from: fennel seeds, oregano, rosemary)
Place squash, onion, garlic and eggplant in a saucepan.  Cover with vinegar.  Add sugar and salt and bring to boil.
Boil vegetables about 3 minutes.
Remove vegetables and drain on wire rack and pat dry with paper towels.  Allow to cool.
Loosely pack vegetables in jar, add seasoning, and cover with olive oil.  With knife move vegetables around to remove air pockets.
Top jar and store in refrigerator for one week before enjoying.  Add additional olive oil as needed to keep vegetables covered.
I made two jars, one with crushed red pepper and one with fennel seeds.  This mixture will make a great hot night dinner with some cured meat and cheese and a nice crusty baguette.  Perfect for when we get back from vacation and don't feel like cooking.