We are halfway through our summer vacation. Two weeks of vacation is a dream.  Though the first week of our trip was no leisurly vacation though let me tell you.  We ventured through the battle fields of Gettysburg, visited Heryshey PA, walked all over NYC, saw Plymouth Rock, walked thre Freedom Trail in Boston, hunted some withes in Salem and lots more in between.  We were so exhausted every single might from all day walking and sightseeing.  We survived, had some fun, saw some cool stuff and are thankful to have a week at the beach to relax before heading back to the real world.
On the trip my daughter has turned into a hard core clam chowder lover. She would eat it for breafast if she could.  She is still requesting clam chowder for meals, or as her East Coast cousin has corrected her on the proper pronunciation "chowdah".  Our first dinner in town and we got to enjoy some of Tom's roadside clams on the grill. Clams on the grill! I have never had clams prepared this way, they were incredibly delicious. My brother in law grills a mean clam.
The clams were delicious but we couldb't eat through the dozens of clams and we had a large bowl leftover.  Perfect for some homemade clam chowdah.  We cut out all the meat, and saved the juices.  After a beautiful morning on the beach and afternoon in the pool my daughter was more than happy to be my sous chef.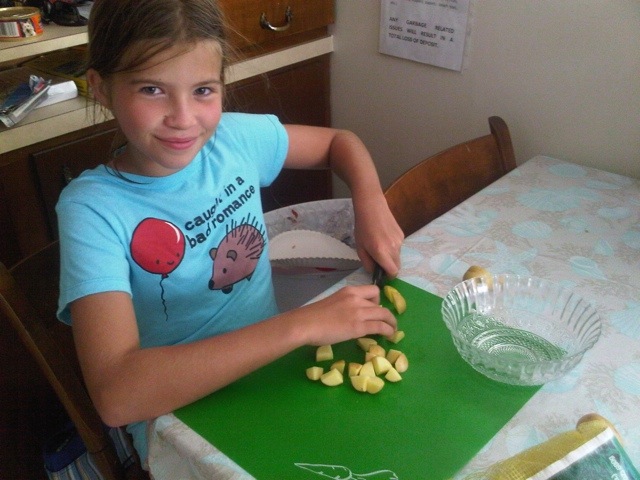 This was first attempt at clam chowder, so I was somewhat winging it. Pretty easy recipe to whip up, though fresh clams certainly helped my cause!
New England Clam Chowder
Makes 4 servings
4 strips of bacon
1 cup onion, finely diced
1/2 cup celery, finely diced
Celery greens, finely chopped
2 cups potatoes, diced
1 cup clams, cooked and finely chopped
1/2 cup clam juice
1/2 cup white wine
1/2 cup water
3 cups half and half
1/2 cup flour
Salt and pepper, to taste
Brown bacon in large stockpot. Remove bacon and set aside.
Add onion and celery to bacon grease, cook about 5 minutes until tender.
Season with salt and pepper.
Add potato, clams, clam juice, white wine, and water and bring to boil.
Simmer until potatoes are tender, about 15 minutes.
Whisk together half and half and flour. Stir into pan and season to taste.
Return pot to boiled, simmer 15 minutes stirring often.
Stir in chopped bacon or serve on top of each bowl.
One very satisfied customer, my daugher deemed it the best chowder of the trip. Her cousin and friend killed the rest of it. Though they they spent the day walking the back so they would have eaten anything. At any rate, I would call this a success since the pot was scraped clean!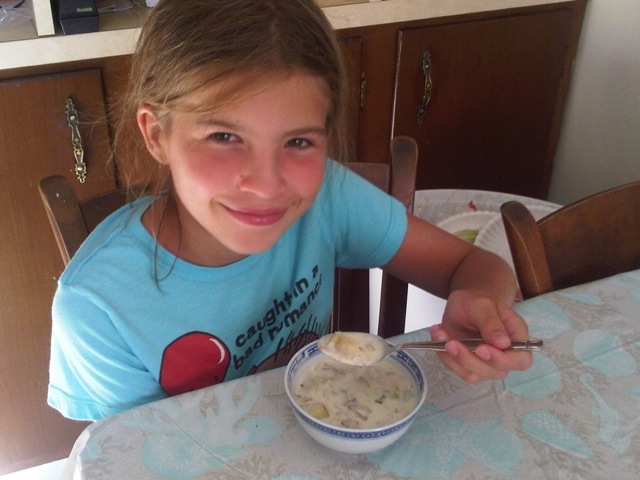 Looking forward to lots more seafood, sun, and surf on the rest of out trip.