This week's CSA box was a manageable size, thank goodness since I am still playing catchup from last week.  Not to mention the tomatoes and peppers coming out of my garden.  The goodies in this week's box won't last long…
Slicing Tomatoes
Black Cherry Tomatoes
Specialty Tomatoes
Tomatillos
Hot Peppers
Onions
Eggplant
Lettuce
The black cherry tomatoes are like candy.  Best. Tomato. Ever.  Of course the other tomatoes are too bad either.  Tomato sandwiches are definitely on the menu this week.  Tomatillos that are already husked, what a treat!  Normally I would roast these and make a salsa verde sauce for enchiladas, but with the heat wave I was not lighting the oven.  I pulled out my From Asparagus to Zucchini cookbook, it has been neglected that lasts few months, to see if what it had to offer.  A no cook salsa, perfect.  And I had all the ingredients in the house.  Mind you I was VERY skeptical about this one.  I love peach, mango, even cherry in my salsa, but banana is something I had never thought to try.  Happy to report it is wonderful, the tang of the tomatillo mellows the sweetness of the banana and in turn the sweetness of the banana cuts the heat of the peppers, the lime juice balances it all out.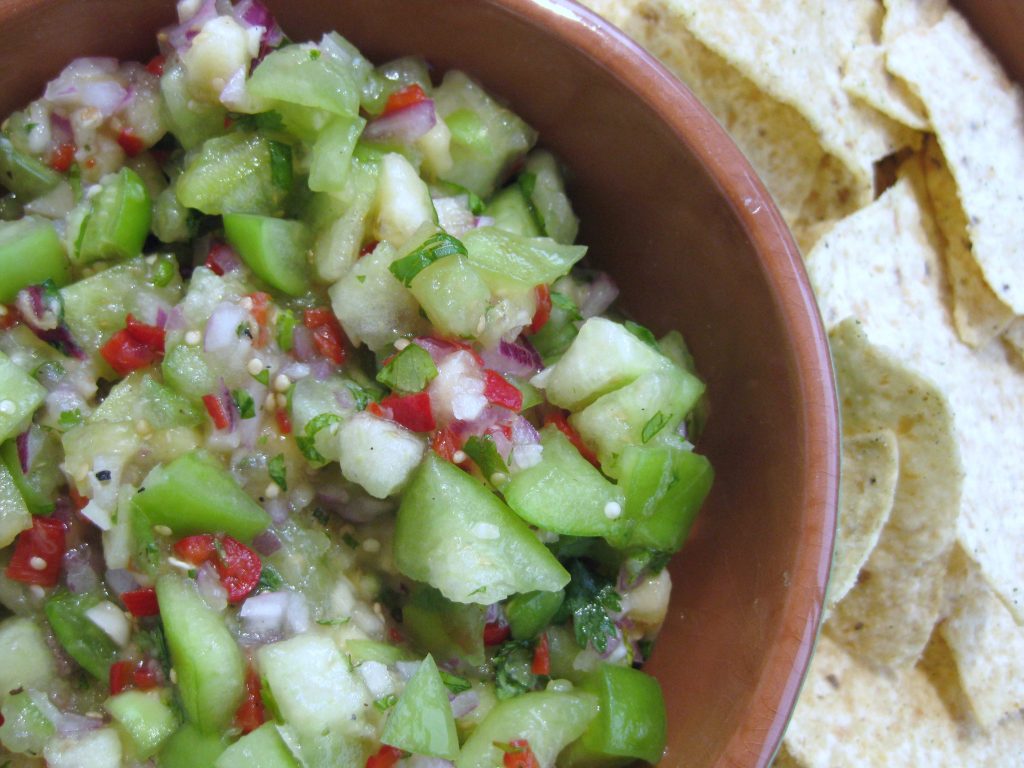 Ingredients
2 C. chopped tomatillos (husked and washed)
1 jalapeno, minced
1 small red onion, diced
2 cloves garlic, diced
3 T. cilantro, chopped
2 T. lime juice
1 medium banana, diced
salt and pepper
Instructions
Add all ingredients into a bowl and combine. Salt and pepper to taste.
Serve with plantain chips or tortilla chips.
Adapted Recipe from From Asparagus to Zucchini
If you are looking for something different to add to the salsa mix, this recipe is perfect. We ate this with chips but it would be perfect with grilled fish or shrimp.
Shared on Tasty Tuesdays