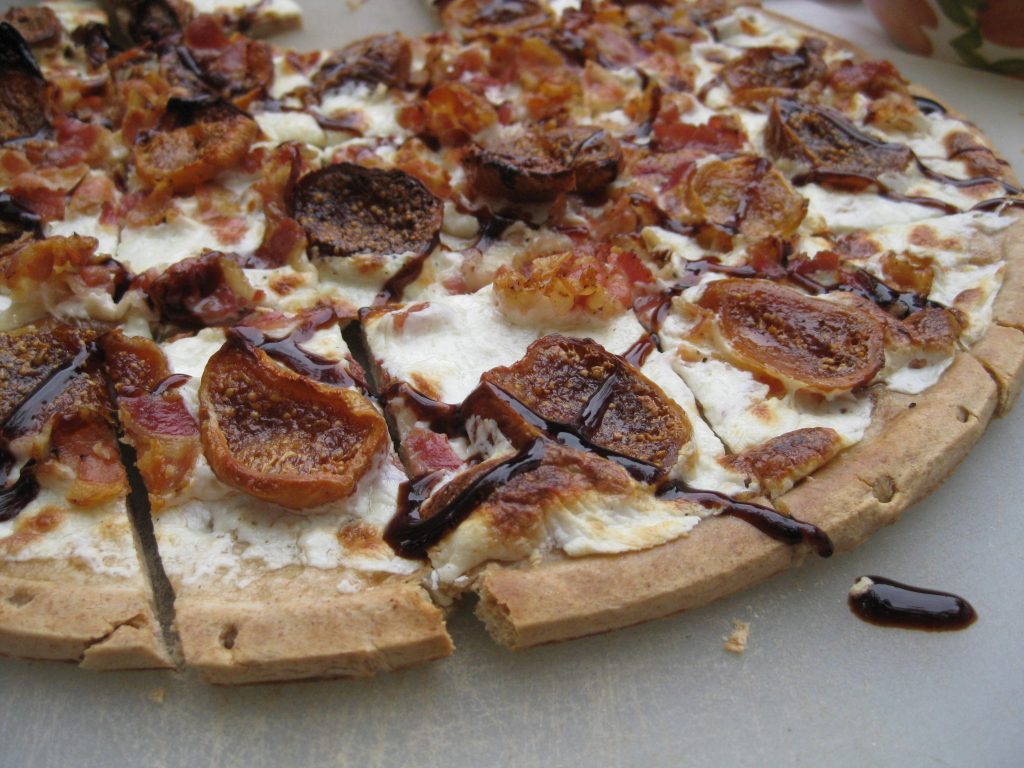 | | | |
| --- | --- | --- |
| Fig, Prosciutto, Balsamic Pizza | | |
Ingredients
pizza crust
Olive oil
kosher salt
fresh mozzarella, sliced
prosciutto
figs, sliced
balsamic glaze
Instructions
Heat oven to 425 degrees (or as instructed on store bought pizza crust).
Lightly brush pizza crust with olive oil and season with salt.
Cover pizza crust with a layer of cheese, arrange figs and prosciutto on top.
Bake pizza about 15 to 20 minutes.
Cool slightly and slice. Drizzle cut pizza with balsamic glaze.
I love love love this pizza!  It has everything to offer, crunchy crust, chewy cheese, salty meat, sweet fig with a touch of tang.  The balsamic is really the pièce de résistance!  I got a few bottles last time they had it at Aldi but it can just as easily be made.  Here is how to make a balsamic glaze.
The pizza makes a great appetizer for a large crowd or dinner with a simple salad.  Delicious and versatile, you can throw it together in a pinch of take your time to and make a process of preparing.  I prefer to make my own crust, but I saw a pre-baked store brand whole-wheat crust that I wanted to try.  Mix the topping ups too, use fresh or dried figs depending on what is available and in season.  Swap the prosciutto for any salty meat like bacon or pancetta.  The cheese can be swapped just as easily, goat cheese is the bomb on this but really just about any cheese will work.  Bake it, grill it, broil it, whatever floats your boat.
Mmmm, I could eat this everyday.  How soon can I make this again — Saturday night it is!