More tomatoes, woohoo!  More sweet peppers, not so much.  I have to find a way to make use of these soon.  I roasted and stuffed some last week for dinner but that only used up a few.  I used up a few more on our Italian beef sandwiches.  Beef, sweet with heat, wet!  The sandwiches were awesome.
Slicing Tomatoes
Specialty Tomatoes
Sweet Peppers
Hot Peppers (Jalapenos ~ very hot!)
Bok Choi
Onions
Lettuce
I set out to make the cabbage soup recipe in the Super Natural Every Day cookbook.  But when I went to get the cabbage to slice and add to the soup I realized I only had red cabbage.  DOH!  I decided to use the kale from a couple of weeks back instead.  The result was delicious anyway.  I topped it with fresh tomatoes.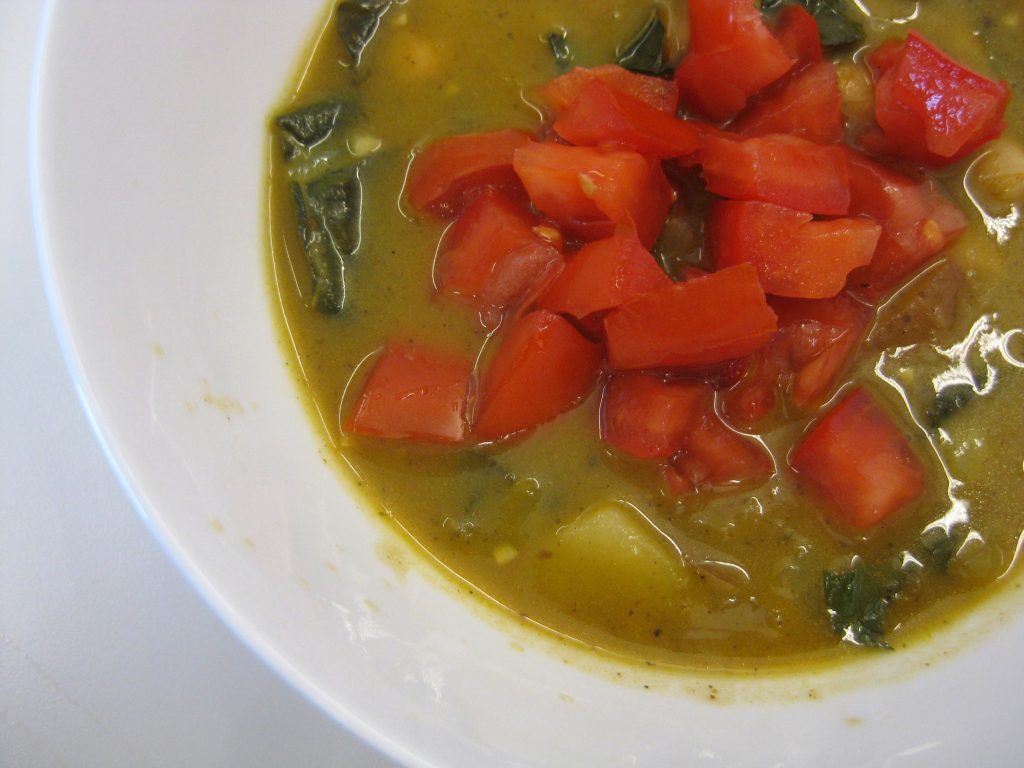 | | |
| --- | --- |
| Chickpea, Kale and Red Curry Soup | |
Author:
Ingredients
2 T. oil
4 medium potatoes, diced
2 T. red curry powder
1 large onion, diced
4 cloves garlic, minced
5 C. vegetable broth
1 can chickpeas, drained and rinsed
1/4 C. light coconut milk
1 C. kale, sliced in thin strips
Instructions
Heat oil in pan, add potatoes. Season with salt and pepper, cook until tender.
Add curry powder and stir to coat.
Add onion and garlic. Cook about 1 minutes.
Add broth and chickpeas. Bring to a boil, reduce to medium heat and simmer.
Add coconut milk and kale and simmer about 15 minutes.
Season to taste.