A great variety this week.  We were headed out to a tailgate so I used the tomatoes, peppers, and onion to make a quick fresh salsa.  Just zipped it in the food processor with some garlic.  The Broccoli was simply steamed and used to bulk up my breakfast omelets.  A good chunk of the hot peppers were quickly made into my favorite condiment, sweet heat treat.  With the cool temps salad is hard to get down, lettuce is challenge.
Soup is no problem though, especially when the week is full of rain and cold.  Plus it gave me a chance to use up some of the vegetable broth I made with all the odds and ends I had sitting around in the freezer and fridge.  Just simmer the vegetables in water seasoned with salt and pepper for a few hours. Strain into jars and freeze until needed.
 Slicing Tomatoes
Roma Tomatoes
Sweet Peppers
Hot Peppers
Butternut Squash
Onions
Lettuce
Broccoli
Radishes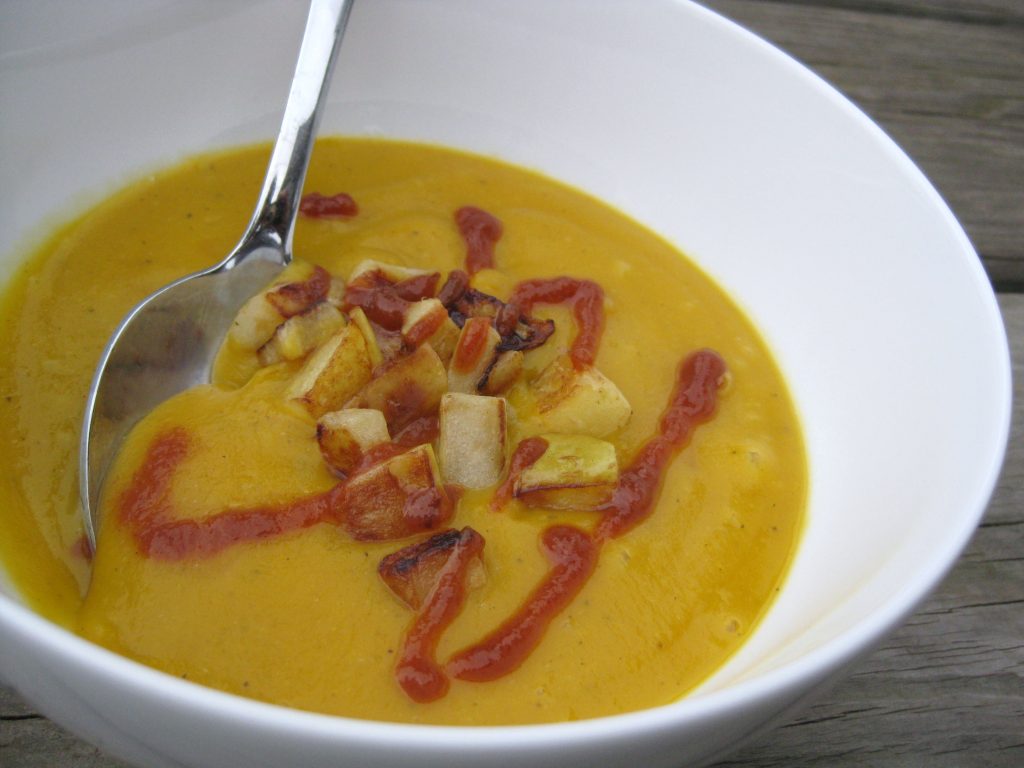 It turned out the color I have been seeing in the clothing stores this season. Trendy soup!  But looks are not everything, it is full of fall flavors in this bowl apples, squash, cinnamon I topped it with some crisp apple croutons and a ribbon of Sriracha.
Ingredients
1 butternut squash
2 T olive oil
1 large onion, chopped
2 small apples, chopped
3 cups broth, chicken or vegetable
1 1/2 tsp salt
1/4 tsp black pepper
1/4 tsp nutmeg
1/4 tsp cloves
1/4 tsp cinnamon
Instructions
Heat oven to 400 degrees. Halve squash and scrap out seeds and pulp.
Brush cut side of squash with olive oil and season with salt and pepper.
Cook cut side up for 25 minutes.
Cool cooked squash and scrap out meat. Set aside.
Heat 1 T. oil in large pot, cook onions and apples until tender and browned a bit. About 10 minutes.
Add in garlic and cook another minute.
Stir in squash and seasonings. Stir to coat.
Stir in the broth. Bring to boil and simmer about 15 minutes.
Pureed in batches in a blender.