Still facing a fridge of leftovers.  Unrelated, my camera is on the fritz.  Likely I changed some setting that resulted in crappy pictures.  Maybe I need a new camera.  Likely I just want a new camera.
Back to leftovers.  The bottom portion of our fridge is jam backed with CSA vegetables that I need to do something with.  You know while eating leftovers.  Tonight I did both and made something new.

Everything from the farmer except the tomatoes.  Cabbage really does last a long time in the fridge, this one had been around for awhile.  Roasted vegetables are easy cooking; chop, toss in oil, season with salt, roast at 400 degrees.  I have been doing this each week since the temperatures got chilly.  I use them all week in my eggs, salad, sandwiches.  Makes packing food for work super easy.
Tonight the vegetables went on top of greens from last week's CSA box, added on some leftover roasted chicken, drizzled with herb hummus vinaigrette.
Recipe Type:
Salad Dressing
Ingredients
1 cup hummus
1 cup fresh herbs
1/4 cup vinegar
1/4 – 1/2 cup oil
salt and pepper
Instructions
Add hummus, herbs, and vinegar to blender.
Blend all ingredients, drizzle in 1/4 cup of oil. Blender until smooth.
Drizzle in more oil to taste. Season with salt and pepper.
While I got the hummus I used in this recipe from Sabra through the Foodbuzz Tastemaster Program, hummus is actually a staple in our fridge.  Love this new use for it!  It is rich so it goes perfect with the meaty flavor of the roasted vegetables.  The vinaigrette would be great on actual meat too.  Good thing since this is now another leftover.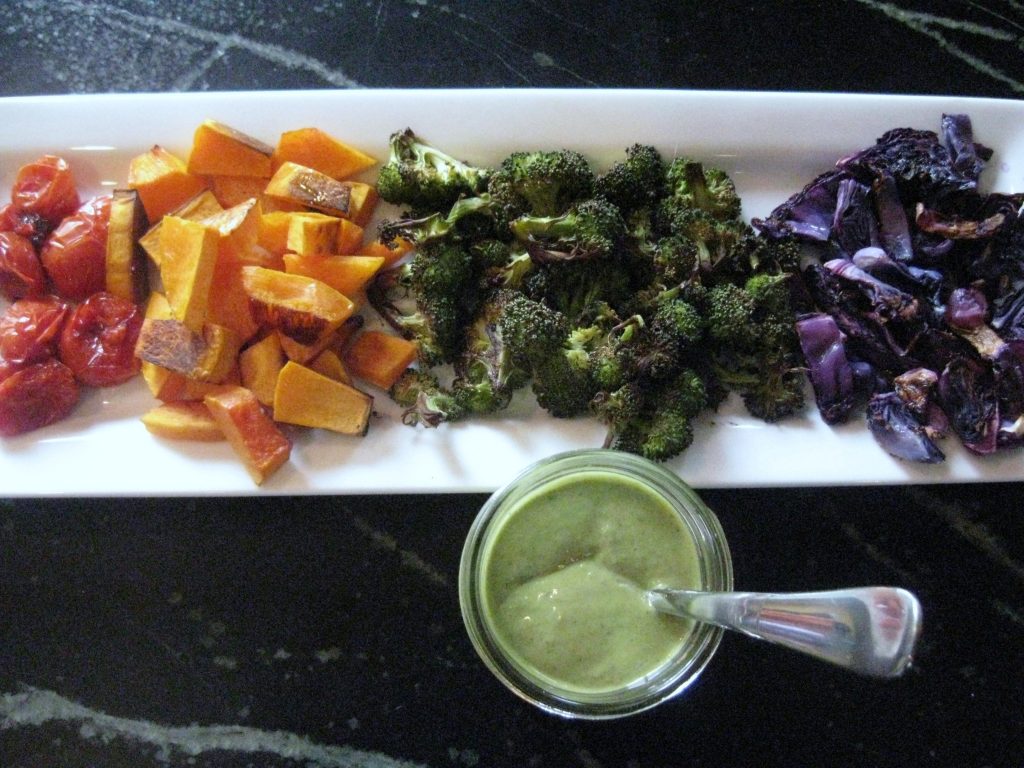 See what the camera is doing, I'm sure you agree I need a new one.