I am finally feeling back to normal after all the holiday cheer.  We had a great Christmas and New Year but I am ready to take on the new year.  And get back on the wagon.  It has been a busy 2012 so far but we've managed to kicking it off in a delicious and mostly healthy way…
Can you believe this rainbow chard has sat in my fridge since the first week in December and is still this fresh?  Our CSA ended just before Christmas and we are using up the last of the produce.  My body is screaming for fresh fruits and vegetables.  That will happen after a four-day indulgence seeing the old year out and ringing the new one in.  We used the chard for this Chard with Orange and Shallot recipe.  It is like a wilted salad, though I sautéed the chard a bit longer than the recipe suggested and topped it with stir fry chicken.  Great alternative to a cold salad in the Winter.
My husband took the reigns for dinner one night cooking up French Onion Salisbury Steak on Cheese Toast.  Holy moly was it delicious!  I don't recall ever trying Salisbury Steak, I am amazed at how the texture of the ground beef is just like steak.  But it was really the gravy that made it so great, it would be good on just about any beef dish.  Actually I want to make it to top fries, similar to poutine. This was one of the best meals we have had in a very long time.
We also tried out our not so new stove-top smoker.  Uh, yea it has been sitting in the box for almost a year.  I can't believe we've waited this long, it was so easy to use and the result were tasty.  You place a few tablespoons of wood chips in the bottom of the pan, top it with a drip pan, then the rack to hold the food.  The cover slides in place and you cook it on a single burner.  You can also use it in the oven or even on the grill.
We smoked a few heads of garlic.  Place it on the rack and smoke for about 45 minutes, easy easy.  Just like roasted garlic but obviously with smokey flavor.  Great simply spread on toasted bread.
The main event was ahi tuna (love the freshness of Trader Joe's frozen fish).  Oh my goodness was this good.  The fish was perfectly cooked and came out moist and rich with smokey flavor.  The advantage of using the smoker is you don't need to use oil to cook and the food sits on a rack so the fat drains into the drip pan and off the food. We just simply seasoned the tuna with a seafood seasoning a friend brought back from Seattle and nothing else.  It smoked up in about 20 minutes.  I just regret not doing more steaks to have around for leftovers.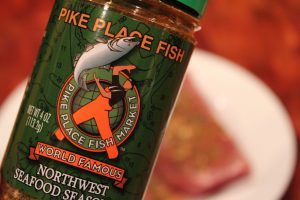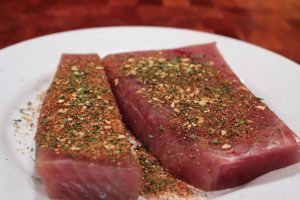 See the smoke in the tuna?  Mmm good!  Served it with a simple herb yogurt/mayo sauce and green beans.  The downside of the smoker is your house smells a bit like a Summer campfire.  Especially if the seal on the lid is not as tight as it should be like we found was the case with ours.  We'll need to bend some of the clasps, but we used the cast iron pans to keep the smoke in.  We loved the smell though, a nice reminder of Summer in the midst of Winter.
This smoker will definitely become a part of our regular routine, still can't believe we waited this long to give it a try.  It will make eating fish on a regular basis easier, we love fish but are not huge fans of preparing it indoors.  We've also had homemade sausage on our to try list for a long time, we can easily smoke it now.  But first we are going to try a smoking a meatloaf, doesn't that sound delicious?