When my friend brought me some raspberry Habanero jelly my mind immediately went to sandwiches.  I definitely agree with The Sandwich King that you can make any sandwich into a meal.
Back in my early days of working I would eat lunch out far too often.  My office was near the airport and we went to hot dog places, Red Lobster, Chinese buffets, and of course Denny's.  The Denny's Veggie Melt was my favorite for lunch, it was a combination of melt cheese, creamy avocado with cool crisp veggies all grilled on wheat bread.  The cold crunch of the vegetables were a perfect contrast to the warm melty cheese.
Once in a while I would go all out and get a Monte Cristo.  A Monte Cristo is basically a fried ham and cheese on french toast served with a side of jam.  I KNOW this was not healthy, close to your daily calories in this sandwich, but so delicious!  I haven't been to a Denny's in probably twenty years.  I bet if I ate this now it would not taste nearly as good as memory.  Best kep tin my memories anyway.
Another variation on the ham cheese that I love is the Cuban sandwich.  This sandwich is usually made with roasted pork, ham, swiss, pickles, mustard, all pressed and grilled on Cuban bread.
I decided to combine all my favorites from these sandwiches into one sandwich.  The result was delicious, behold my creation the Monte Cuban…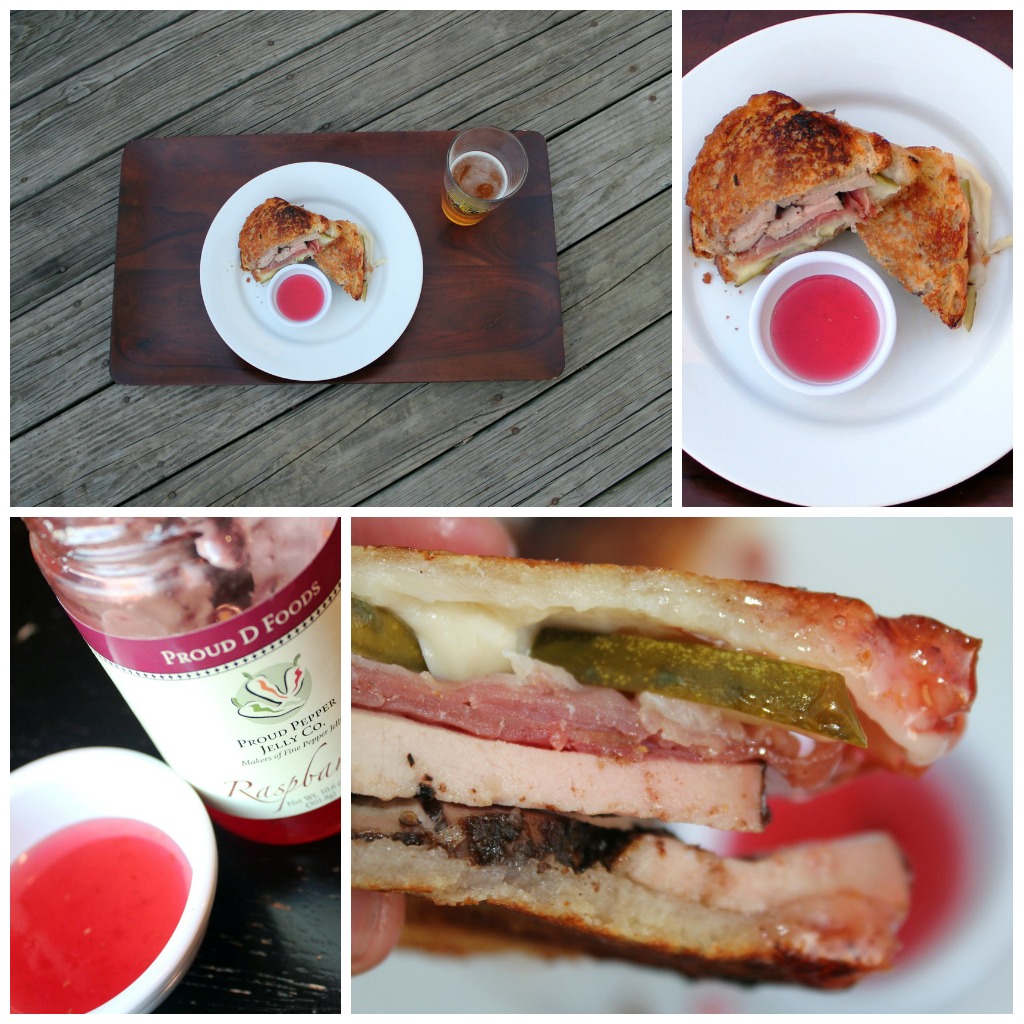 Sliced pork tenderloin, Jamón Serrano, swiss cheese, kosher pickle slices, raspberry Habanero jelly, all grilled on thick bread.
The pork was marinated for a few days in a dry rub that was a combinatino of Sweet Carolina mustard and steak seasoning, roasted it in the oven and it was so moist and tender.  Not a big fan of ham so I went with the Jamón Serrano..  I spread each slice of bread with the pepper jelly.  The trick to the golden crisp bread I have found is margarine.  We don't normally have this in the house, but on this night I found it was all we had in the house.  It grills up a sandwich so much better than butter in my opinion.  Of course it also helps to press it with my fancy Panini press.
So much going on in this sandwich.  Tender pork, salty Serrano, warm creamy cheese, cool crisp pickle, spicy sweet jelly, all enclosed in crispy golden bread.  Stands alone and needs no other companion than a cold beverage.  A decadent sandwich to say the least, but given the chance I would eat it everyday.