Last year to celebrate St. Patrick's day I successfully attempted home cured corned beef.  I wanted to try something totally new for this year.  About this last year I was over in Ireland for work.  I had some amazing food while I was there and my cooking to-do list grew exponentially.  Loads of dishes to recreate.  One of my favorite meals during my trip was at an Italian restaurant, it was a homemade wide pasta with red wine lamb ragu.  Absolutely delicious and it gave me a new look at I've wanted to recreate something similar since I finished my last bite at the restaurant.  St. Patrick's Day seemed like the perfect opportunity to give it a try to change-up the normal corned beef routine.  The dish I created isn't really that similar, but it's certainly inspired it.   Finding lamb shanks my grocery store is where it all started, I was very surprised to see them and the rest just fell into place.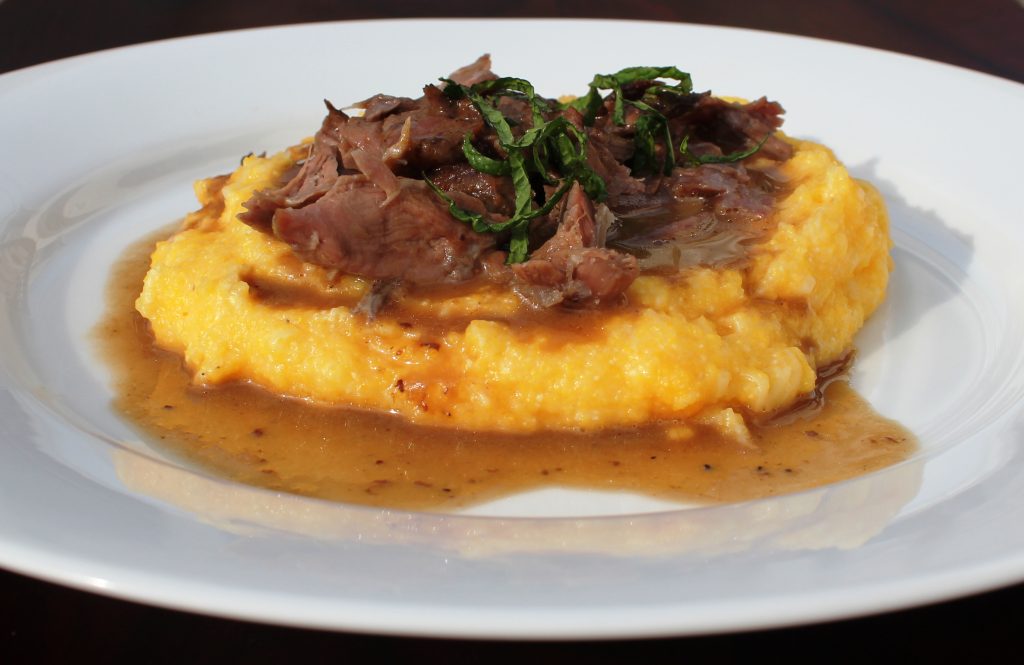 The lamb cooks low and slow in deep flavors lead by Guinness.  A bit of red wine wouldn't hurt either.
Slow Cooked Guinness Lamb Shanks
Author:
Prep time:
Cook time:
Total time:
Ingredients
3 lamb shanks
sea salt and ground pepper
olive oil
4 sprigs of fresh rosemary
1 red onion, peeled and sliced
1 handful of raisins
2 T. grape jelly
1 T. tomato ketchup
1 T. Worcestershire sauce
1 can Guinness
32 oz. beef broth
2 t. cider vinegar
Mint leaves, chopped
Instructions
Season lamb shanks with sea salt and ground pepper.
Heat oil in a large heavy bottom pan with lid.
Over medium high heat brown lamb on all sides. When almost done add rosemary to pan and crisp in the oil.
Remove lamb and set aside on a plate. Discard rosemary.
Heat a bit more oil in the pan.
Add onions, cover pan and cook onions until caramelized. Stir often.
Add raisins, jelly, ketchup, Worcestershire and Guinness. Season with salt and pepper. Stir to combine and simmer mixture until thickened, about 10 minutes.
Add lamb back into the pan and cover with beef broth.
Cover pot, turn heat down and simmer slowly about 3 hours.
Remove lamb from the pan and set aside. Blend liquid with a blender until smooth. Add back to pan and simmer until reduce further.
Remove lamb meat from bones and add back into the reduced sauce.
Serve over Irish cheddar polenta or mashed potatoes.
Top each serving with 1/2 t. cider vinegar and chopped mint leaves.
My first attempt at polenta.  Much easier than I anticipated.  I used this polenta recipe, but swapped in a sharp Irish cheddar in place of the cream cheese.  The lamb would be just as delicious served over mashed potatoes or colcannon, and some roasted carrots.
The last-minute drizzle of cider vinegar on top really wakes everything up. And of course what is lamb without mint, just like mom served. I was so happy with how this turned out, it was rich and delicious.  Such a satisfying meal.  The family loved it too, especially the husband.  See he does like lamb.  Oh and don't forget dessert, homemade shamrock shakes all-around.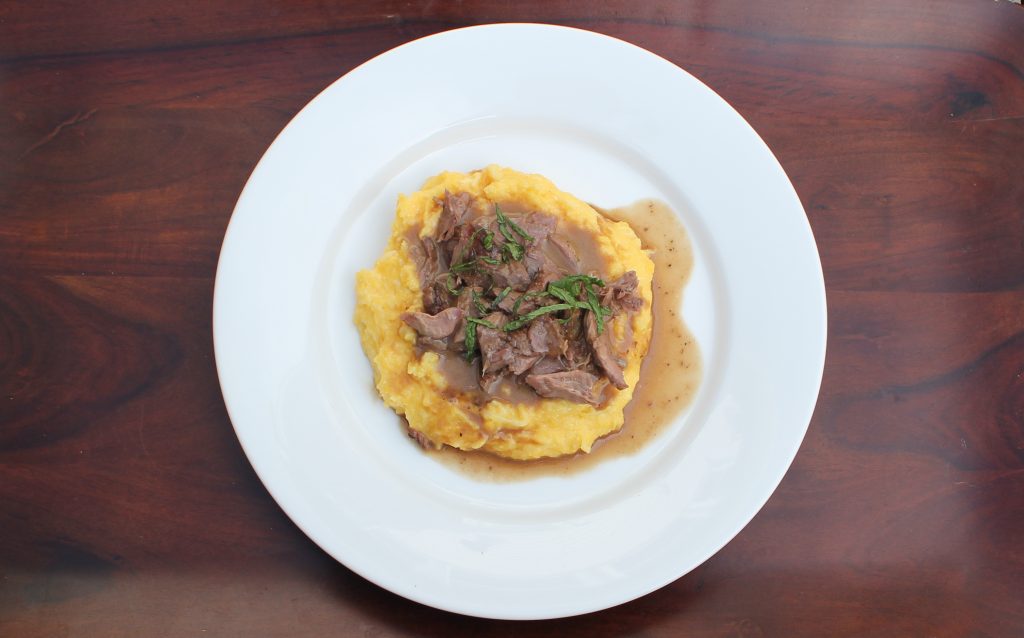 Hope everyone has a great St. Patrick's Day. We're heading to the parade, I don't think I have been to this parade since I was a kid. Should be interesting since the forecast is for a picture perfect summer day.
Éire go Brách!  Everyone is a little Irish today.