Well, here goes nothing…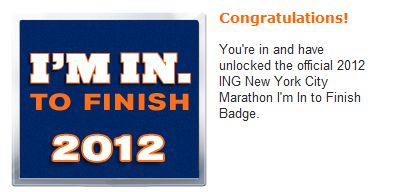 I wanted to get the New York City marathon under my belt before I was 35. I applied for the lottery and got in on my first try, I was so excited! But that never happened, I had a baby instead. Well three years ago I threw my name back in the lottery and after three rejections I got a guaranteed acceptance for this year!
November is a long way off, but training starts today. I am participating in the CARA summer marathon training on the lakefront.  A few friends are running the Chicago marathon so we are all doing the training together. The training will make for a busy summer, having other people to go through it with will be a great motivator.
On the schedule for today, REST. Done and done!