The 4th falls so odd this year, it's like two work weeks in one. Monday at work, Tuesday and Wednesday off, back to work Thursday and Friday. It's so hot here now though that work is not a bad thing. I have to say we completely lucked out though and only lost power for a bit, not three days like others in the area. One positive of the heat, we are getting our money's worth in our recent investment in central air.
A few food options to celebrate the day…
Simply red white and blue breakfast or this flag toast. Here is a great one that can work as an appetizer, salad, or dessert — patriotic watermelon and feta (toss in some crushed red pepper flakes for a little spice). You're in charge of dessert, try this pie.
We are heading to a bbq with appetizers in hand. Nothing red white or blue though, it is all about beating the heat. We are bringing Kelly's Krab Dip and Pickled Shrimp. I was inspired when I saw this pickled shrimp recipe but my husband just declared his newly found dislike of capers, so then I saw this one, and this one, and then in the end I used what we had on hand. The frozen shrimp at our grocery store was mostly ice and full of freezer burn, so instead of boiling it myself I went with the shrimp cocktail shrimp (it is package to avoid freezer burn).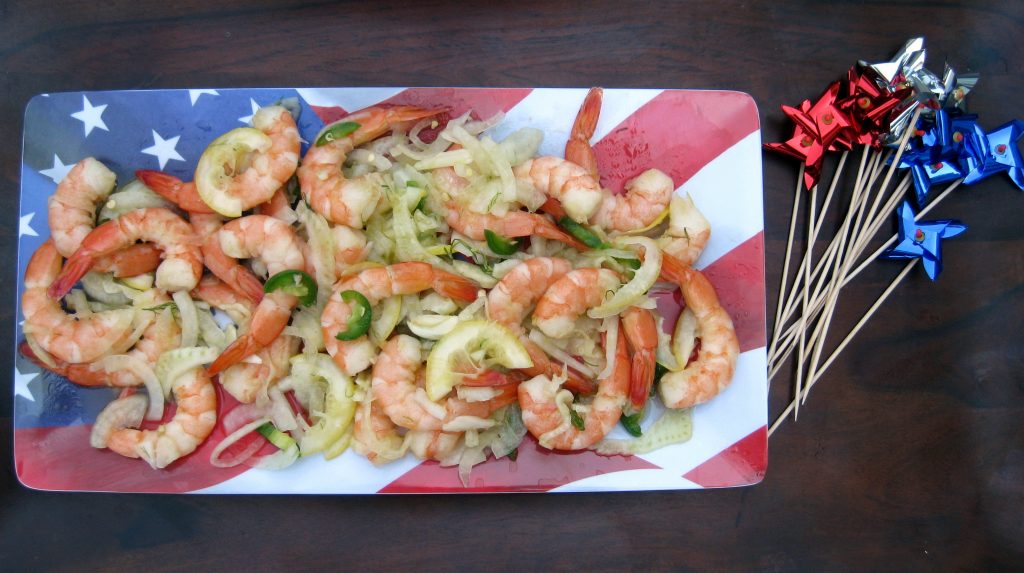 | | | |
| --- | --- | --- |
| Spicy Fennel Pickled Shrimp | | |
Total time:
24 hours 10 mins
Ingredients
1 – 2 lbs cooked shrimp (peeled and deveined)
3/4 c. cider vinegar
1/4 c. olive oil
1/2 onion, thinly sliced
1/2 jalapeno, sliced
1/2 lemon, thinly sliced
1/2 fennel bulb, thinly sliced
fennel fronds
1 t. sea salt
Instructions
Combine all in a bowl.
Store in fridge for 1 day, stir often.
The fennel adds freshness, the jalapeño just enough heat. Perfect for the warm temps — Cool, crisp, and spicy. We will be skipping the fireworks in a hope that our kids will not turn into trolls from lack of sleep. We can usually see the finale from our house if we really want in on the action. Have a great 4th, remember, safety first!