Salad is the name of the game these days.  It's been hot, we've been busy, salad fits the bill.  We tend to cook a large portion of protein at the beginning of the week and then throw it into fresh salads for lunch and dinner.  This week my husband grilled chicken with curry seasoning.
My favorite variation for the week…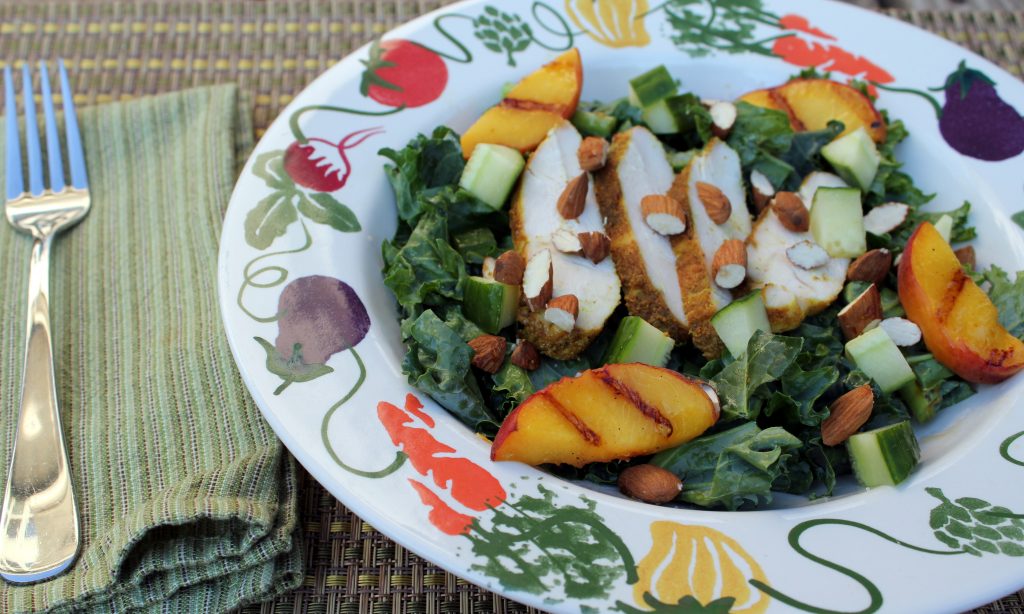 Ingredients
1 cooked chicken breast, sliced (skinless and boneless)
1 peach, sliced
1 t. olive oil
1 small cucumber, diced
16 almonds, chopped
3 C. finely chopped kale
4 T. salad dressing
salt and pepper
Instructions
Heat grill or grill pan. Brush peach slices lightly with oil. Grill each slice about 2 mins. per side. Remove from grill and set aside.
Combine all ingredients, toss to coat. Season to taste.
The spice of the curry chicken mixed well with the sweet peaches, and I loved the crunch of the almonds.  My go-to salad dressing is the Italian dressing that comes in an envelope.  I mix it with whatever vinegar I have on hand and olive oil (generally replacing some of the oil with water).  Mixing it in the carafe that comes with, couldn't be easier.
Dark leafy greens = good!  Good for you and tasty, though raw kale may not be everybody's cup of tea, use whatever greens you prefer.  I ran out of peaches so swapped in fresh cherries.  Other additions or replacement, added in cherry tomatoes,  and fresh mozzarella or avocado.  Really changed it up as the mood (or fridge offerings) struck.  Makes for a quick, easy, healthy weeknight meal.