Plenty of tomatoes and basil to enjoy this week thanks to the CSA.  Layers of tomatoes, basil, finely shredded Swiss, salt, pepper, and a little drizzle of olive oil were packed into a pie crust for a very rich and incredibly filling dinner.
Didn't make a dent in the basil.  I still have plenty of the arugula almond pesto in the freezer, so I didn't want to go the pesto route.  Thought about a hummus, but we did not have any chickpeas, but we did have white beans.  That'll work…
Ingredients
2 garlic cloves
1 c. fresh basil leaves
1 can cannellini beans, drained and rinsed
2 t. balsamic vinegar
1 T. tahini
1/2 – 1/4 t. sea salt or kosher salt
1/4 t. freshly ground black pepper
2 tablespoons extra-virgin olive oil
Instructions
In food processor, with bald running, drop in garlic cloves. Scrap sides.
Add basil and process to combine. Scrap sides.
Add remainder of ingredients, except oil, and process until smooth and combined.
Drizzle in oil to combine. Season to taste.
I love the balsamic vinegar in place of the traditional lemon juice.  And I may actually prefer the creaminess of the white beans over chickpeas.  Great spread on toast (appetizer or meal sized) topped with tomatoes, balsamic syrup is a nice addition too.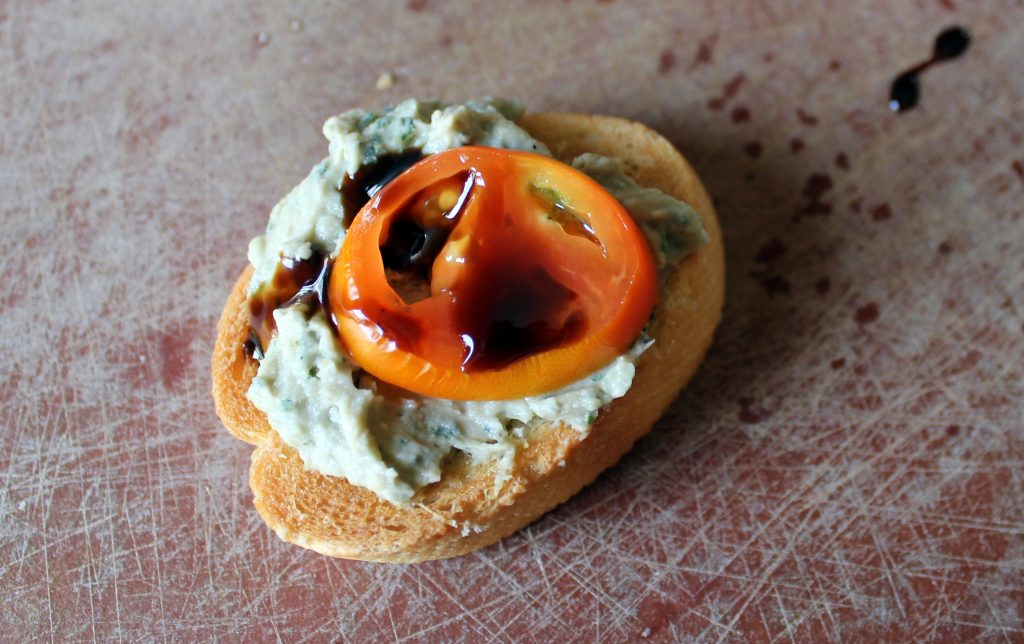 Good summer eats.