Thankful for a beautiful day off, though I labored inside for a good part of the day.  Poor planning, I should have gotten that all done earlier so I could have a beach today.  We took an extra long weekend and spent two nights in Michigan, so at least I got one beach day out of the weekend.  It was nice to come home and still have two more whole days before heading back to work.
The highlight of the weekend, reading my book outside uninterrupted for hours.    The food highlight of the weekend was Cherry Bourbon BBQ Ribs.
While we were away relaxing on the beach in MI, these babies were chillin' in the fridge.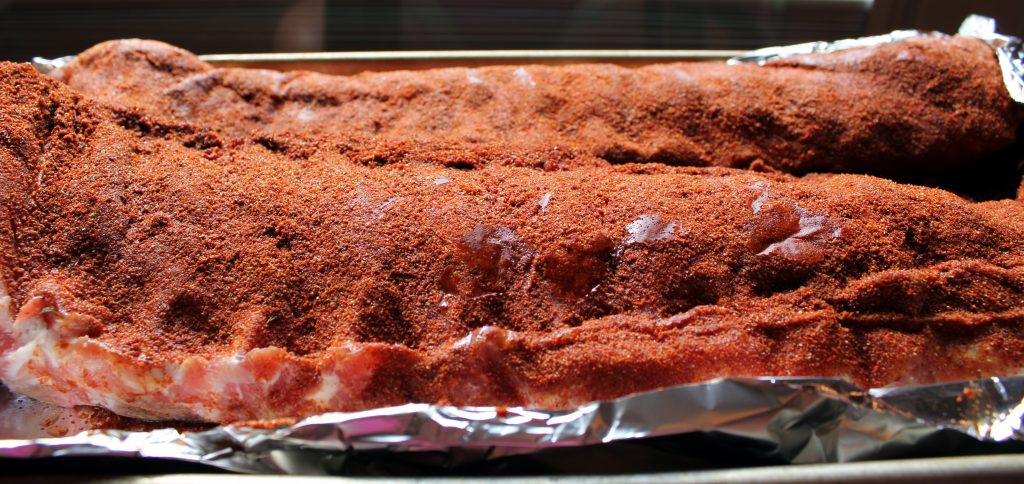 Headed out for a run while they cooked low and slow.  Slathered them with a healthy dose of  cherry bourbon bbq sauce.
Finished them with smokey grilling goodness.  A first that we made ribs with out the oldest to enjoy them with us.  I never started making them until a few years ago when I realized how much he liked them (and how expensive they were every time we ordered them out),  and as much as I enjoy them it is a once a year splurge.
Served simply with grilled corn on the cob.  We've only had corn on the cob twice this summer.  FAIL!
Hoped to enjoy them with the family al fresco, but got overruled.  Cocktail hour and reading was outdoors at least.  We did a Nostrovia to summer and discussed our favorite moments and hopes for next summer.  Here's to hoping everyone had a great summer and another great year!
Ingredients
1/2 C. dark brown sugar
1 T. garlic powder
1/4 C. paprika
1/4 C. chili powder
2 T. ground cumin
1 T. dry mustard
1 t. cayenne
2 T. kosher salt
Instructions
Combine all ingredients in a small bowl and mix well.
Rub mixture all over ribs. Cover and refrigerate for at least 4 hours or overnight.
Notes
Makes enough rub for 6 lbs. baby back ribs.
But with the understanding that summer is not over and either is this gorgeous weather!