We neglected our grill this summer.  The hot summer was mostly to blame.   The weather lately has been perfect though so we decided to take advantage of it to show our grill some love.
Standard burger topped with arugula, asagio cheese crisp, and spicy basil ketchup  Grate about a cup of cheese into a bowl and toss with 2 T. flour.  Drop 2T. of the mixture into a heated non-stick skillet and cook until slightly browned on the edges, flip and cook second side.  Seat aside to cool.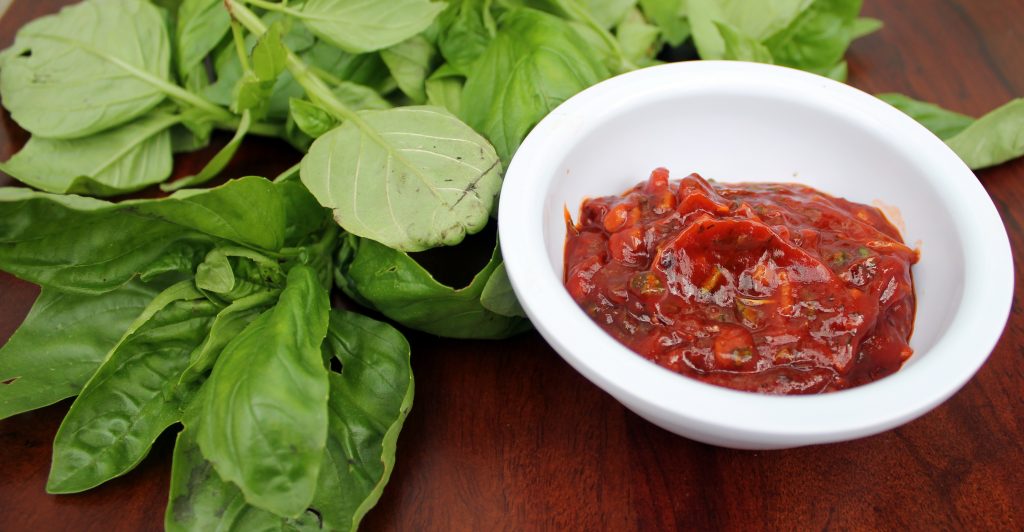 This adult version of ketchup puts plain old ketchup to shame.  I think it would be great on an Italian sausage or hot dog.  No shame in ketchup on your hot dog I say.
Ingredients
1 T. olive oil
3 cloves garlic, finely chopped
1/4 t.red chile flakes
3/4 cup ketchup
1/2 t. Italian seasoning
2 t. red wine vinegar
2 t. basil leaves, finely chopped
salt and pepper, to taste
Instructions
Heat the oil in a small saucepan over medium heat.
Add the garlic and chile flakes and cook for 1 minute.
Add the ketchup and Italian seasoning and cook for 2 minutes.
Remove from heat and stir in the vinegar and basil and season with salt and pepper.
Let cool, serve at room temperature.
The burger and ketchup recipe are  adapted from Bobby Flay's Burgers, Fries, and Shakes cookbook.  He knows how to make a burger delicious.