"You are running the New York City marathon."  That is the Most common response when I tell people I am running the NYC marathon.  They have the facial expression to go with it too, their eyes go wide as they say "you".  Sure I don't look like your average runner, nonetheless marathon participant.  Sure, I am a bit underheight, but at this age I don't imagine I am getting any taller.  Actually, most people make the assumption I am doing the marathon to lose weight.  Fair enough, but nope!  Losing weight while training for a marathon is actually a challenge.  I am concentrating my efforts on proper fueling, calorie restriction doesn't fit in the plan.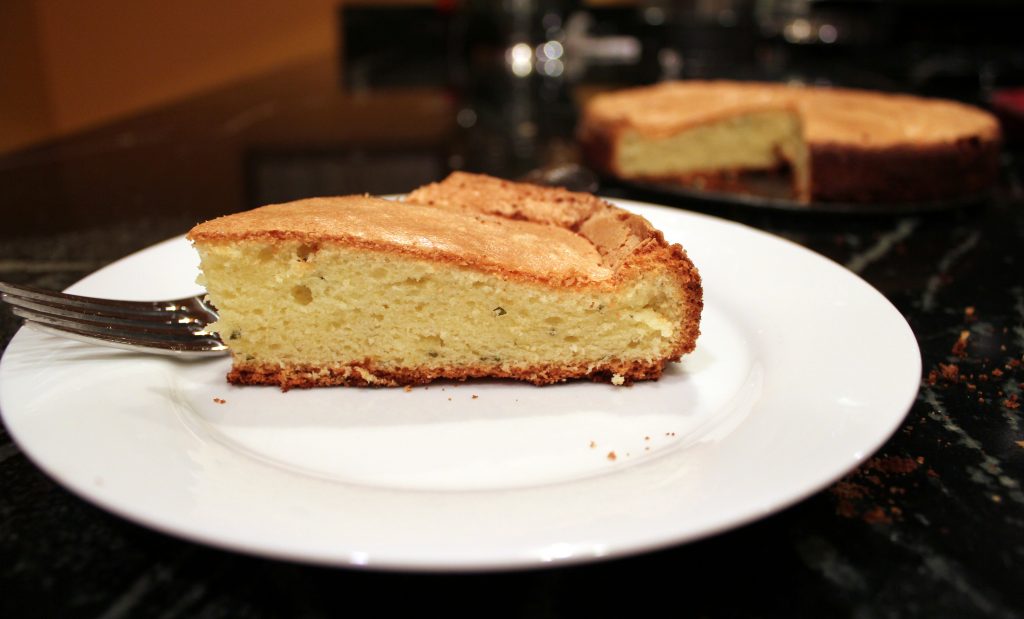 The CSA box contained lemon basil, I decided I wanted to bake up a quick dessert.  After looking around I found a few options, but most called for ingredients we didn't have on hand.  I ran across this lemon olive oil cake, looked easy enough.  Just a few ingredients, I could adjust the flavors, replace the lemon basil for the lemon, orange juice for the lemon juice.  We had just enough sugar on hand.  I prefer olive oil for baking in general, it add a nice flavor.  My plan was to whip this up and have it bake while we ate dinner.
Yeah, not so much.  Don't judge a recipe by the number of ingredients.  This recipe was more complicated than the minimal ingredients lead me to believe.  It wasn't until I had the egg yolks and sugar beating in the mixer that I realized the recipe was actually a bit involved.  Washing mixing bowls mid-recipe involved.  Five eggs in, it was full steam ahead.
In the end it was worth the effort.  The cake is similar too a pound cake, the olive oil gives it an earthy richness that I love.  The crunchy top is a great contrast to the soft cake.  The lemon basil is subtle, you can add more if you want to rev the flavor up.  I Love the fragrance of the lemon basil, my daughter commented that the kitchen smelled like Fruit Loops, which is actually a pretty accurate description.
Lemon Basil Olive Oil Cake
Author:
Prep time:
Cook time:
Total time:
Ingredients
5 large eggs, separated (recipe uses 5 yolks, 4 whites)
3/4 cup plus 1 T. sugar
2 T. corn starch
1 cup, minus 2T. flour
3/4 C. olive oil (extra-virgin if desired), plus additional for greasing pan
1/4 C. lemon basil, finely diced
2 T. orange juice
Instructions
Preheat oven to 350 degrees.
Add 2 T. corn starch to a 1 cup measuring cup, top with flour to make 1 cup. Set aside.
Combine olive oil, lemon basil, and orange juice. Set aside.
Combine egg yolks and 1/2 cup sugar. Beat with electric mixer on high speed for about 3 minutes, until combined and creamy.
Reduce speed to medium, add olive oil mixture until just combined (mixture may appear separated).
Using a wooden spoon, stir in flour mixture until just combined.
Beat egg whites (from 4 eggs) another large bowl with cleaned beaters at medium-high speed until foamy, then add 1/4 cup sugar a little at a time, beating, and continue to beat until egg whites just hold soft peaks, about 3 minutes.
Gently stir 1/3 of the egg whites into the egg yolk/flour mix until combined, fold in the remaining egg whites gently but thoroughly to combine.
Poor batter in a greased springform pan. Gently tap remove air bubbles. Top with remaining sugar.
Bake for 35 – 45 minutes, until toothpick comes out clean.
Cool on rack for about 10 minutes, run knife around pan. Remove springform ring.
So be it book, runner, or recipe, it is the end results that count and looks can be deceiving!