Monday is a good a day as any for a sick day.  Not me, and nothing serious.  The littlest is on day two of a fever and sore throat.  He deemed me "his butler for the day".  Nice. Could be a lot worse, really he just want me to hangout and watch movies with him and to show me goofy You Tube videos.  Happy to oblige.  Bonus, I don't have to go out in the cold.  The weather has taken a turn after Saturday's balmy temps, brrr, icy and cold.
My butler duties didn't allow for a breakfast break, well beside my coffee.  And having not left the house in two days lunch not only did it need to be hearty it had to include what we had on hand.  Oh, and no leftovers!  Apples, cheese, nuts, salad greens.  Apples and cheese are a natural pairing, fruit and nuts are too.  I love including all three on a cheese plate.  Why not combine them all on greens as a salad.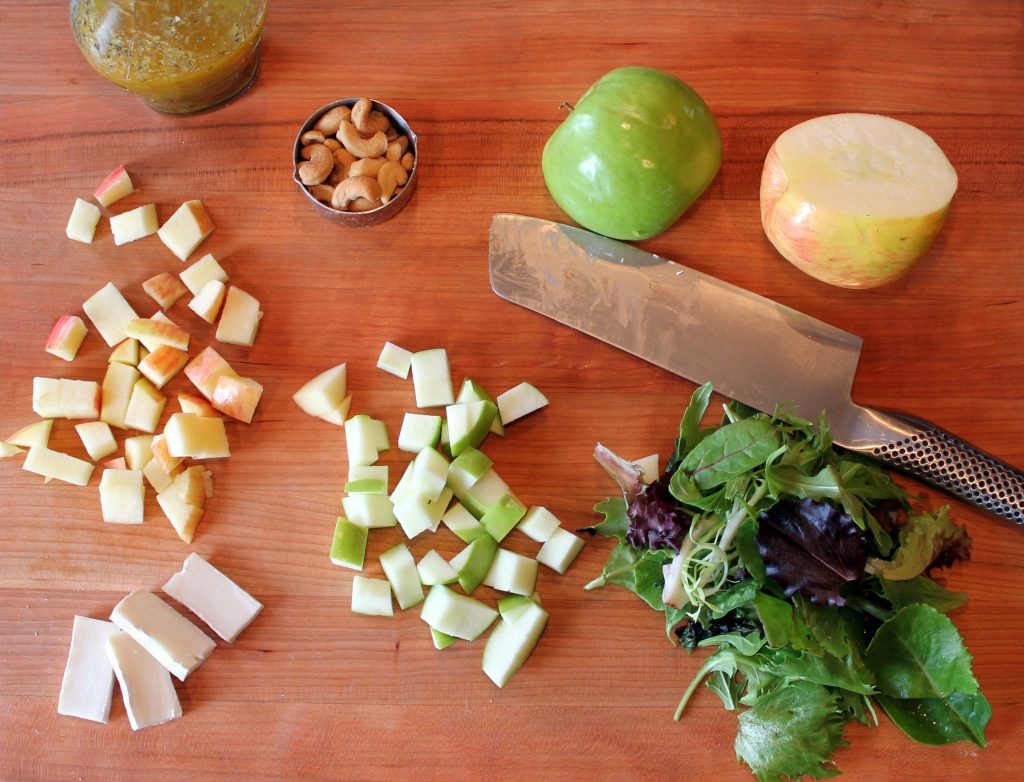 Tomatoes, peppers, and cucumbers are my standard salad add-ins, but they don't have much flavor this time of year.  Tomatoes are the worst, the texture is horrid and they have no flavor.  Apples on the other hand are tasty well into the winter, so this combo of apples, nuts, and cheese is a satisfying salad option in the winter.
Lots of crunch!  The creamy brie was a good contrast, I used a goat's brie from Trader Joe's.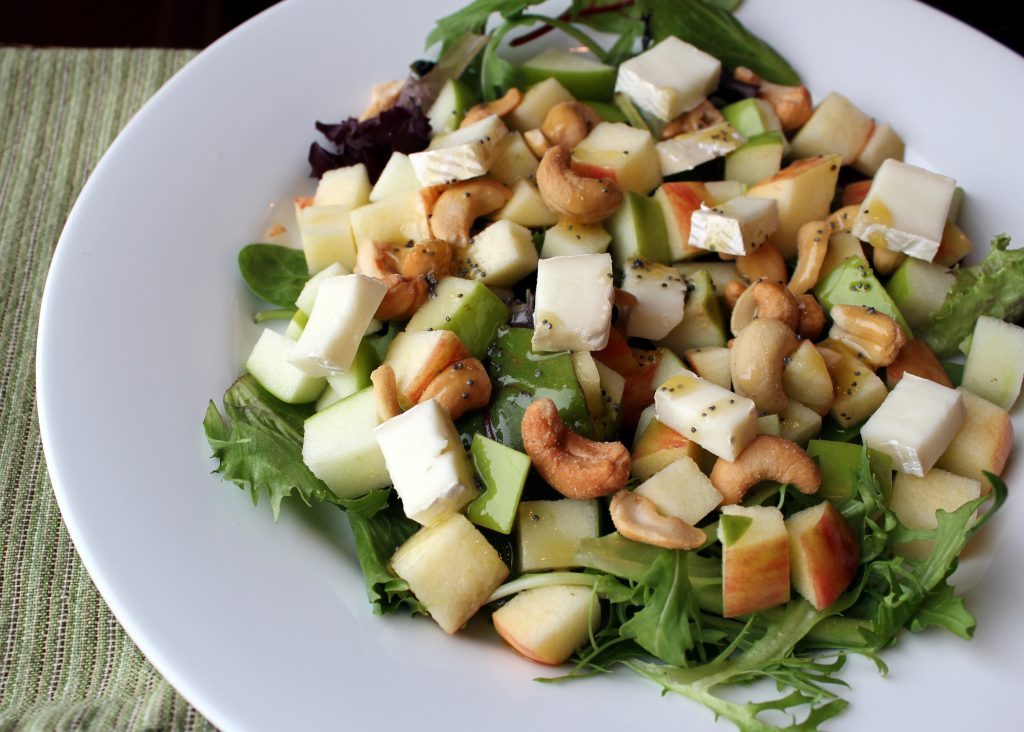 Cashews are one of my all-time favorite foods, happy to include them in any meal.  The salt of the nuts are a great combo with the sweetness of the dressing.
Sweet Poppy Seed Dressing
Recipe Type
:
Salad Dressing
Author:
Prep time:
Total time:
Ingredients
1/2 cup oil
3 T. red wine vinegar
2 T. sugar
1/2 tsp. mustard
1 shallot, grated
1 T. poppy seeds
pinch of salt
Instructions
Pour oil in a bowl, whisk in oil until combine.
Whisk in the rest of ingredients. (or shake them all together in jar or dressing carafe)
Home made dressing is my preference, this one could not be easier and it is an interesting change from my standard Italian.
Apple, Cashew and Brie Salad
Author:
Prep time:
Total time:
Ingredients
1/4 Granny Smith apple, diced
1/4 Honey Crisp apple, diced
1/4 cup cashews
1 oz. brie cheese, sliced
1 cup mixed salad greens
1-2 T. Sweet Poppy Seed Dressing
Instructions
Combine all salad ingredients and toss with dressing. Dress to taste.
This salad will be making a regular appearance on my menu this winter.  Sadly I have to break my indoor streak to head out to a school meeting tonight, brrrr.