I went to Whole Foods last weekend in search of duck and came home with a grocery bag of random food stuff.  I guess I was hungry.  One of the things I came home with were these red lentils…
No specific plan for them, they just caught my eye when I was getting some white beans from the bulk section since and my normal grocery store doesn't have them on the shelf.  Soup seemed the most common use, or at least the recipes I kept finding in my search.  Indian flavors were an obvious choice for lentils.   I had no interest in soup, though Indian sounded good.  I had some garam masala on hand, cilantro goes perfect with garam masala, and that led me to Mexican.  An Indian-Mexican fusion burrito.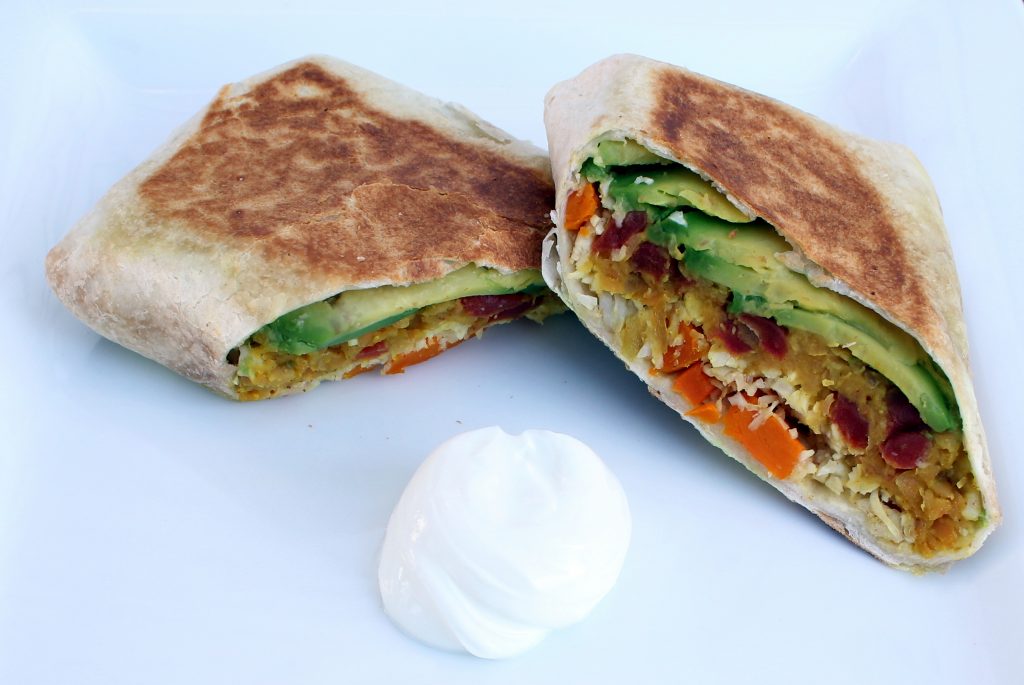 Avocado
Red Lentils garam masala
Cauliflower "rice"
Roasted butternut squash
Layer these all in an extra-large tortilla, crisped up, and served with a dollop of Greek yogurt.  Sriracha or taco sauce optional!
There are a few steps involved, and somewhat time consuming, but worth the effort!  I just wanted a hint of the Indian spices, I didn't want it to take over, so I kept the amounts minimal.  Up the amounts if you want stronger flavors.  Red lentils cook up quicker than brown or green lentils and good to the consistency of refried beans. Butternut squash was another random item I picked up at the store, it added just the right amount of sweetness.  All about balance in this recipe.  Speaking off, since I was using the extra-large tortilla I wanted to keep the added carbs to a minimum so went with the cauliflower rice trick.  I toasted it in a pan before adding to the layers, but raw would work just fine.  These flavors were all amazing together!
Red Lentil Garam Masala Burritos
Author:
Ingredients
1 butternut squash
2 T. olive oil
1 cup red lentils, rinsed
2 cups water
1 clove garlic, smashed
1/2 t. salt
1 T. oil
1/2 onion, diced
1/4 t. garam masala
1/4 t. tumeric
1-10 oz can Rotel tomatoes with green chile, drained
2 T. cilantro, chopped
1 head cauliflower, grated
1 avocado, sliced thin
salt and pepper
Instructions
Heat oven to 400 degrees.
Cut butternut squash into small dice pieces. Toss in 1T. oil and season with salt and pepper.
Spread squash on a baking sheet and roast for 25-30 minutes.
While squash is cooking, combine lentils, water and smashed garlic in a pot.
Bring lentil mix to a boil, reduce heat and simmer about 20-25 minutes, or until tender. Remove from heat and stir in salt.
In a skillet, heat 1 T. oil and sauté onions until soft. Stir in garam masala and tumeric to coat. Add tomatoes and combine. Season to taste.
Stir lentils and cilantro into the onion, tomato mixture. Stir to combine and set aside.
Grate the head of cauliflower. Toast in a skillet or use raw if you wish.
Layer onto the center of tortilla; avocado, lentils, cauliflower, squash. Fold in the bottom and top of tortilla, then fold in sides. Let rest, seem side down.
Heat a large lightly oiled skillet. Heat burrito and crisp tortilla on both side.
If you like, just skip the tortilla and make it a rice bowl with added spinach or shredded lettuce.  Also, if you are going to all this effort do your self a favor, leave out the avocado, wrap the burrito in foil, and stick some of these burritos in the freezer.  I made a few for the freezer, I like to do this when I can with recipes so I have pre-cooked meals on hand.  Especially handy when my husband travels and I am doing double duty.