Anyone watch Top Chef this season?  I swore off the show after season 6, but for lack of anything else to watch on Wednesday evenings I got sucked back in this season.  I was happy with the results last night, no spoilers!  Though really I would have been happy if either of the chefs won.  The finale format was interesting, very Iron Chef.  Honestly though I wanted Sheldon to win it all, glad he at least went home with a prize.  It was an OK season, nothing too tremendous except I totally want to take a cruise to Alaska.
Season 5 was the last season I really enjoyed of Top Chef, lost of great chefs with fun personalities.  One favorite that season was Hosea Rosenberg, he at a restaurant in Boulder that I had eaten at a couple of times while visiting my son at college.
Obviously it caught my eye, Jax Fish House.  Carla Hall and Stefan Richter were favorites too, Stefan was actually on this latest season too.  He is a character.  And finally there was Fabio Viviani.  He was the fan favorite that season.
As luck would have it Fabio is the chef at a new restaurant in my work building, Siena Tavern.  It's taglines are Rooted in Italy. Raised in Chicago. #fromscratch.  The restaurant open for dinner a few weeks ago and opens for lunch in few weeks.  Yesterday they offered the tenants in the building a special sneak preview of the lunch offerings, and I imagine a chance for them to do some trial runs.  There is a lot of variety on the menu, antipasti, mozzarella bar (!), crudo bar, pizza bar, salad, burgers, sandwiches, pasta, and a few larger entree dishes.  For our lunch they had a buffet style of a sampling of the menu offerings.  I wasn't shy about trying it all.
Don't worry I didn't eat it all.  But I did eat a lot. Luckily my lunch date didn't mind all my picture-taking.  The decor was casual chic, comfortable and not too fancy.  We got to sit in a private little wine room, we were informed the mirror is actually the TV.
Salads were the first stop.  Sampled them all, chopped salad, kale Caesar salad, and a seafood farro.  They were all good but the kale was my favorite, and the lightest of the options.  A kale Caesar was pretty genius to me.
The pizza was a winner too. Lots of tasty varieties — I tasted the truffle mushroom, prosciutto pear topped with arugula, burrata cheese with roasted eggplant.  The crust was  nice and chewy just the way I like it.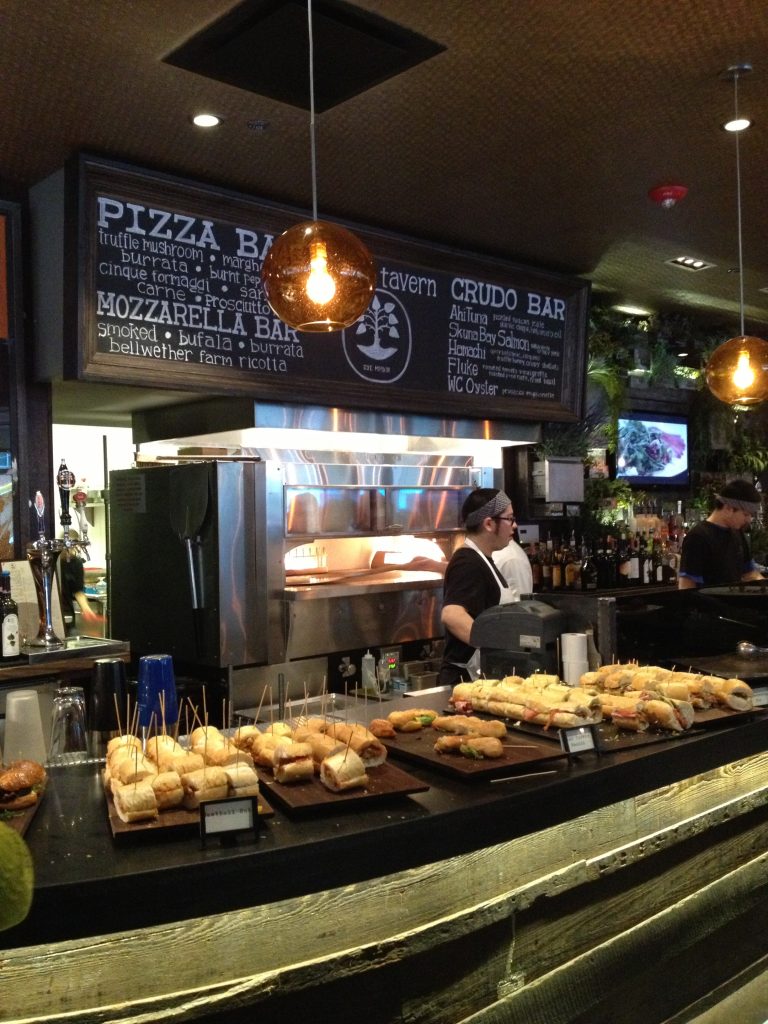 Everyone at the table agreed the best bite was an antipasti named coccolio.  It was a savory cream puff. A crispy dough stuffed with stracchino cheese, proscuitto di parma, truffle and honey.  Just a touch sweet and a touch salty.
There were a few varieties of mini burgers, actually maybe they were all the same, I kind of breezed by that area.  The one I did try was topped with a tomato jam and arugula.  The burger was cooked perfectly medium, it had tons of potential but the meat needed more seasoning.  This one got a resounding meh from the table.
The sandwich part of the buffet didn't really appeal to me much.  I did grab a couple anyway.  The first was a charcuterie sub, their take on the Italian sub with the twist of salsa verde and hot peppers.  The familiar flavor had a surprise twist, the acid from the salsa verde, just different enough to make it not just another meat sub. The Turkey panini wasn't anything to write home about.
I will definitely be back, so it was awesome they handed me a $25 gift card as I left.  But I would have been back anyway, the overall menu is just my taste and the staff was awesome (very friendly and knowledgeable about the menu).