We did not have a very traditional Easter this year.  It was all about house chores and catching up on sleep.  We did get eggs colored at the 11th hour on Saturday.  Sticking with the non-traditional I didn't just make the hard boiled eggs into egg salad like I traditionally would.  Instead I tried something new for the leftover hard-boiled Easter eggs.
Pickled Beets and Eggs
Author:
Prep time:
Cook time:
Total time:
Ingredients
1/2 cup beet juice
1/2 cup white sugar
1/2 cup cider vinegar
1/4 t. salt
large pinch of black pepper
6 hard-boiled eggs, peeled
1 15 ounce jar pickled beets
1 bay leaf
pinch of ground cloves (or 6 whole cloves)
Instructions
Combine beet juice, sugar, vinegar, salt, pepper, bay leaf, and clove in a saucepan.
Bring to boil, reduce heat and let simmer until sugar is dissolved. About 5 minutes.
Pack eggs and beats in a large mason jar, pour hot liquid over them.
Let jar cool, cover and refrigerate for 48 hours.
Be sure to give the jar a shake a few times to make sure the color get to all of the eggs.
I love the color the eggs take on from the beet juice.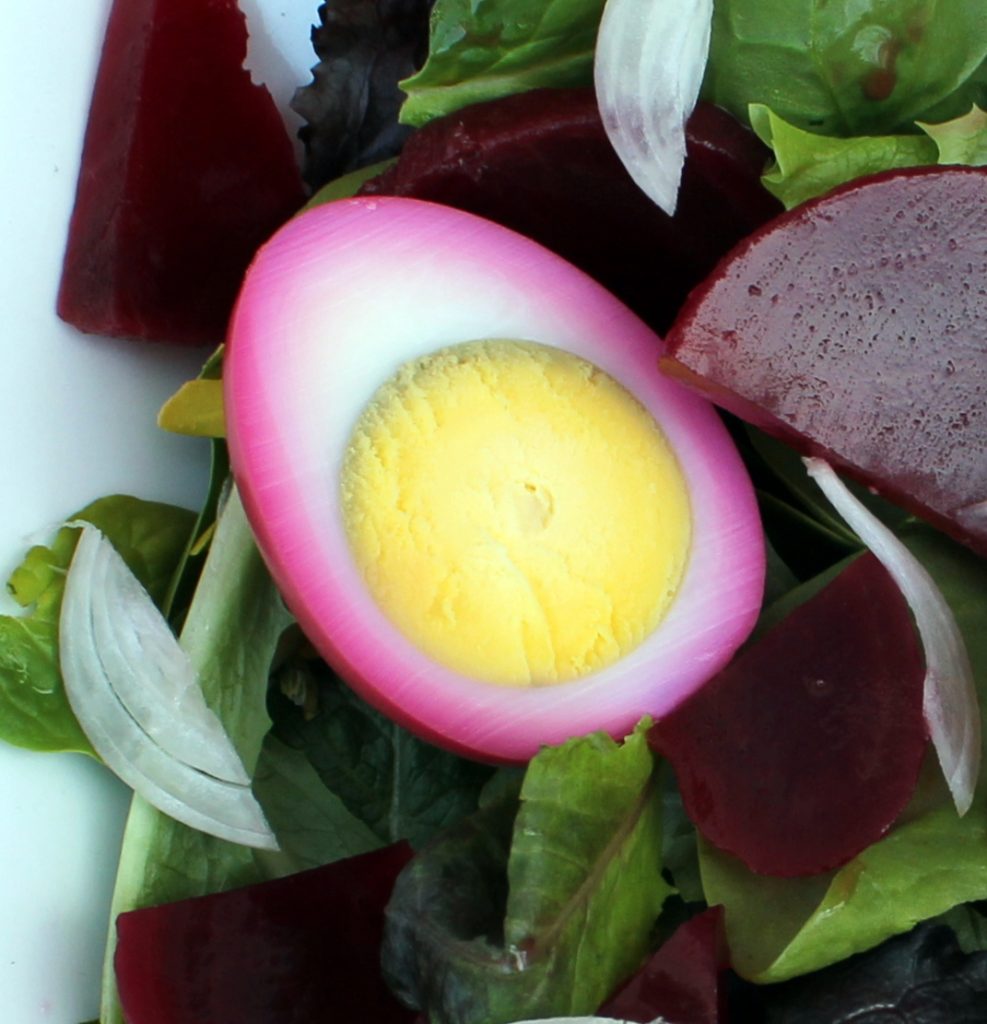 The eggs whites get firm, a different texture than traditional hard-boiled eggs. The egg and beet combo make a great combo for salad.  Simple greens and thinly sliced shallots.
I dressed the salad with a creamy horseradish dressing of 1 T. sour cream, 1 T. horseradish and 1 T. fresh dill combined. The heat of the horseradish is great with the sweet beets.  My favorite way to eat hard-boiled eggs?  Ten years ago or so I went to Amsterdam for a quick work trip and we had the best lunch.  A simple sandwich of crusty bread, sliced eggs, and Gouda.  These pickled eggs make my favorite sandwich that much better.