Over the years of working in downtown Chicago I have had hundreds of lunches out. I think the place I have eaten most often is Bandera, just a hop skip and a jump from my office when it was located just down the street on Michigan Ave. After the office moved west I think I only went once. Without fail I order the same thing, spicy dip with chips and the macho salad.
Recently, Katie at Live Half Full posted her meal plan and I noticed it included the macho salad.  Oh boy, I knew I had to make this at home and finally got a chance to this week. I honestly haven't been cooking about anything too exciting these days so I was pretty excited to have this to focus on. Bonus was that I got to enjoy this meal outdoors on a beautiful summer evening with a great friend.
As for the spicy dip and chip starter, this yogurt from Costco made a great stand in.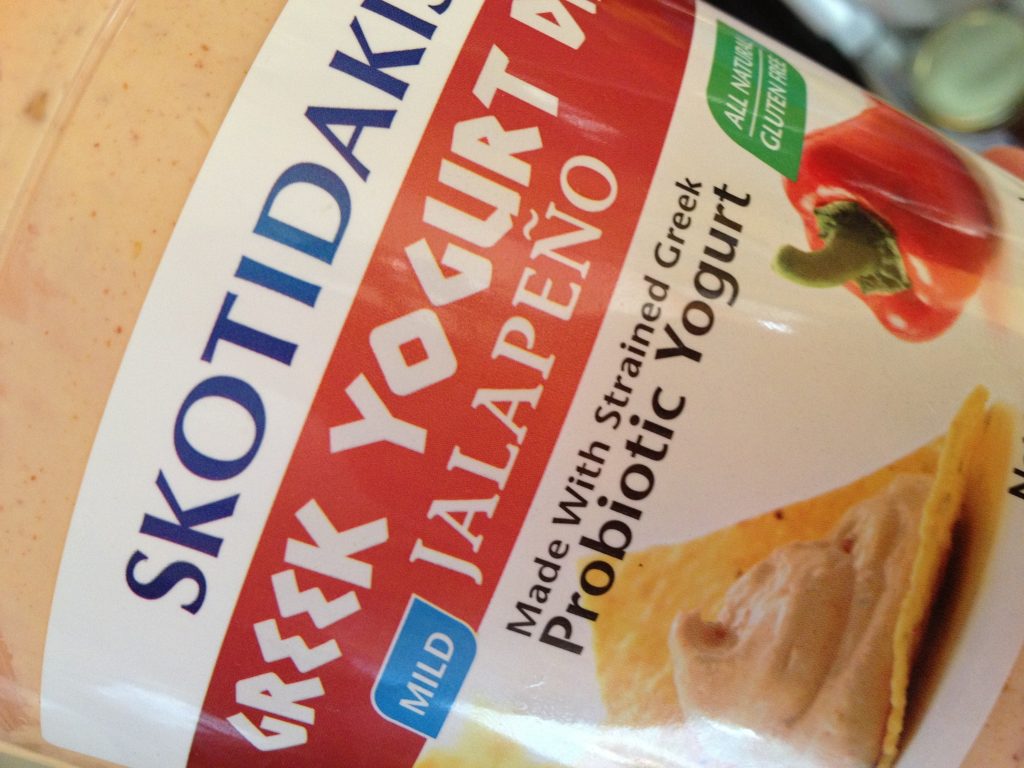 Costco chips too. We recently joined Costco and have made some good food finds.
But the salad of course was the star of the show and lived up to restaurant's version. Chicken, avocado, corn, dates, goat cheese, cornbread croutons.  It's all in there and makes a hearty main course!

Could have used some more goat cheese, heck I am sure the goat cheese is what got me to originally order this dish at least fifteen years ago! The cornbread croutons and the dates add a touch of sweetness and are delicious with the tangy goat cheese. The dressing has a nice garlic flavor without being overpowering. This salad is especially great because you can assemble it well in advance, Bandera's serves it in a very chilly bowl right out of the fridge.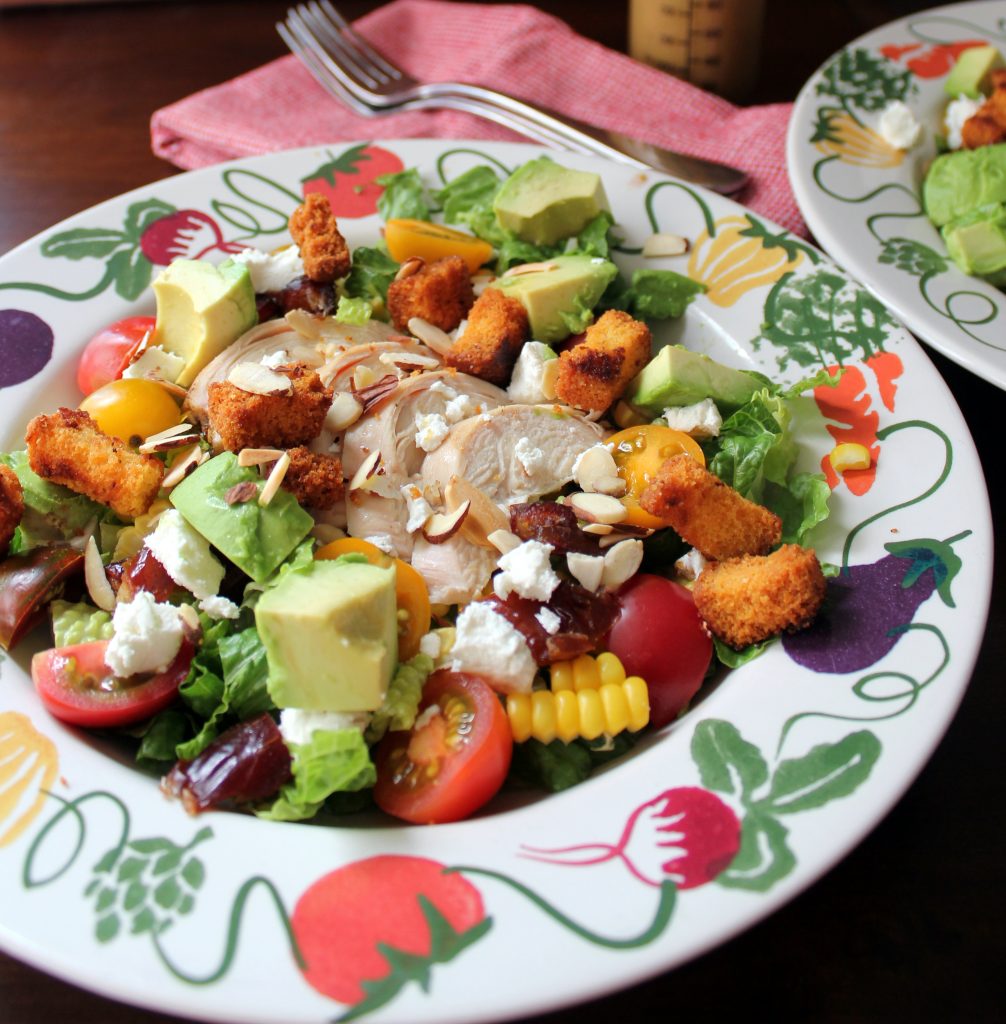 It doesn't take much effort and is also great to assemble from leftovers, or to work double duty on the grill when making another meal. The chicken and the croutons are the only things that take much effort. I took some day old cornbread and cut it into bite size pieces, spray with olive oil, salted and toasted in the oven for about 5-10 minutes. For the chicken, I grilled it while I had the grill lit for another meal. In the oven use this perfect roast chicken technique, we make this almost week to have some chicken meat on hand. The store-bought rotisserie chickens are great for salads, especially if you buy the chilled ones made the previous day and sold at a discount. I had a leftover ear of corn in the fridge, and generally have sliced almonds and dates in the house. The goat cheese was really the only thing special I needed to go get.a
Macho Salad
Author:
Prep time:
Cook time:
Total time:
Ingredients
Romaine Lettuce, chopped
Chicken Breast, chopped
Avocado, diced
Goat Cheese, Crumbled
Tomatoes, Wedged
Roasted Almond Slices
Corn Kernels
Dates, Sliced
Cornbread Croutons
FOR THE DRESSING:
2 TBLS Dijon Mustard
1 whole Lemon, Juiced
1 TSP Balsamic Vinegar
2 TSP Brown Sugar
½ TSP Salt
1 clove Garlic, Minced
Pinch of Dried Basil
2 pinches Dried Oregano
½ cup Olive Oil
Instructions
Place lettuce in a large bowl or plate and top with remaining salad ingredients (portions to your taste).
If making in advance, wrap tightly in plastic wrap and place in fridge.
Dress salad with 2 TBLS of dressing, toss lightly and serve immediately
For dressing, combine all ingredients except oil in a bowl. Mix well, then begin to slowly drizzle in the oil until well combined. Chill until ready to serve.
Yum, I can't believe it took me so long to discover this recipe. Give it a try you won't be disappointed.