close to my goal of breaking an hour! I was 96 seconds off to be exact, but it was a great run anyway. It was interesting to look at my Garmin, you can see the crowded start, and where I saw my husband, kids and friends on the sideline. This was the point I burned all my remaining energy. I was on the opposite side, so had to sprint over to the left to get their attention. As soon as I passed them my energy plummeted. The graph shows it perfectly! I wasn't really looking at my watch, and even if I had realized how close I was there was not nearly enough distance to make up the time. Oh well, it was all good, even if I am totally disappointed.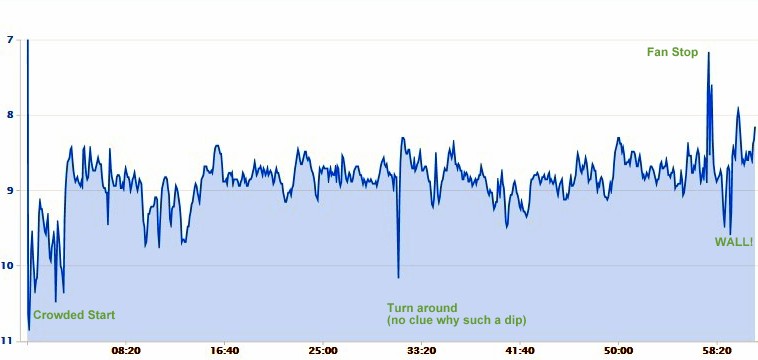 The race started near the Adler Planetarium so we parked in Soldier Field. In the past the traffic into the Soldier Field garage has been pretty awful, so we left with plenty of time to spare. It was surprisingly very easy to get in, and we timed it perfect so we could swap out a shirt and gear check our bags.
The start was on the road leading to the planetarium, which worked for the most part. Getting into the corals was a major clusterf*ck, but the loop around worked OK for the staggered start. I crossed the start line in about 15 minutes, which was not too bad. Though it was a bit of a narrow start, which made it slow and crowded. At this point, I knew this was likely not the race for a new PR, but I kept on shooting for it. The crowd opened up a bit when the course went out onto Lake Shore Drive. I don't normally have spectators at the race, so it was fun that I spotted my husband and the crowd right before the finish. They were looking for me in a green shirt (MSU), I wore red, so I had to get their attention. I almost considered just keeping on so I could hit my goal, but hey they all got out of bed early so I figured I better hustle my butt over to greet them. Having someone cheer you on beats a new PR any day. I was really slowing, and it took everything I had just to get over the finish line. The finish got a bit crowded too, not surprising since it was essentially the start line. I ran into my friend right before the finish and that pumped me up enough to get it done.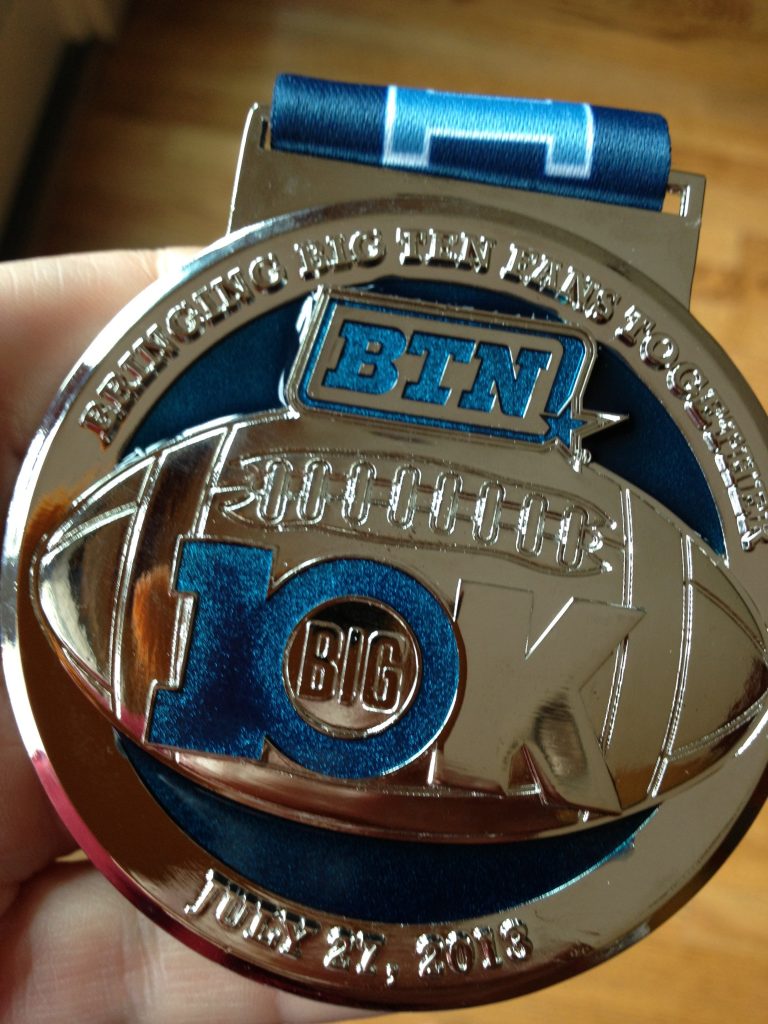 After the finish they funneled us into the gear check area. A bigger funnel would have been great, it was a tight fit. And the bag check line was so long, though it was nothing compared to the beer line. Yikes, we skipped it. But did manage to snag a Amy's Apple and Gouda Chicken sausage on a pretzel roll. Yum yum, tasty finish line food. There was a lot of fun to be had at the finish, 40 yard dash, baggo, field goal kicks. The weather was a bit cool so we just headed to breakfast at Twisted Spoke. Lucky for me they have amazing bloody Mary's complete with a beer back, a meal in itself. I also may have had some bacon tempura (aka deep-fried bacon), and Gumbo with poached eggs. Delicious brunch!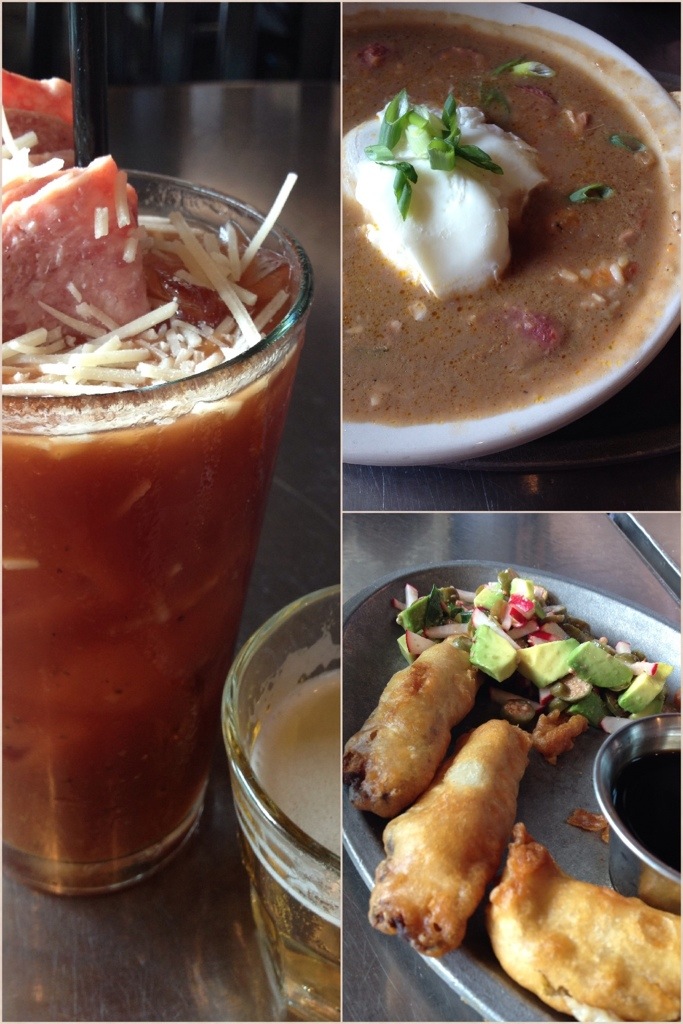 Overall it was a good race with a reasonable entry fee ($45). I liked the location, even though it was a bit crowded. This was only the second year for this race, so I am sure they will learn from this year's experience and make even more improvements. I have my eye on a few upcoming 10Ks to try to achieve that new PR, in the meantime training for the Chicago Half Marathon in September begins.