The best part of working from home is (besides being able to eat Brussels sprouts for breakfast) the time I save on commuting can be spent in the kitchen. Relaxed time in the kitchen, without the normal rush of a weeknight meal. It gives me time to dig into recipes on my to-cook list. A few weeks back I ran across this recipe for oven-roasted chicken shawarma, and it went right to the top of my list. Right next to this naan bread.
Over the weekend I stocked up on meat at Costco. The organic skinless and boneless chicken breast are the best we've had. Same goes for the organic grass-fed beef. A bit more expensive than non-organic, but worth the price to us since we only eat meat few times a week, and mostly because the flavor can't be beat. I grabbed some organic skinless and boneless chicken thighs too, since the shawarma recipe called for them.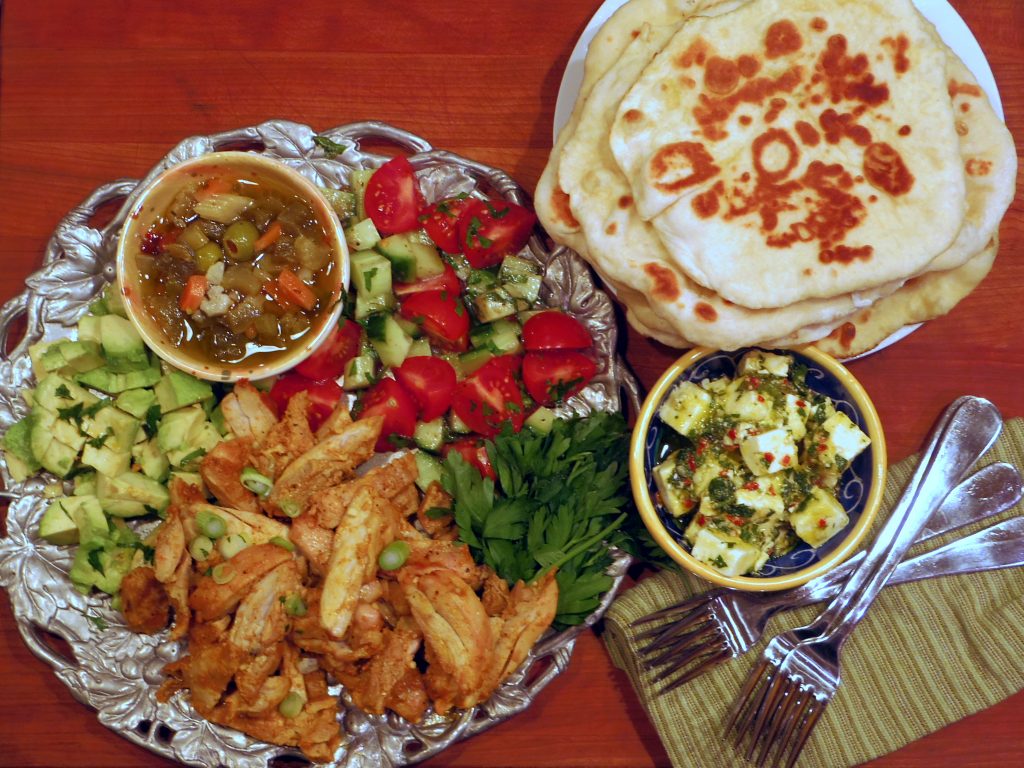 I made the marinade on Sunday, and marinated the chicken for couple of days in a Ziploc bag. so they were ready to go. The naan bread was easy, but took some active cooking time. I followed the recipe exactly (minus the Tandorri), and it turned out perfect.
As you can see, not a completely traditional meal. I served it with cucumber, tomato, avocado (because I forget to pick-up hummus), spicy herbed feta, and giardiniera (because my husband and son put that shit on everything they eat).  The feta was leftover from an appetizer I served on Sunday, spicy herbed feta.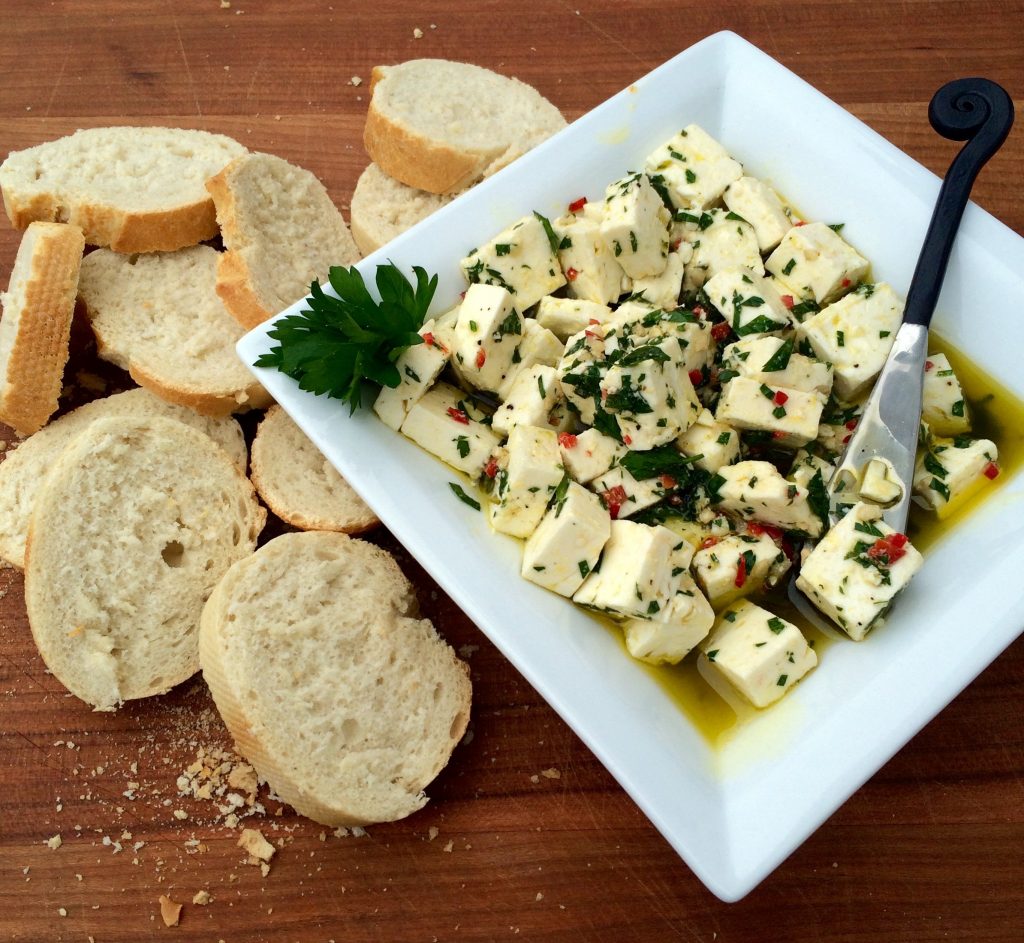 The feta was a quick appetizer served on bread, though you can serve it with picks on an olive tray and skip the bread. Or if you want something more spreadable, whip it up in the food processor with a bit of milk to make a dip.
Spicy Herbed Feta
Recipe Type
:
Appetizer, Condiment
Author:
Prep time:
Cook time:
Total time:
Ingredients
½ cup extra virgin oil
2 garlic cloves, finely chopped
2 tbsp parsley, finely chopped
1 tbsp basil, finely chopped
1/2 – 1 red jalapeno, finely chopped
1/2 lemon – rind, finely grated
1/4 tsp black pepper
8oz feta cheese (block, not crumbled)
Instructions
Combine oil and garlic in a small pan over medium heat. Cook until garlic is fragrant, about 2 minutes. Let cool.
Stir parsley, basil, jalapeno (to taste), lemon rind, and pepper into oil.
Cut block of feta into cubes and place in a container. Pour oil mixture over the cheese and let sit for about 2 hours.
It was a great addition to the shawarma dinner. It wasn't too spicy, and the creamy rich with the cool tomato and cucumbers was just right.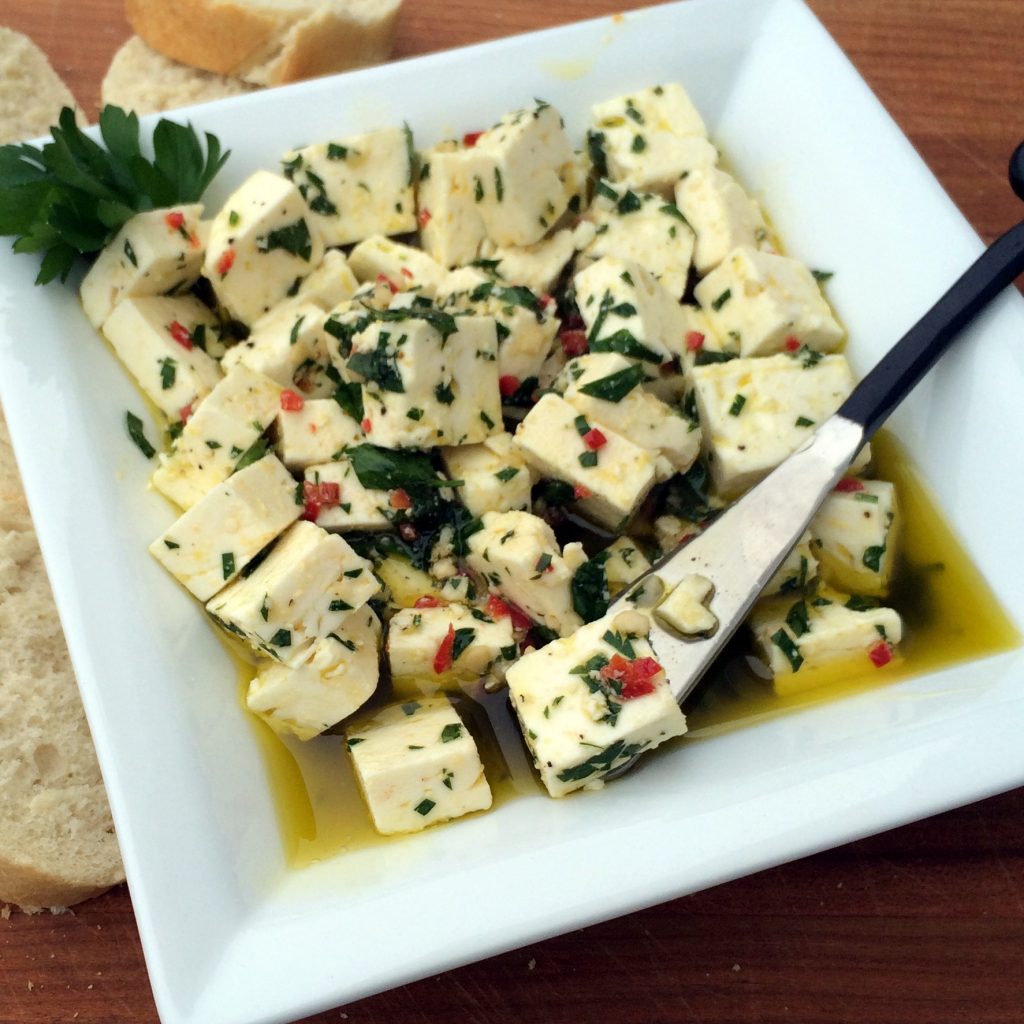 Cooking beats commuting any day in my book. And it was time well-spent, every bite of this meal was better than the last. The kids even wolfed it down.