Breakfast is a challenge on work days. My preference is something savory, low-carb, and satisfying. Oh, and I try to keep breakfast around 300 calories. Eggs are a preferred choice, though I prefer to eat later in the morning (at work), so they are not a great option most days. Chobani black cherry yogurt with a tablespoon of peanut butter is my fallback option. It doesn't always satisfy though, I end up really hungry before lunch. Ditto on smoothies. Granola is an easy add-in for the yogurt, but shoots the calories and carbs way up. Besides, MUST EAT ALL THE GRANOLA.
I am finally climbing out of a long winter rut that did not include much cooking or kitchen creativity. The other day I passed by the bookcase with the overflow of cookbooks in our basement, and a few caught my eye. As I was looking through Super Natural Every Day the muesli recipe caught my eye. I love how Heidi Swanson wrote the recipes in this cookbook, she lists the star ingredients directly under the recipe title. I immediately saw it called for oats, golden raisins, Marcona almonds. Oats, check. Marcona almonds, check – just happened to buy a large container of from Costco, check. Golden raisins, check – leftover from another recipe (coming soon).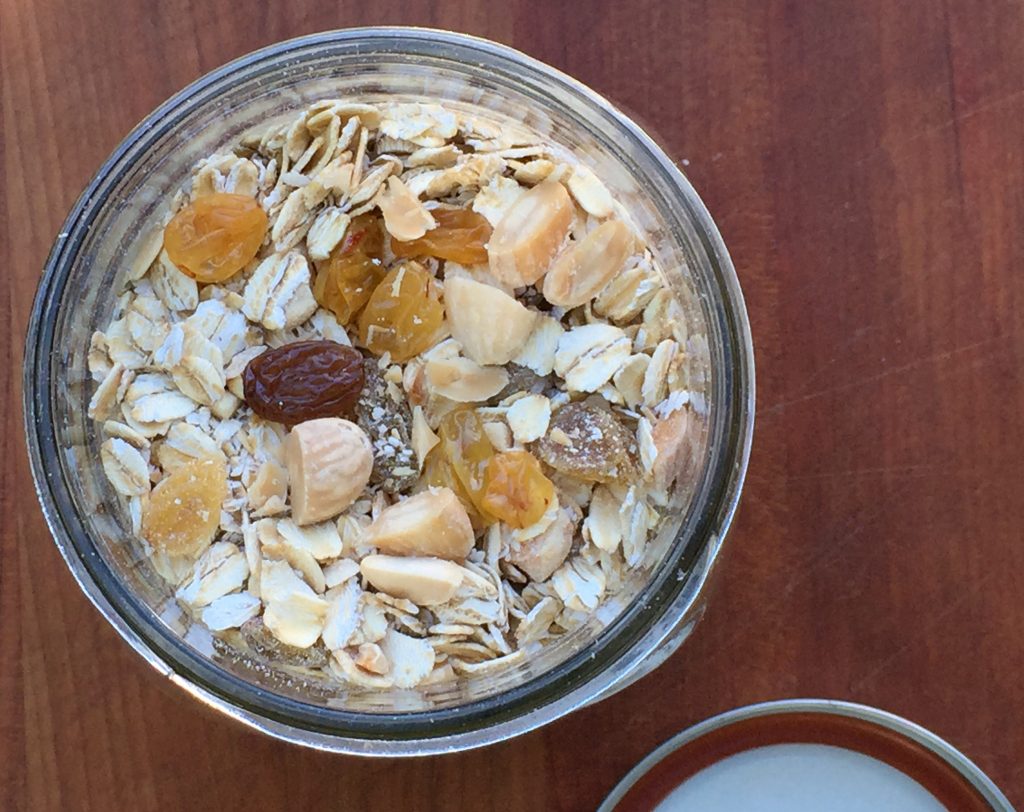 Muesli is like granola, except it is raw. No baking obviously makes the prep super simple. No oil or sweeteners, which keep the sugar and fat in check. The recipe fits nicely in a quart size mason jar. I only strayed from the recipe a bit, I could not find wheat or oat germ any where, I used oat bran that I had on hand instead.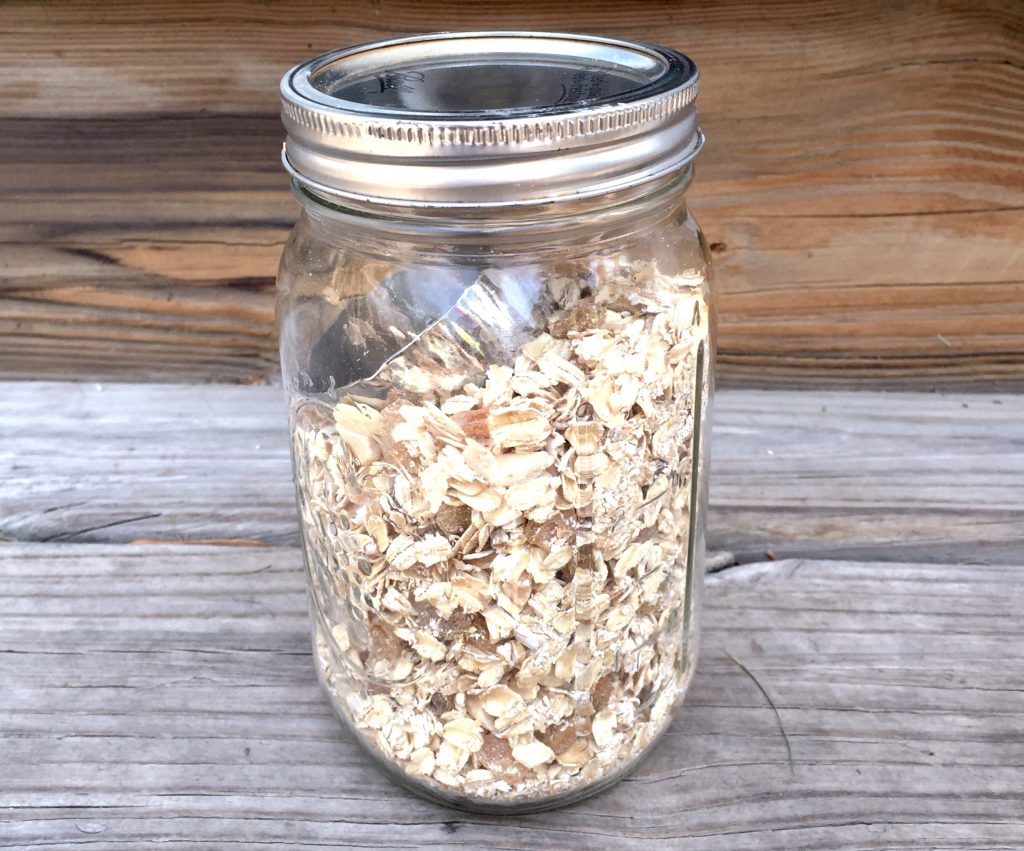 You can serve the muesli in milk like a cereal or mixed into yogurt. I mixed it into plain nonfat Greek yogurt, let it sit in the fridge overnight, and added in my toppings of choice right before eating.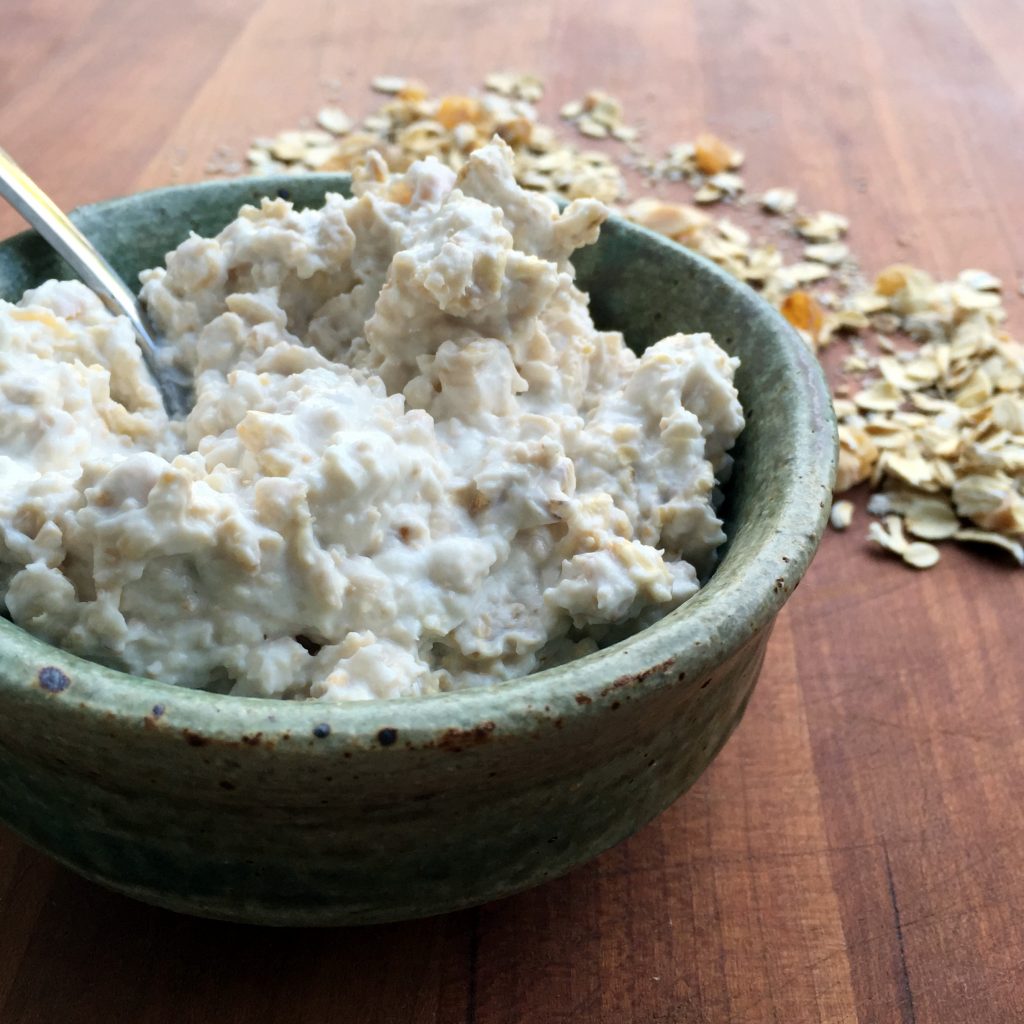 Admittedly, it is not much to look at. But can we talk about the bowl for a minute? My daughter made it at school. in fact, she made all the bowls pictured. We are lucky that our high school has a kick-ass arts department, with a ton of offerings. This was her first wheel throwing class, and the pottery she made is phenomenal.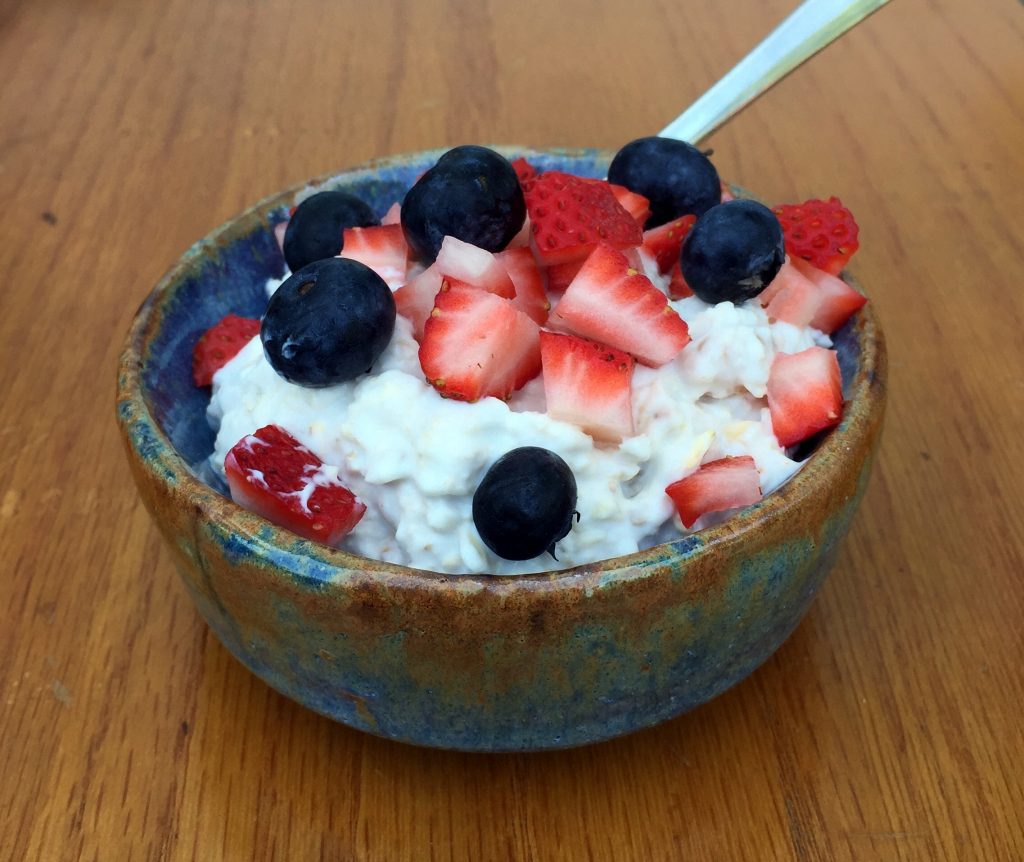 Top with your favorite fruit. Or stir in nut butter, or cinnamon.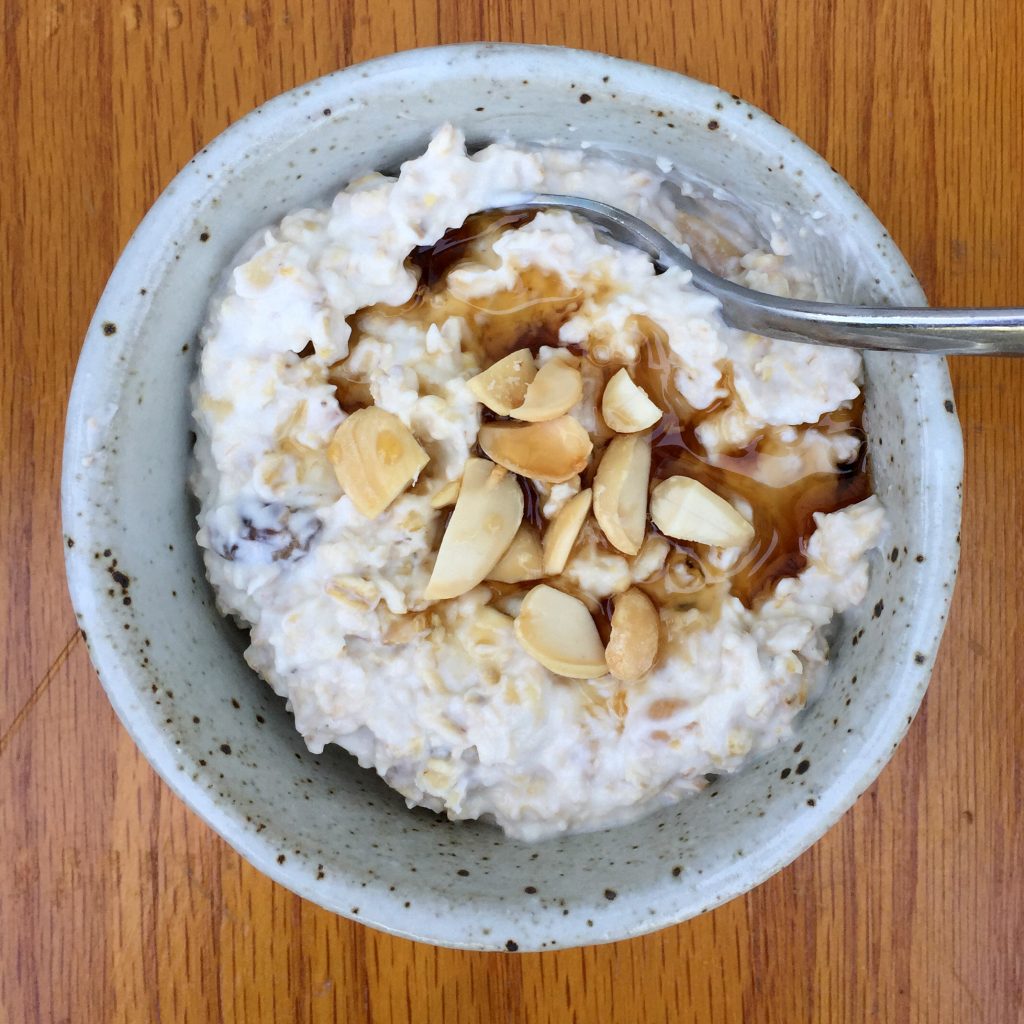 Or top with one teaspoon of pure maple syrup and a few chopped Marcona almonds. Whatever you like!
Muesli
Author:
Prep time:
Total time:
Ingredients
3 cups oats, old fashioned
1/2 Marcona almonds, chopped
1/4 golden raisins
1/4 cup oat bran
1/4 teaspoon salt
Instructions
Stir to combine all ingredients
Store in an airtight quart size container
Makes 8-1/2 cup servings
Here is how I made mine, letting it sit overnight. I used a 1/2 cup of water and it was still very thick. Adjust to your taste. Left to combine overnight, I did not find the oats chewy or doughy and the almonds still had a bite to them. According to my calculations for a serving of muesli + yogurt = 248 calories, 6 grams of fat, 34 carbs, 4.5 fiber, 9 sugar, 17.5 protein.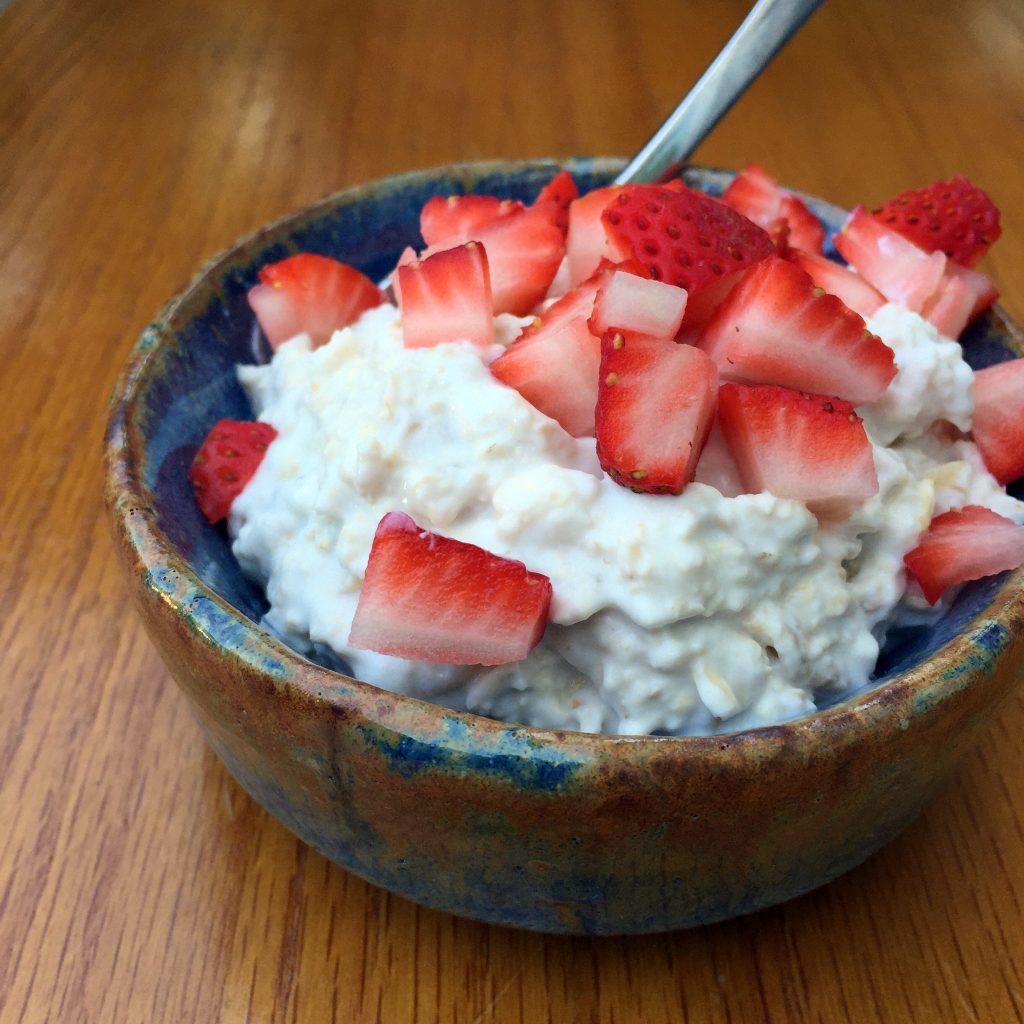 Muesli with Yogurt
Author:
Prep time:
Total time:
Ingredients
1/2 cup of Greek yogurt, nonfat
1/4 – 1/2 cup of water (depending on how thick you want it)
1/2 cup of Muesli
Instructions
Stir to combine
Let sit in fridge overnight
Optionally, when serving stir in sweetener, fruit, nuts, raisins, nut butter of choice
Notes
I used 1/2 cup of water, and it was still thick.
Fulfills all my requirements, savory, low-carb, and very satisfying. A great workday option for breakfast, especially in the summer.