Turns out a I like peanuts, or more specifically peanut sauce. Quinoa, not so much, that I just tolerate. It is pain to make and besides it always gets stuck in my teeth. I made an exception in order to try this recipe and it paid off, delicious and no quinoa in my teeth. I used the recipe from Everyday Cooking plant-based recipe cookbook as my starting point and made a few alterations from there. Between my daughter and I we've made over a half-dozen recipes from this cookbook, and they have all been great. My only complaint is that every single recipe calls for sugar or maple syrup. I leave it out of the savory recipes as I do not see what value they add. Otherwise lots of good recipe, vegan or not.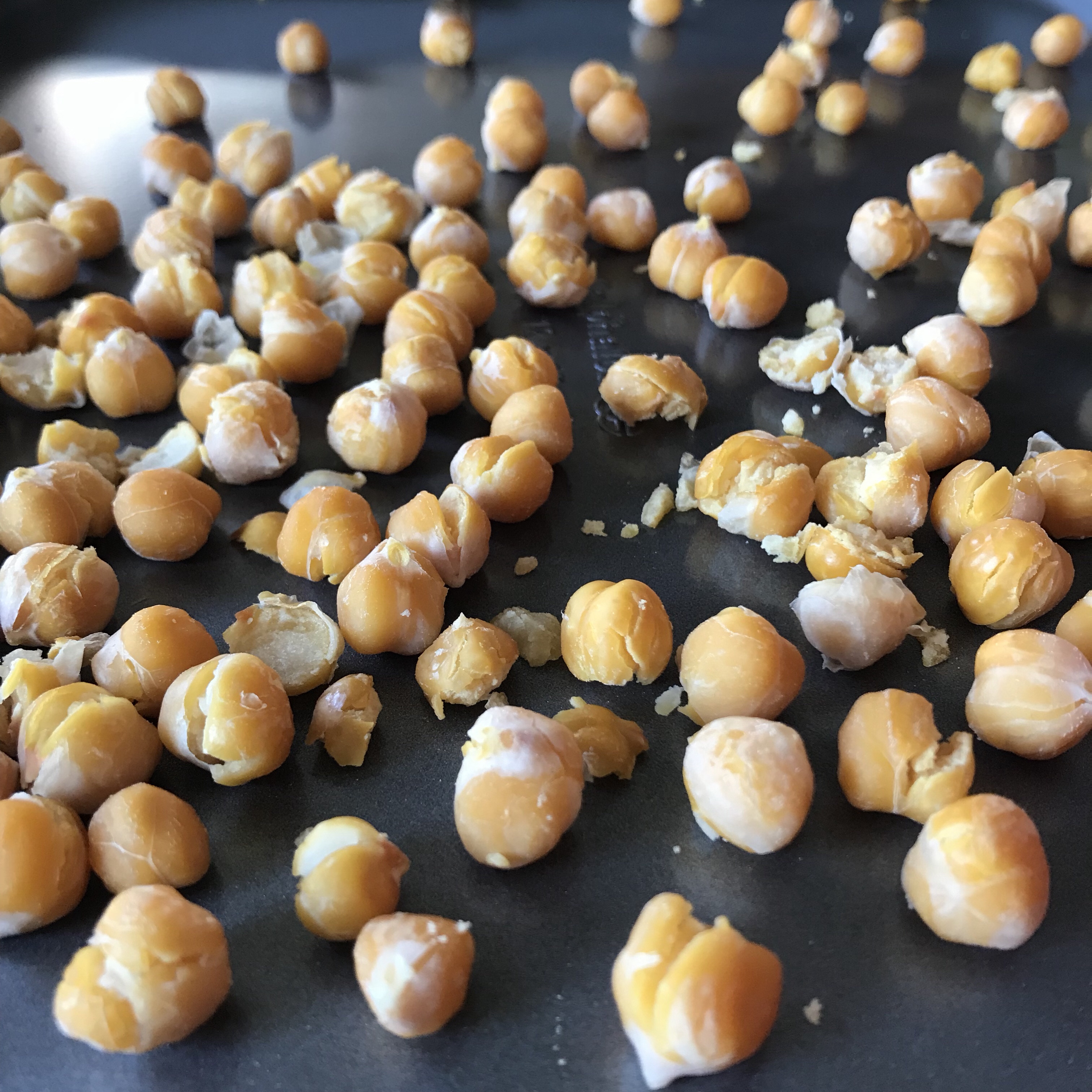 Start with roasting the chickpeas and then making the peanut sauce. Don't bother to clean it out for blending the chick peas, the flavors all end up being mixed together anyway. You call it lazy, I call it efficient.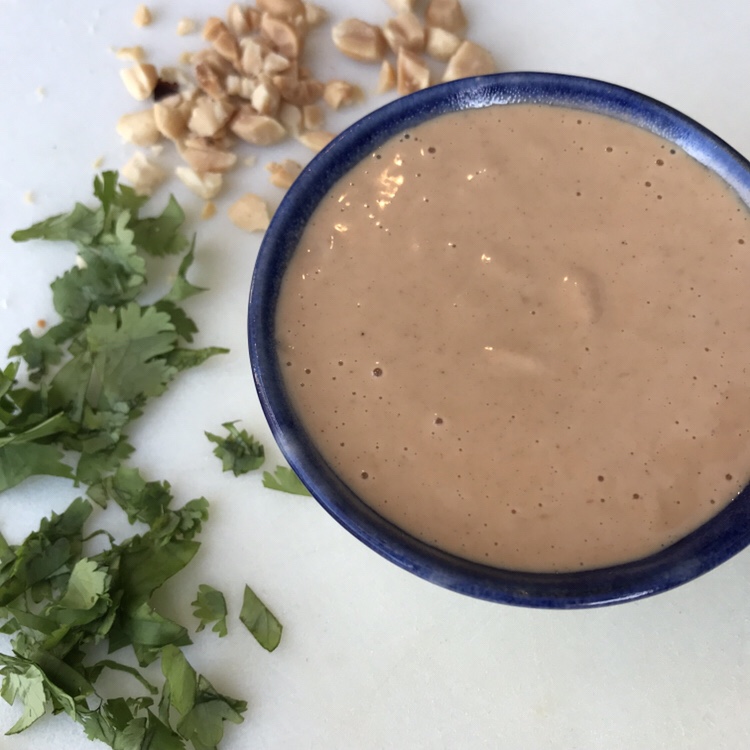 Speaking of, the lengths I will go to avoid a trip to the grocery store are spectacular. I was out of soy sauce but I did have all the ingredients on hand for this soy sauce substitute. It got the job done.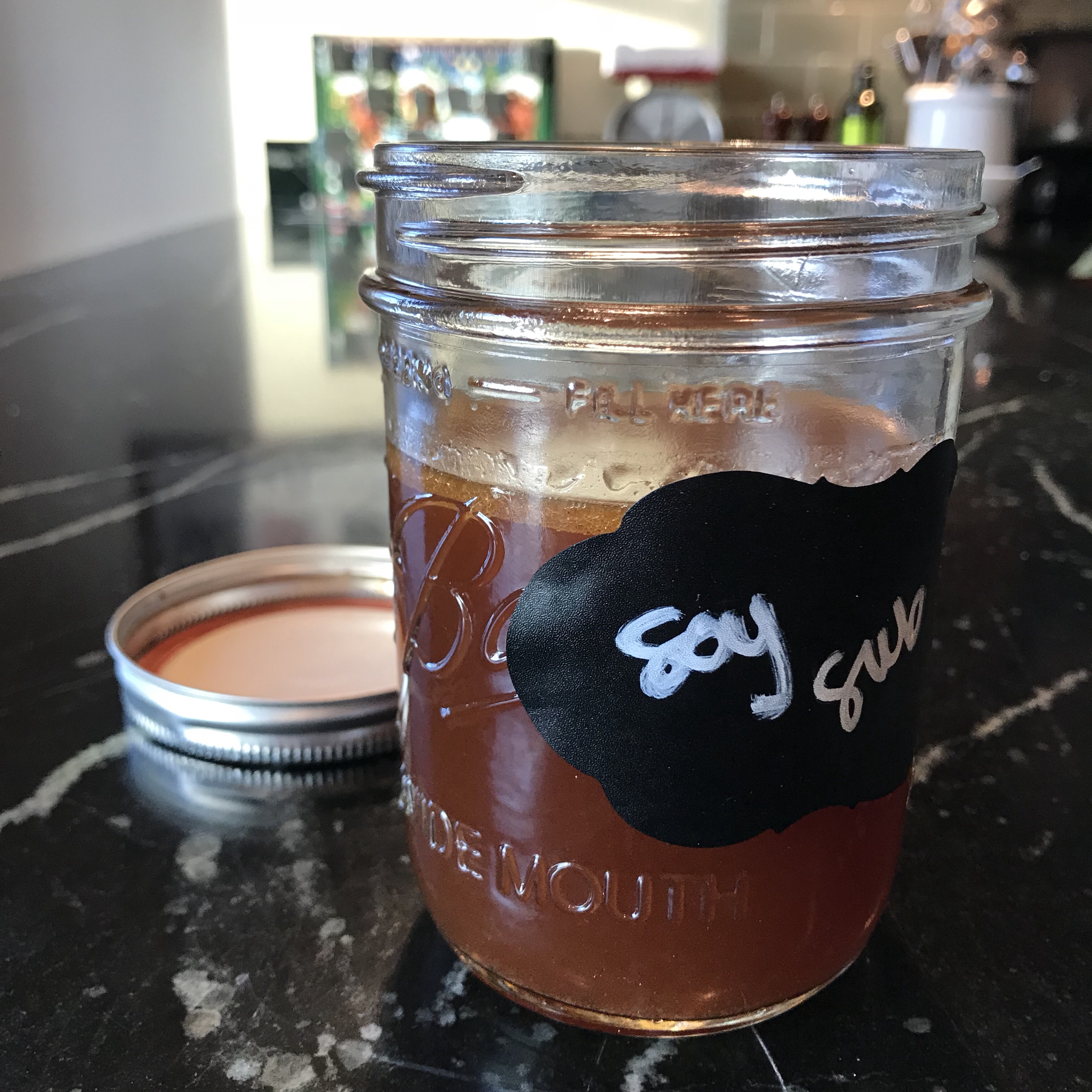 Fake news, as the shape is the only thing these have in common with meatballs. The texture and flavor are way off, they are good but I think a hard sell for a dedicated meat-eater.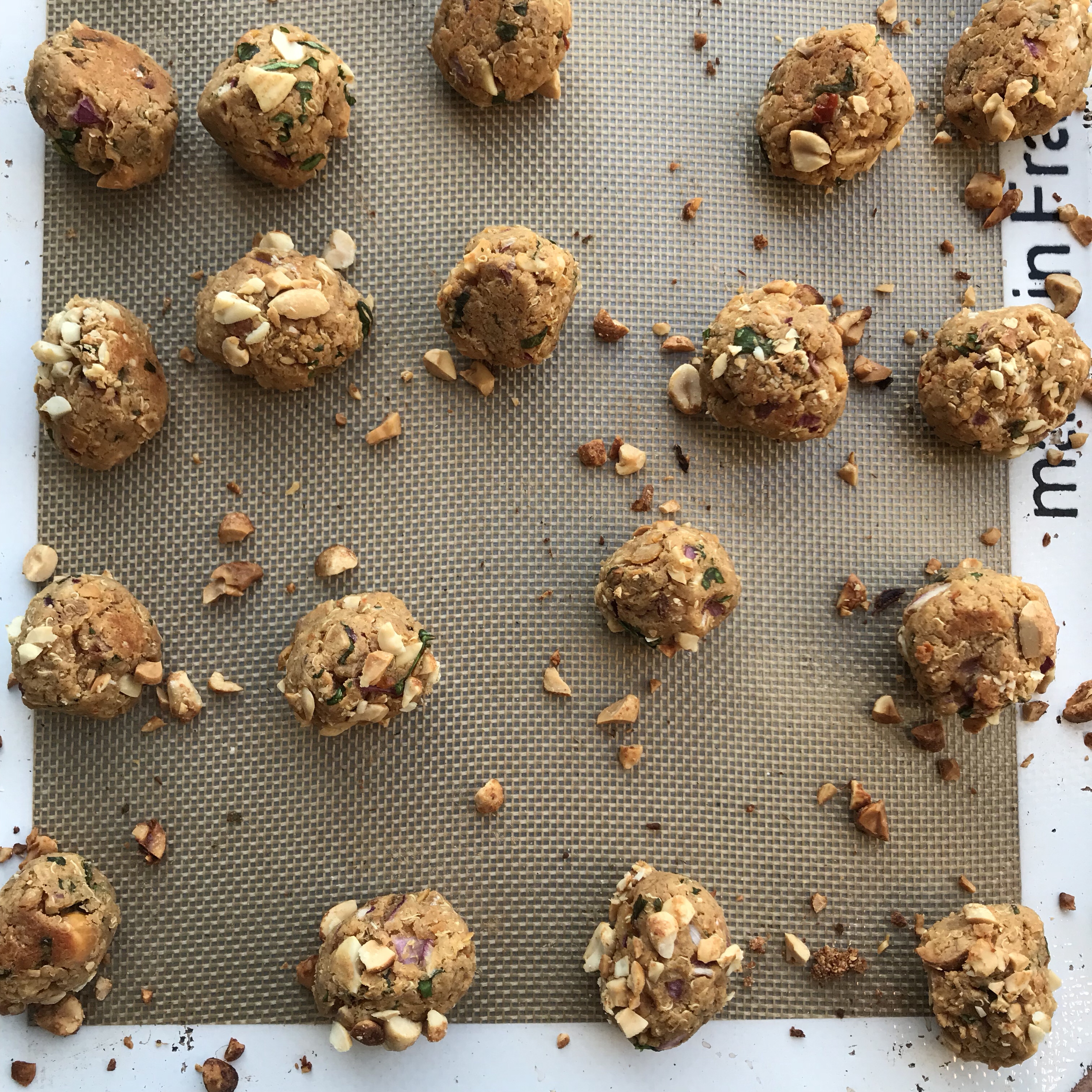 Carrots as noodles, fake news too. However carrots make an awesome noodle fake out. My fav celebrity chef ever, Sara Moulton, introduced me to the carrot noodle trick years ago. This would be just as good with spaghetti squash or real pasta.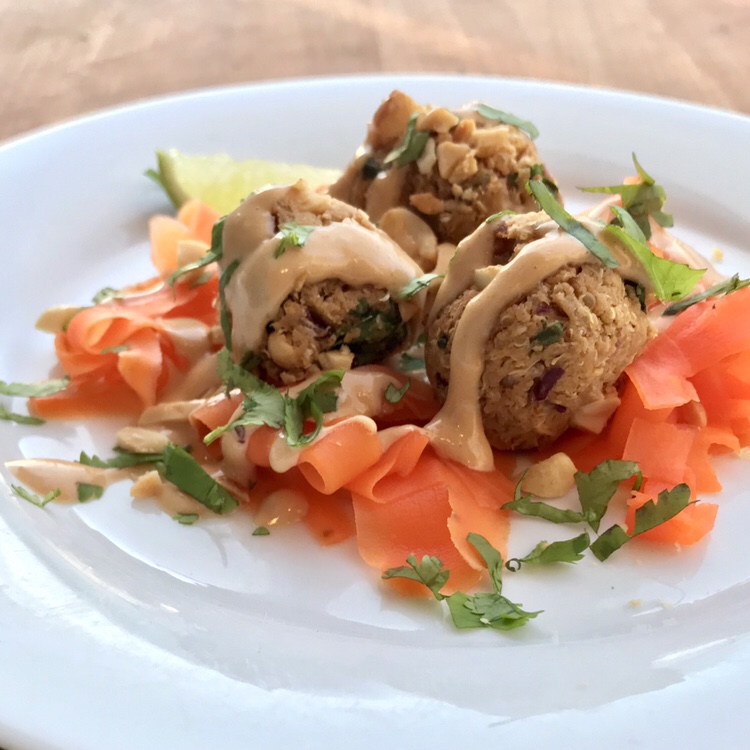 Always good to try something new. Give it go, see what you think.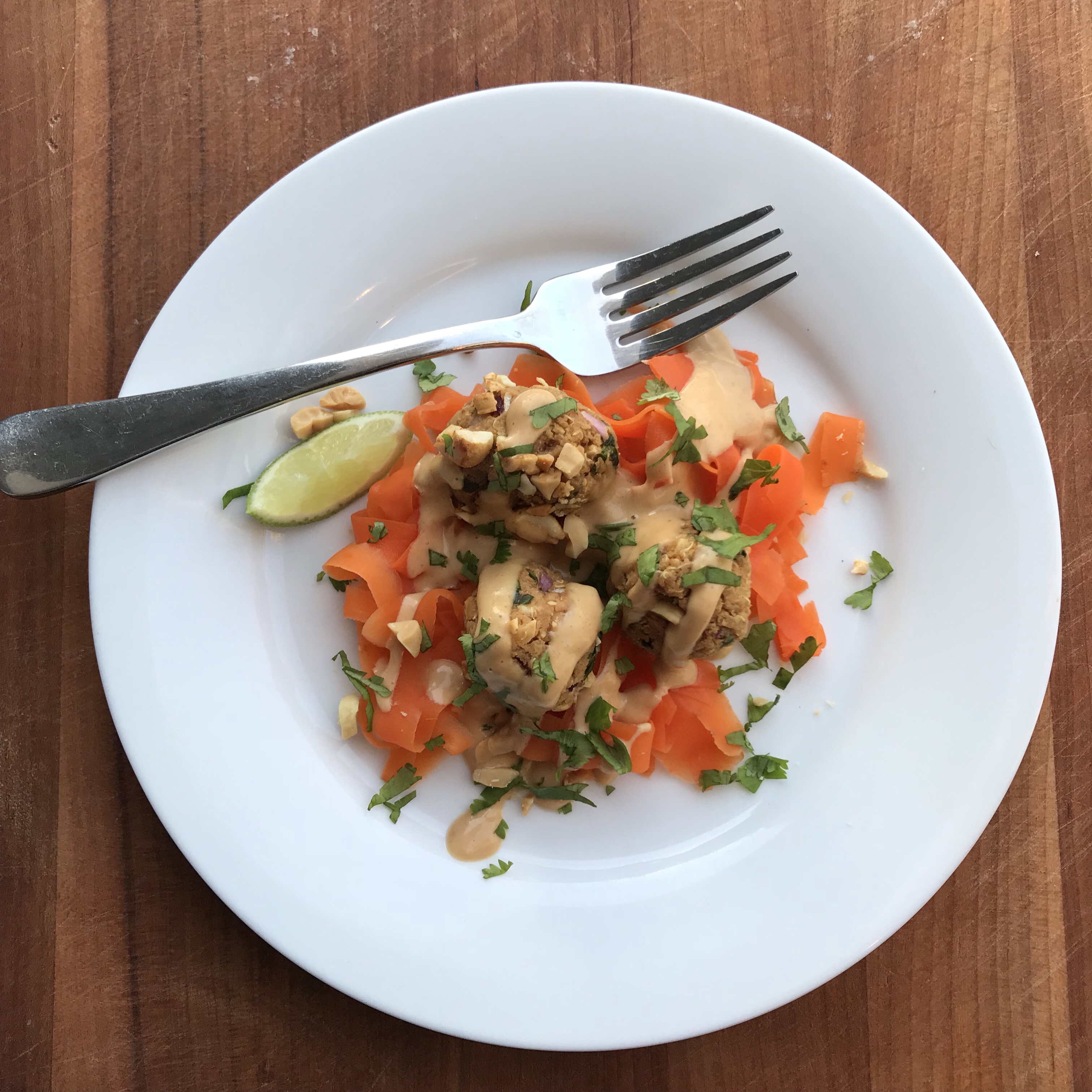 Ingredients
Peanut Sauce:
1 lime, juiced
2 T. soy sauce
1 t. chili garlic sauce
2 T. hot water
Meatball:
1 15-oz can chickpeas, drained and rinsed.
1/2 cup cooked quinoa
2 T. creamy peanut butter
2 T. soy sauce
1/4 cup cilantro, chopped
1/4 cup red onion, finely diced
1 t. chili garlic sauce
1/2 cup roasted salted peanuts, finely chopped
1/2 cup bread crumbs
Carrot Noodles:
6 carrots, peeled into ribbons
Instructions
Pre-heat oven to 350 degrees F.
For peanut sauce, blend all ingredients in a blender until smooth sauce. Add water to desired thickness. Transfer to a bowl and set aside.
Place chickpeas on a cookie sheet and cook for 15 minutes. Set aside, After cooled, blend in blender or food processor.
In a large bowl combine all meatball ingredients. Mix to combine.
Scoop out 1 T. per meatball. roll and place on greased cookie sheet.
Cook meatballs for 15 minutes, turn and cook another 15 minutes.
Cook carrot noodles in salted boiling water for 3 minutes. Drain and set aside. Reheat as needed to serve.
To serve top carrots with peanut sauce, meatball and top with cilantro and chopped peanuts.
http://www.jaxhouse.com/2017/12/14/thai-quinoa-meatballs/