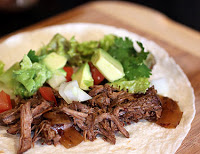 Looking for a meal to make for celebrating Cinco de Mayo, look no further.  This recipe is probably on of the best slow cooker recipes I have made, second only to the Guinness Corned Beef and Cabbage I make for St. Patrick's Day.  This meat is extremely tender and tasty.  I made it with all the mild ingredients and the kids devoured it.  The recipe goes a long way, enjoy leftovers over brown rice or as a nacho topping.
Tex Mex Beef in Slow Cooker
16 oz. jar of thick and chunky salsa
1 c. of beer
6 oz. can of tomato paste
1 packet taco seasoning
3 lb. Boneless beef roast
1/2 t. salt
1/2 t. pepper
2 T. peanut butter
1/3 c. chopped cilantro
Tortillas
Queso Blanco cheese, crumbled
Lettuce, finely shredded
1. Place salsa, beer, tomato paste and taco seasoning in 5-qt (or larger) slow cooker. Stir to mix. Rub beef with salt and pepper; add to slow cooker and spoon sauce mixture over it.
2. Cover and cook on low for 8 – 10 hours until beef is very tender when pierced. Remove to cutting board. Stir peanut butter and cilantro into sauce. Shred meat and add back to sauce.
3. Warm tortillas, fill with meat and top with lettuce and cheese.
Serve with jicama and avocado salad and your favorite Mexican beer or margarita.
Shared on Beauty and Bedlam Tasty Tuesday and Life As Mom Ultimate Recipe Swap and Make a Food-"e"-Friend Monday