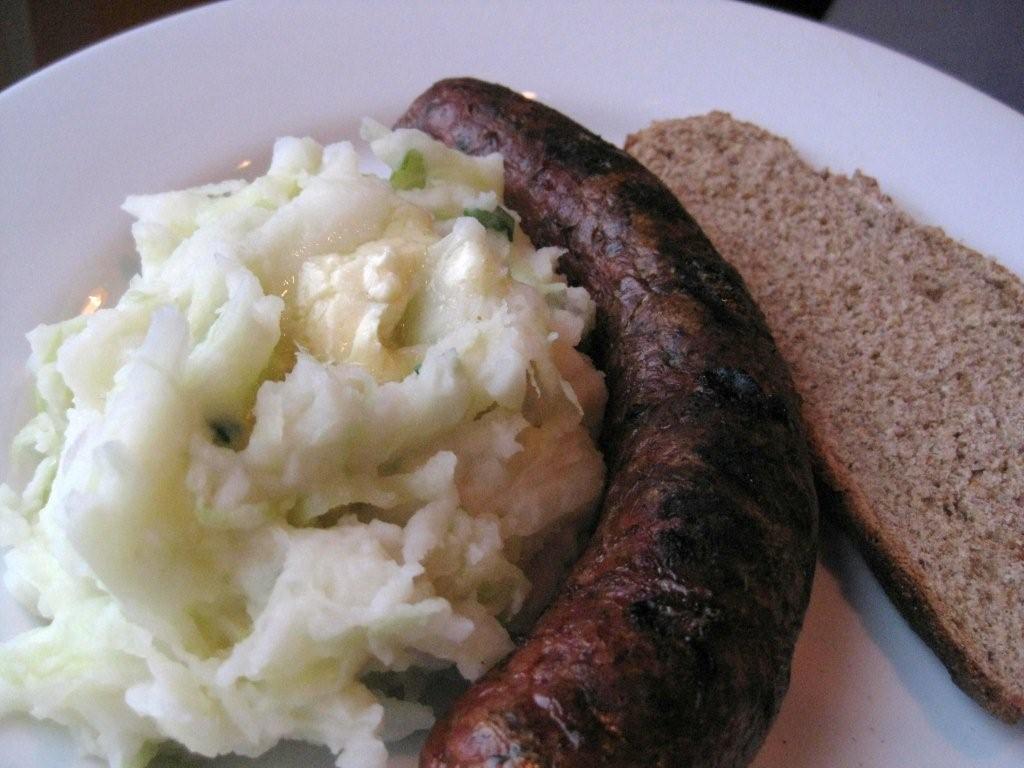 I abandon all plans for Irish soda bread this year.  I always end up eating it with too much butter anyway.  Kept it simple with this brown bread recipe to accompany our lamb sausage and colcannon.   Very easy bread to throw together.  It turns out as a dense chewy bread that is great with a slightly salty butter on top –any time of year.
Irish Brown Bread
2 cups whole-wheat flour
2 cups all-purpose flour plus additional for kneading
1/2 cup wheat germ
2 teaspoons salt
2 teaspoons sugar
1 teaspoon baking soda
1 stick (1/2 cup) cold unsalted butter, cut into 1/2-inch cubes
2 cups buttermilk
Preheat oven to 400°F.
Cut butter in small cubes and put in freezer for 15 minutes.
Whisk together all dry ingredients.
Blend in butter with a pastry blender or your fingertips until mixture resembles coarse meal.
Add buttermilk, stirring until a dough forms.
Gently knead on a floured surface until smooth, about 3 minutes.
Transfer dough a greased baking sheet. With a sharp knife, cut an X across top of.
Bake until loaf is lightly browned and sounds hollow when tapped, about 40 minutes.  Turn half way through baking.
Cool on a rack about an hour.