We've finally found a butcher in town and they are awesome.  They aren't a fancy shop but their meat is fresh and delicious and they have lots of friendly butchers that are more than happy to help you.  The homemade sausages they have is excellent, they have all types of varieties from spicy to lamb as well as chicken.  With a free Saturday on our hands we decided to pick up some meat and get the grill back in shape for the summer. We decided on a pork shoulder but didn't want to do a usual pulled pork recipe, we were in the mood for Asian flavors.  Asian pulled pork it is!
This is a great recipe for entertaining because most of the work is done the night before.  Season the pork, pickle the jalapenos and the onions, and make the BBQ sauce.  Park them all in the fridge overnight.  Cooking the pork is then the star attraction with all the other stuff out of the way in advance.  If you prepare the meat on the grill it take a little babysitting to make sure the coals keep a steady  temperature.  If you opt for the oven it is a little more hands off.  A cole slaw with a sesame oil rice wine vinegar dressing is a great side side.  Leftovers, if there are any, are great too!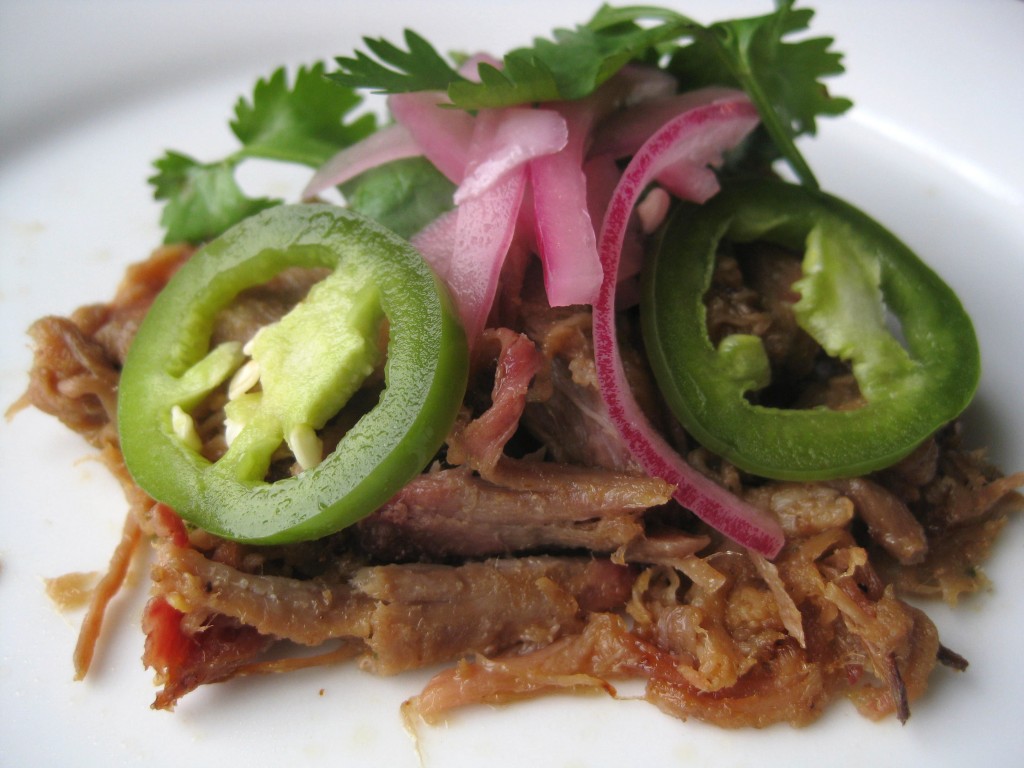 Asian Pulled Pork
Serves 8-10 people
5lbs pork shoulder, bone in and trimmed
1 1/2 tablespoons garlic powder
1 tablespoon Chinese Five Spice
1 tablespoon onion powder
1 1/2 tablespoons salt
1 tablespoon brown sugar
1 1/2 teaspoons cayenne pepper
Mix all dry rub ingredients together.
Pat dry the pork, sprinkle the rub mixture over the entire pork shoulder, rub into the meat.
Refrigerate overnight.
Asian BBQ Sauce
2 tablespoons oil
2 tablespoons garlic, minced
2 tablespoons ginger, minced
1 tablespoon white wine
1 tablespoon Sirachi
1 tablespoon brown sugar
1 1/2 tablespoon soy sauce
1 tablespoon sesame oil
1 cup hoisin sauce
1 scallion, minced
1/4 cup fresh cilantro leaves, minced
Heat oil in a saucepan, add ginger and garlic and cook until fragrant – about 2 minutes.
Stir in wine, brown sugar, Sirachi, soy sauce and sesame oil. Cook for another 2 minutes.
Add hoisin sauce and bring to simmer.
Remove from heat and stir in scallions and cilantro.
Remove pork from fridge 15 minutes prior to cooking.
Cook pork shoulder at 275° covered in oven or over indirect heat on charcoal grill until internal temperature is 180°, about 4 hours.
Remove from oven and let sit covered, internal temp should reach at least 180°.
Let pork rest about 15 minutes and then shred with hands or two forks. (It will be extremely hot but your hands are the best tool for pulling).
Mix in the Asian BBQ sauce.
Serve on buns as pulled pork sandwiches (though great with no bun too).
Top pork with pickled jalapeno and red onion and cilantro.
Alternatively you can prepare this meat in a Crock-pot as well.  Cook on low for 8 hours.
Shared on Tasty Tuesday and Tuesdays at the Table and Life as Mom Ultimate Recipe Swap and Mouthwatering Mondays and Friday Potluck and Make  Food-"e"-Friend and Eat At Home