Lots of good stuff in the CSA box this week. As a bonus is it all manageable amounts so I am not feeling the pressure to use them before they go bad. Should be easy enough this week.
Radishes
Bok Choi
Head Lettuce
Mesclun Mix
Turnips
Scallions
Kale
The radishes will be pickled again, these last awhile. Lettuce is never hard to use up. I'll admit the turnips are getting hard to use up, mostly they have been just grated into salads. I need to find a new way to eat em up.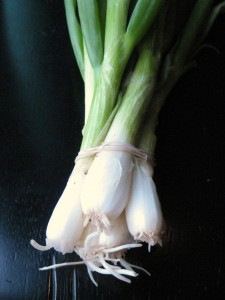 When I saw the scallions, they were so fresh, it brought to mind a shrimp recipe I have made in the past. I stir-fried the bok choi to go along with it. I still want to try it on the grill, maybe this weekend I will finally get around to it.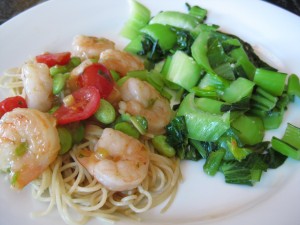 Ingredients
Sweet Scallion Shrimp
makes 6 servings
2 T. oil
1 bunch of scallions, sliced (white and green part)
1 t. ginger, grated
4 T. sugar
Orange rind, grated (small orange)
2 t. kosher salt
2 lbs. shrimp
1/2 cup edamame
1 pint cherry tomatoes, halved
1/2 box angel hair pasta
Sriracha (optional)
Instructions
Heat 1 t. oil in a saute pan on medium heat. Add onion and stir to coat.
Add ginger, sugar, orange, and salt to the scallions.
Cook scallions, stirring often, about 10 minutes. Set sauce aside.
Heat 1 T. oil and 1/2 of scallion sauce in a wok (or saute pan) over medium-high heat.
Add shrimp and stir-fry until pink.
Add edamame, stir until heated.
Add remaining scallion sauce and tomatoes, combine and heat thru.
Cook pasta per package directions.
Serve shrimp mixture over cooked pasta. Top with Sriracha to taste.
D E L I C I O U S ! You can up the sugar or downgrade the salt, I prefer less sweetness. And be sure to top it with sriracha. My daughter loved it, my youngest insisted he only likes crab and opted for a cold leftover cheeseburger. Not a battle I was up for picking with an overtired 4 year-old.