I am doing my best to reacquaint myself with reality since getting back from our trip.  I will say that it is actually easier after a two weeks than after only one week.  Not to say I wouldn't prefer being on a beach but at least I actually feel like I had a vacation.
We packed a lot of fun into two weeks, the first week alone was jam packed.  After a stop in Michigan we headed to Gettysburg PA.  I can't say the kids enjoyed it as much as we did.  IN fact, the four-year was fully expecting there to be soldiers in the midst of a battle on the battlefields.  He was sadly disappointed that they were just battlefields.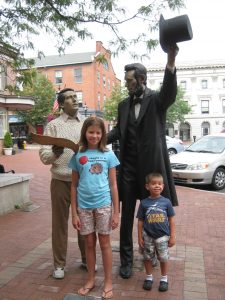 Then it was onto Hershey PA for a quick visit.  We skipped the park, the admission price was a bit steep considering none of us are too big into roller coasters.  We did hit the museum and had fun seeing all the sights.
NYC here we come.  We hit the ground running, dropped our bags and headed for the kids first subway ride.  Destination was lunch at one of our former favorite brunch stops from when we lived out there, they have since done away with the all you can drink brunch.  I am sure it had nothing to do with the 6 hour brunches we'd partake in.  Anyway, it seems to be going downhill these days (who runs out of bacon and pizza) but the kids had a good time.  They loved that you had to find the bathrooms behind a hallway of bookcases.
After lunch it was back to the subway to hit up to the Empire State Building.  The lines were long since we got there right at dusk.  We got to bypass an hour wait for the elevator by walking the six flights up the stairs.  Sounds easy?  Not so much, but totally worth skipping the line.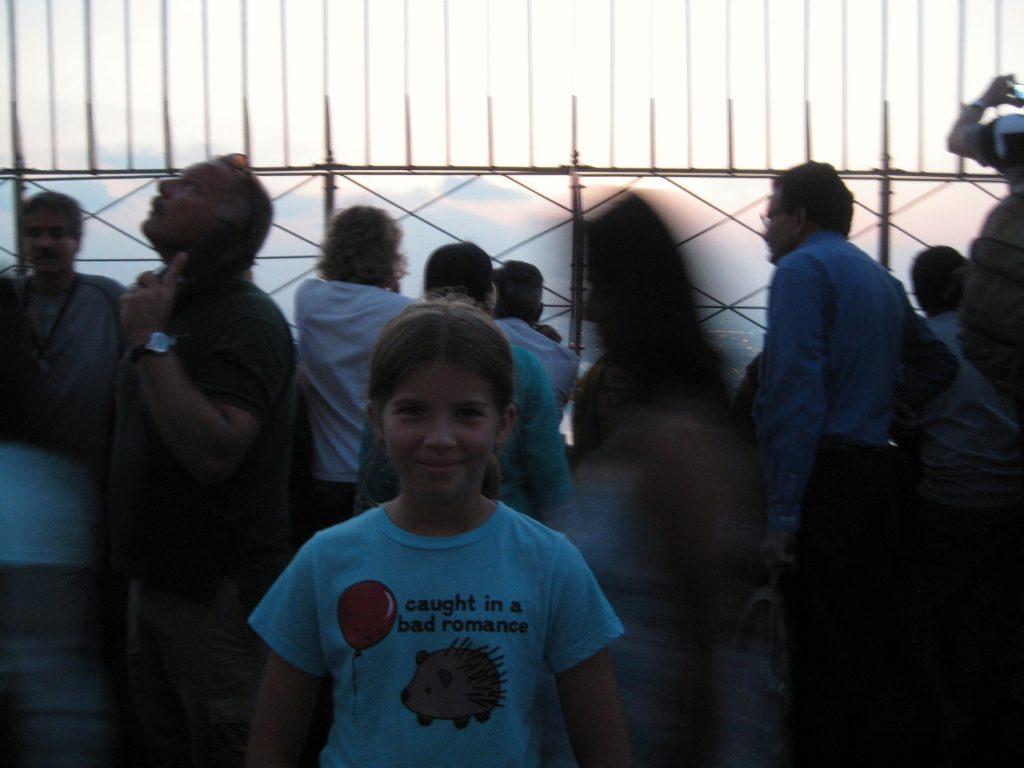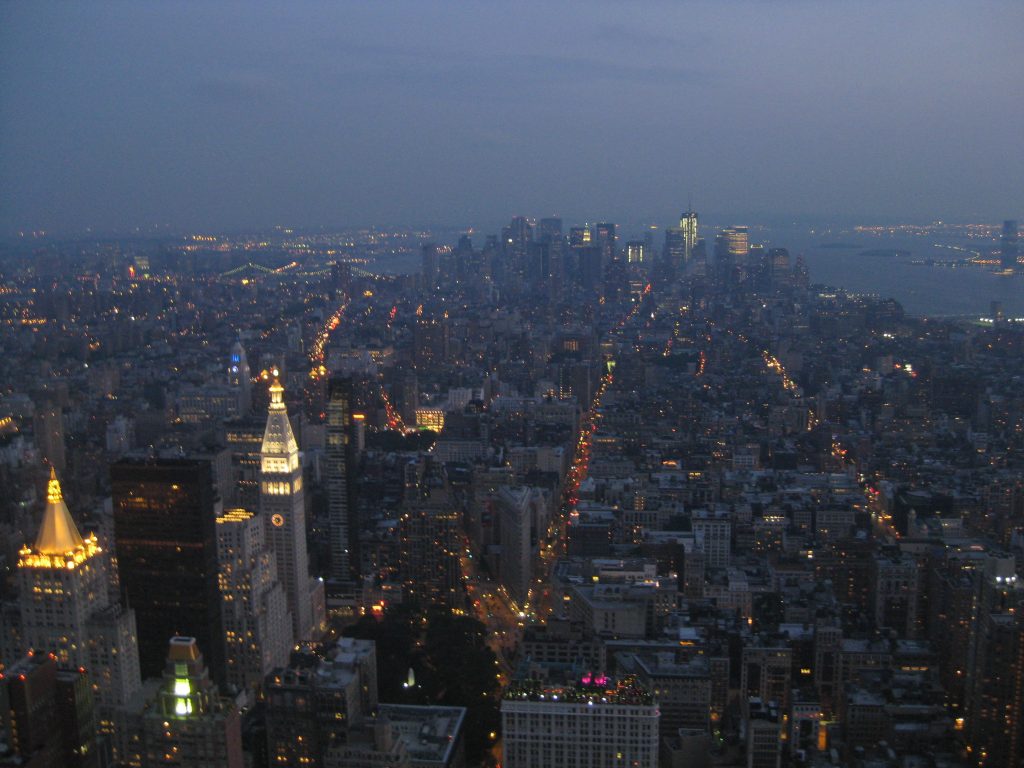 As tired as we were, we walked back to the hotel.  The subway stop was just too flippin' hot.  We had to walk through Time Square, it was crazy town even at 10 pm on Sunday.  It is like a Vegas street fair on steroids.  The crowds were crazy at all hours of the day.  Luckily our hotel room was 13 floors up and sound proof.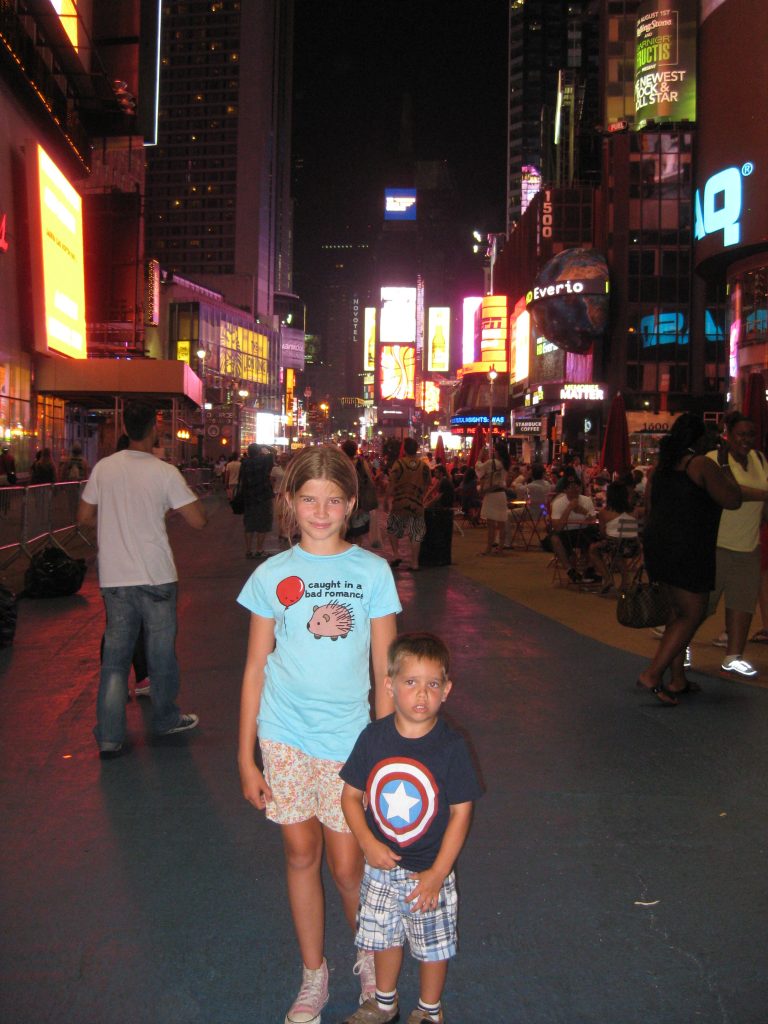 First thing the next morning we were off to The Statue of Liberty, the main reason for our visit.  The four year-old was over the moon, he has been looking forward to seeing this forever.  It totally lived up to his expectations.
After stopping to watch a fun street show, a jaunt through Wall Street, a stop at ground zero, we headed to lunch at one my favorite places, Peanut Butter and Company.  The kids loved it!  What is not to love about white chocolate peanut butter and fluff on white bread.? Or Peanut butter, bacon, banana, and honey?  The rainy afternoon squashed our plans to walk around NYU and Washington Square Park.  Instead we headed back on the subway to rest our feet at the hotel.  Only the husband ended up resting, I headed out in the rain with the kids to do some shopping for a bit.  Then it was back out, this time a bit uptown.  My daughter really wanted to see The Plaza and FAO Schwartz, she's seen Home Alone Lost in New York a few times?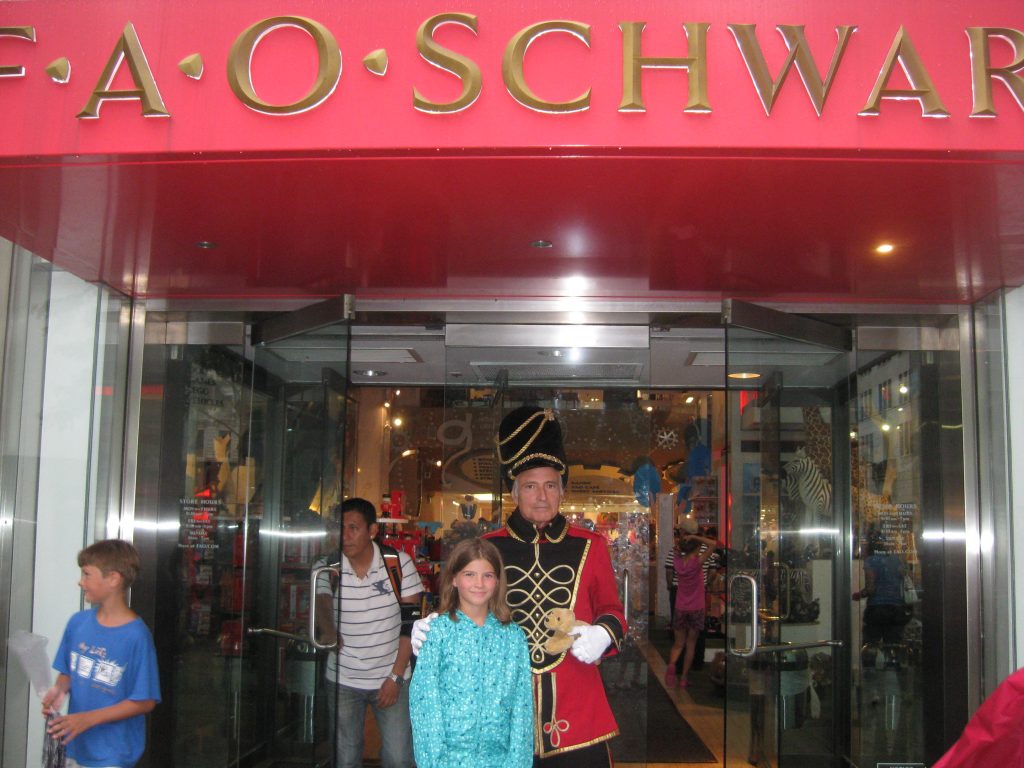 More rain kept us from exploring Central Park, instead we headed over to Dylan's Candy Bar en route to dinner.  Dylan is Ralph Lauren's daughter and she sure knows candy.  We stopped for a delicious dinner, soup dumplings were the highlight.  This dinner voted our best meal of the trip.  Too exhausted to walk, or even jump on the subway, we took the kids on their first cab (or cabxi as my son likes to say) ride.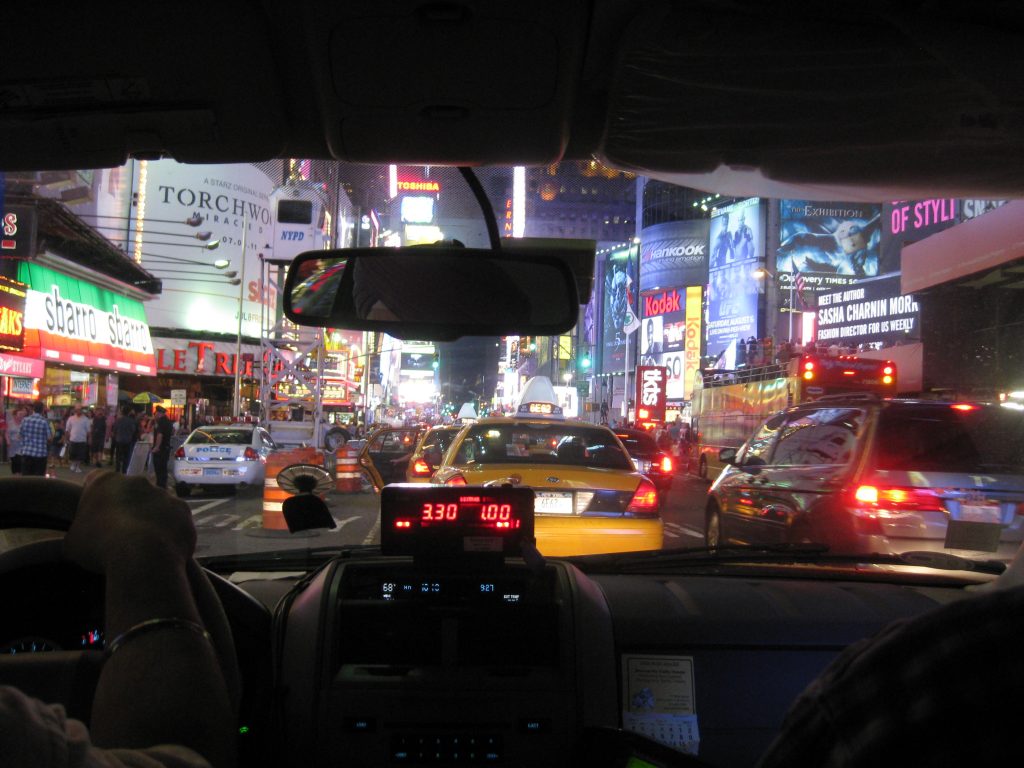 Yikes, luckily we were not too far away.  Before getting back on the road the next day I took my daughter over to Rockefeller Center to look around.  We were on the hunt for a charm for her bracelet and we just so happened to end up in the jewelry store where I bought my husband's wedding band.  Not such an exciting fact for an 11 year-old, she just wanted to know when we were going to see The Cake Boss.
Sheesh I am exhausted just remembering it all, and that was only the first few days of the trip.