Plate as in plates.  Lots and lots of plates.  Whole lot of eating going on this holiday season.  Friday was the family celebration and traditional Pierogi Fest.  Homemade and fried to perfection.  A delicious way to kick things off.

Actually we started with lots of appetizers too.  My husband's liver pâté and I brought these tarts.  I had leeks from the CSA that needing using and I have been dying to try the spicy apricot jam from the food swap.  The tart were simple to make and I loved the added spice with the rich goat cheese.

I also attempted Challah for meal, I was semi-successful so skipped bringing it.  I need to coat it with egg better next time and figure out where in my house dough will actually rise fully.
It wasn't a total loss though since it made the perfect bread for an overnight Hot Buttered Eggnog French Toast.
I used my hot buttered rum batter as the base layer, topped it with sliced Challah, soaked it in a mixture of beaten eggs and eggnog.  I let it sit overnight in the fridge and baked it while we exchanged gifts.  Very good, though skip the syrup it is sweet enough.
The full spread was bagels, cream cheese, smoked salmon (two ways), leek and apple sausage Quiche.  I realize I totally failed on the fruit and vegetable front.

A few beverages too.  A spicy bloody Mary topped with celery salt and a hot eggnog latte.  The Bloody Mary counts as a vegetable right?
Thankfully I was able to head out for a run.  If you are keeping count that is about a zillion calories consumed.  A Christmas day run was great but being in shorts is so wrong.  Forty five degrees is nice, snow would have been preferred.  I thought it would be a quiet run but it seems everyone was out — a family with their Christmas puppy, two people on roller blades (yes two, it was like I ran back to the 1980's) they were not together and one of them was dressed up like Santa.  I also saw a guy wipe on his motorcycle.  He was OK, just hope it wasn't a gift because it did not look so good.  Got in about six-mile before we headed out for more good eats with family and friends.
A few more food firsts I made twice baked potatoes and a standing rib roast.  This was honestly the first time I have been successful in making a baked potato!  I used this recipe for the roast, it was foolproof as the title suggests.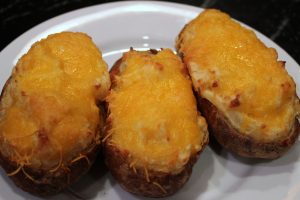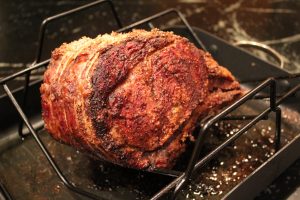 Lot of other delicious meals and desserts.  Of course food always taste better when you are in good company.
A great Christmas was had by all.  Onto the New Year!