Otherwise known as Spring Break 2012…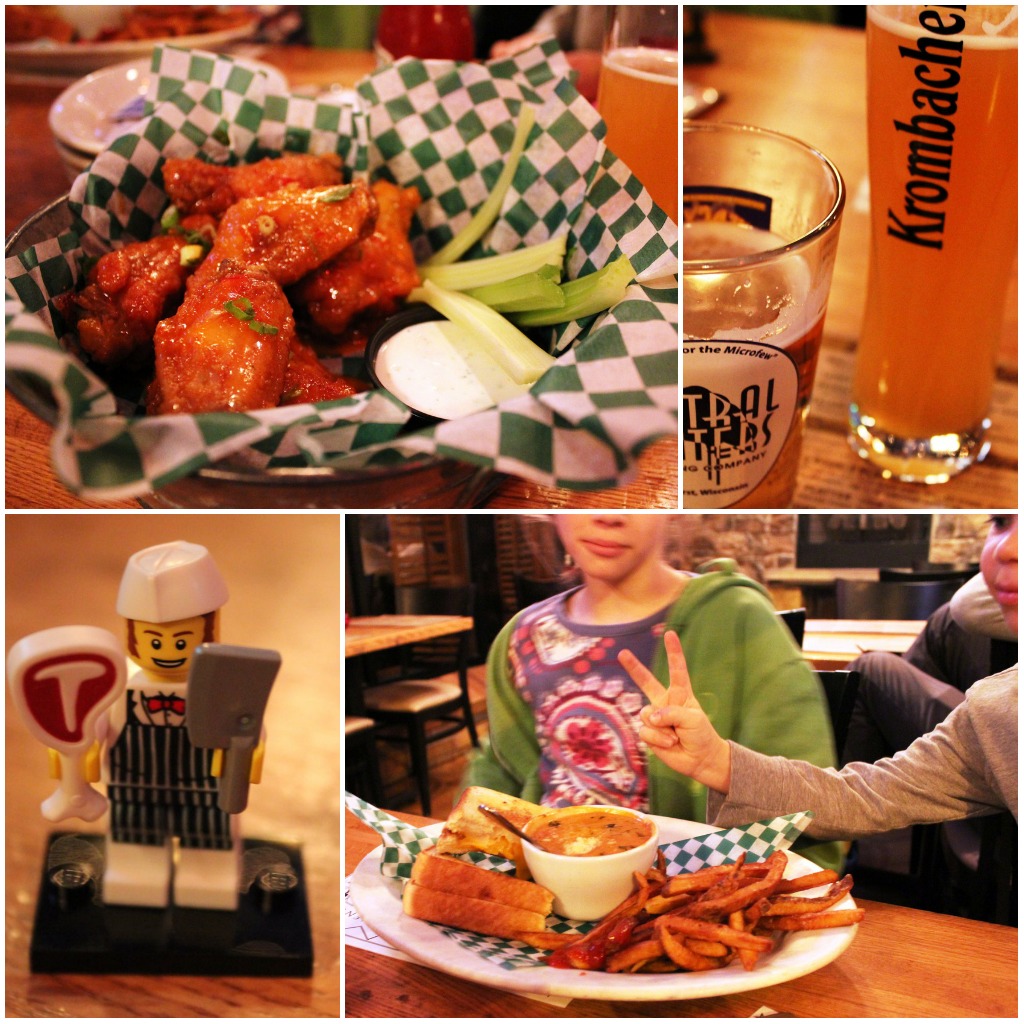 A long day full of lots of walking made us hungry.  Dinner at Jake Melnick's.  I had not been in this place since it was The Blackhawk Lodge.  Asked the waitress for a recommendation, she sold me on the Firecracker wings.  They were delicious, sweet hot, but a too mild for my taste.  A grilled cheese on Texas toast with a chunky tomato cheesy soup for dipping.  My daughter loved it, and my son could not help but photo-bomb.  Treats for the kids, Lego mystery figures, we got a butcher which was very appropriate.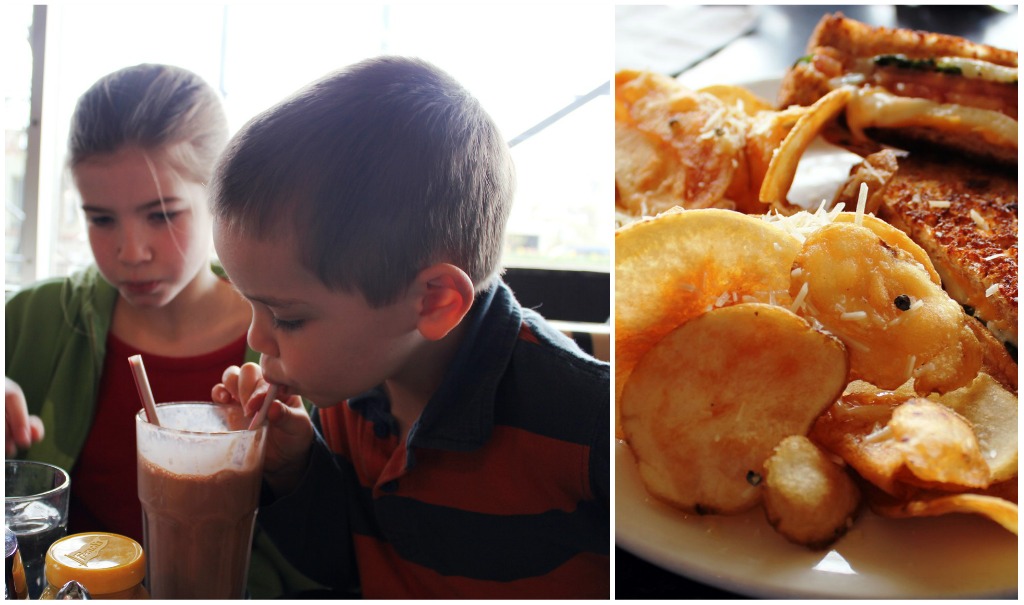 Another day, a lot more walking.  The kids were troopers.  After taking in some culture at the Art Institute we were ready for lunch.  I have walked by The Artist's Cafe a million times and have never stopped to eat.  The bad reviews of this place are surprising, all of our food was great and you can't go wrong with a chocolate malt.  My four cheese grilled cheese was great, though the homemade chips topped with Parmesan and cracked pepper stole the show.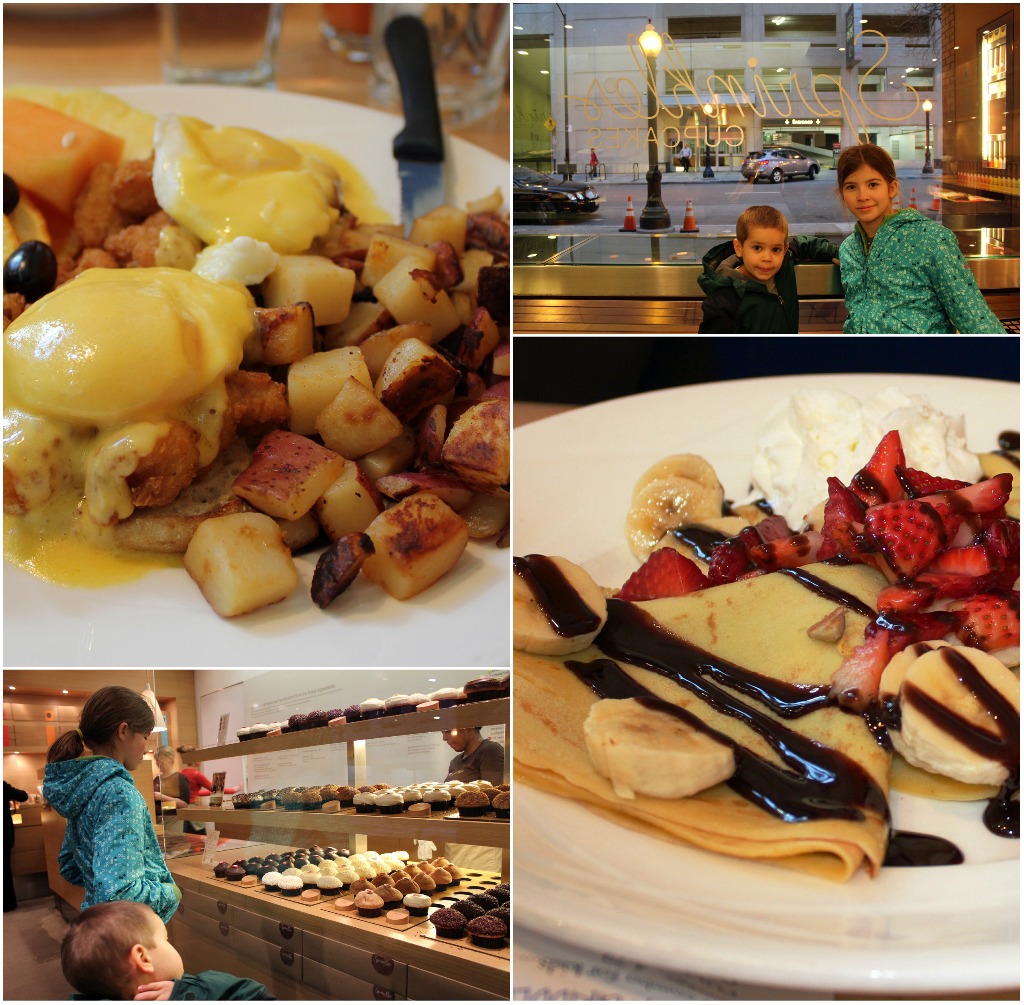 Another day of walking, though we threw in a long double-decker bus tour for downtime.  All sandwiched between breakfast and dessert.  Fried shrimp eggs Benedict and Nutella crepes from Yolk, both amazing but the coffee was honestly the best part.  Dessert was cupcakes from Sprinkles, long on my cupcake wish list.  Good stuff but not my Chicago favorite.  My banana with dark chocolate frosting was more like an over frosted muffin than a cupcake.  Don't get me wrong, I hate it and it was delicious but when it comes to cupcakes I am pretty particular about the cake consistency and the icing to cake ratio.
Our original Spring Break plans fell through awhile back so we decided to use hotel points and stay in the city for a few nights.  It worked out perfectly and we had a great time in our own city (we did a heck of lot more than just eat), something we don't do often enough.  The best part about the change in plan, Spring Break in Chicago doesn't involve a bathing suit.