Baked goods are a challenge when trying to keep carbs to a minimum.  Doing research I keep running across recommendations for coconut flour or almond flour.  I took a trip to Trader Joe's to see what I could find.  They didn't have either one.  The trip was not a total loss, I ran across flaxseed meal and I seemed to recall reading something about that as a possible low carb option.  Checking out the nutrition label I found there was a recipe for muffins.  Bran Flax Muffins, TJs had oat bran and a 100% white wheat flour, so I figured it was worth a try.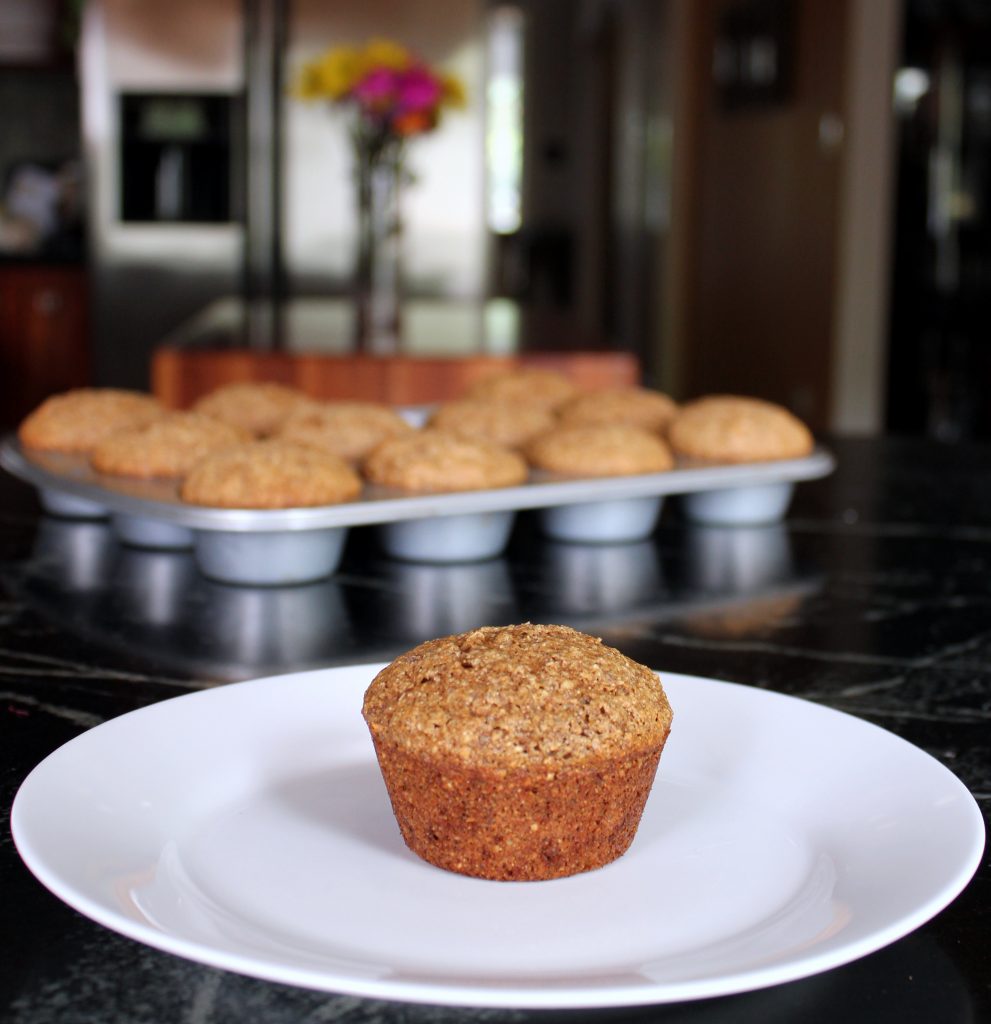 Folks, we have a winner!  I prefer these muffins with my coffee instead of eggs.  Makes a great snack too, snacking is a whole challenge in itself.  According to my calculations (using Livestrong) these are under 200 calories, 5 g fiber, 6 grams protein with a carb count of 34.
The original recipe called for apples, carrots, raisins, and nuts.  I kept it simple and just used grated zucchini in place of all of them to keep the carb and fat count down.  You could add the apple, or even apple sauce, if you don't prefer your more moist texture.
Flax Oat Bran Zucchini Muffins
Author:
Prep time:
Cook time:
Total time:
Ingredients
1 1/2 cups Trader Joe's 100% white whole wheat flour
3/4 cup flaxseed meal
3/4 cup oat bran
1/2 cup Splenda (or sugar)
1/2 cup Splenda brown sugar (or brown Sugar)
2 t. baking soda
1 t. baking powder
2 t. cinnamon
1/4 t. salt
1 large zucchini, grated
2 eggs (or 1/2 cup egg whites)
3/4 cup milk
1 t. vanilla
Instructions
Combine the flour thru salt in bowl, mix well.
Stir in the zucchini, egg, milk, and vanilla until just combined.
Scoop into muffin tin.
Bake 350 degrees for 18 minutes.
I think an addition of some fresh fruit would be great too, maybe blueberries or cherries.  My eating routine is just that, routine, these days.  Friday night pizza carb loading is about exciting as it gets, well that and these muffins.  Enjoy!