Part two of our small plates evening was even better than part one.  I am a little hesitant to tell you about this one, I am back to cauliflower.  Purely an accident, I picked the recipe not realizing it had cauliflower in it.  No worries because this  recipe from Plenty is the best so far.  I present the smoky frittata…
Prep time:
Cook time:
Total time:
Ingredients
1 small cauliflower, cut into medium florets
2 T. olive oil
6 eggs
4 T. crème fraîche
2 T. dijon mustard
2 t. sweet smoked paprika
3 T. chives, finely chopped
5 oz. fresh mozzarella
2 oz. smoked cheddar
salt and pepper
Instructions
Preheat oven to 375 degrees.
Simmer the cauliflower in a large plan of salted boiling water for only 4-5 minutes, until partially cooked. Drain and dry.
Add the eggs to a medium bowl along with the crème fraiche, mustard, paprika, and salt and pepper to taste. Whisk until thoroughly combined.
Mix in chives and ¾ of the cheese.
Heat olive oil in a cast iron skillet over medium-high heat.
Cook until the cauliflower until browned, stir to brown all sides.
Pour the egg mixture over the cauliflower and move cauliflower around to make sure the eggs are incorporated evenly.
Top with remaining cheese and bake until the eggs are set, about 20-25 minutes.
Pretty straight forward.  This was by far my favorite courses, so rich and creamy.  The cauliflower turns light and fluffy, and oh man that smoked flavor from the cheese and paprika.   Yum!  I can not wait to make this one again.  Great make ahead for brunch or light dinner with a salad.  We served it with a mini serving of spicy gazpacho.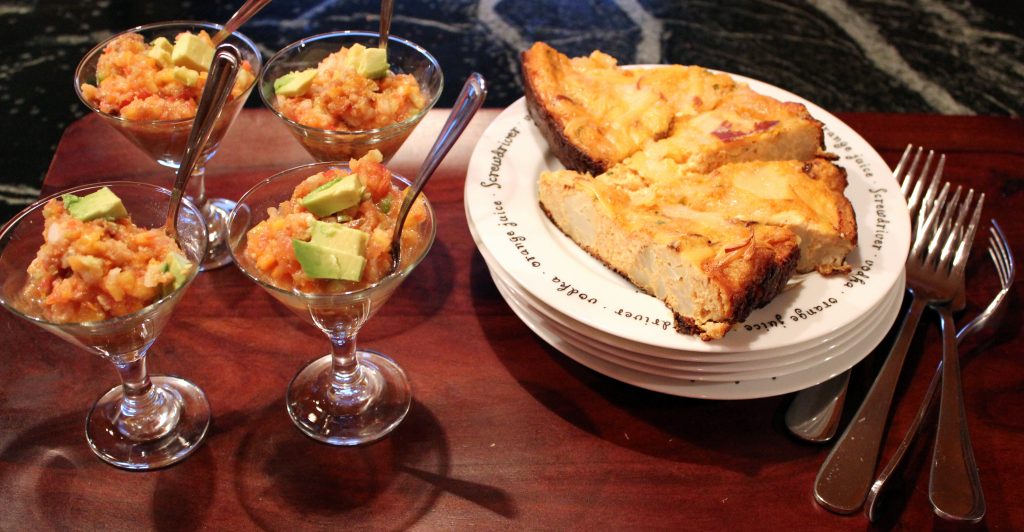 Highly recommend this one, especially now that the heatwave has broken and you bear the oven being on!