Appetizers are an ideal summer meal in my opinion, especially when it is too hot to fire up the grill or be stuck in the kitchen.  Small plates type of meals also give me a chance to try new recipes, besides it leaves you free to enjoy the meal instead of cooking/prepping with the guests there.  It's nice to have friends that are willing to be the guinea pigs.  Lucky for them things turned out delicious.
Of course I love to start with a cheese board, nothing new there.  Prosecco on the side.  Actually I'd love to call this dinner most summer nights.
Then something new, Burnt Eggplant with Tahini from Plenty by Yotam Ottolenghi.  A bit more adventurous than the first recipe I tried from this book.  I actually had a hard time deciding on the recipe I wanted to try, there are so many good-looking ones.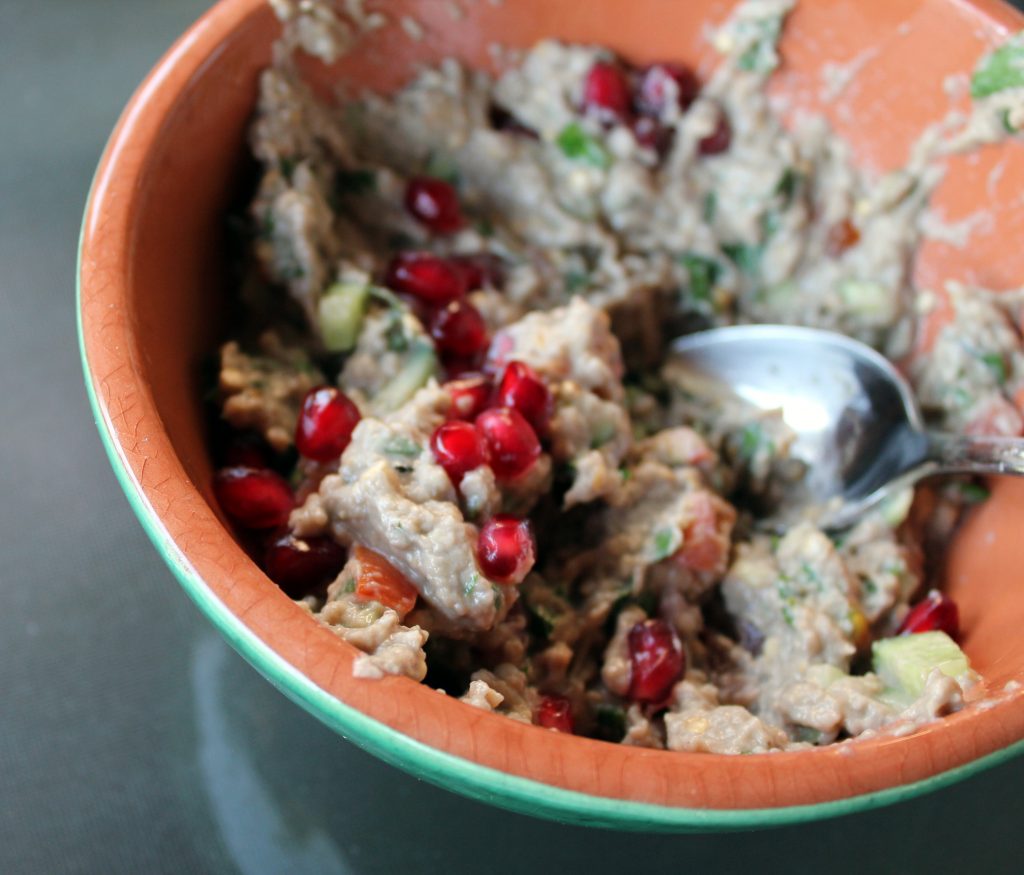 | | | |
| --- | --- | --- |
| Burnt Eggplant with Tahini | | |
Total time:
2 hours 30 mins
Ingredients
1 large eggplant
1/3 cup tahini paste
1/4 cup water
2 tsp pomegranate molasses*
1 tbsp lemon juice
1 garlic clove, crushed
3 tbsp chopped parsley
salt and black pepper
1/2 cup cucumbers, diced
1/2 cup tomatoes, diced
pomegranate seeds
Instructions
First, burn the eggplant. Place eggplant on foil lined pan and cook under high broiler for an hour. Turn every 15 mins. Skin should be charred and flesh soft. Keep an eye on it so they do not ignite. Remove from oven to cool.
Once eggplant is cool remove flesh and chop (avoid the charred skin) and put in large bowl.
Add the tahini, water, pomegranate molasses, lemon juice, garlic, parsley and some salt and pepper to the eggplant and mix well.
Stir in the cucumber and tomatoes.
Serve with fresh vegetables and pita bread.
Notes
* I reduced pomegranate juice until it was a thick syrup and used that in place of the pomegranate molasses.
This was great as a dip, tangy with a touch of sweet from the pomegranate. The charred eggplant adds a hint of smoky flavor.  I think it would also be great as a main course veggie sandwich.  Top it with some thick sliced tomatoes, cucumbers, arugula, and feta cheese.  Oh or put all those toppings on a grilled pizza crust.
This wasn't even the half of what we enjoyed, but one of the highlights.