Happy Tuesday, slowly getting to Friday.  So I got a new toy for Christmas…

I guess I was good this year.  Good enough anyway!  Love the color, it is perfect in our kitchen.  I especially love the weight of the cast iron, and the coating.  I broke it in almost immediately for Biz's simply crusty bread recipe, I have been been dying to make it.    Delicious and easy as can be to make.  Nice crisp crust, dense but tender middle, near perfect and worth every carb!  No surprise it is one of her most popular recipes this past year.  I didn't get any good pics of it, you'll have to check out Biz's.
Last weekend I had some time on my hands and decided to try break it out my new pot again, this time for slow cooked broccoli.
It couldn't be easier to make.  Olive oil, broccoli, garlic, crushed red pepper and salt.  It is actually very similar to the spicy garlic oil I make and serve over broccoli.  This is a shortcut version of that dish.  The final product won't win any beauty contest but it wins in the flavor category.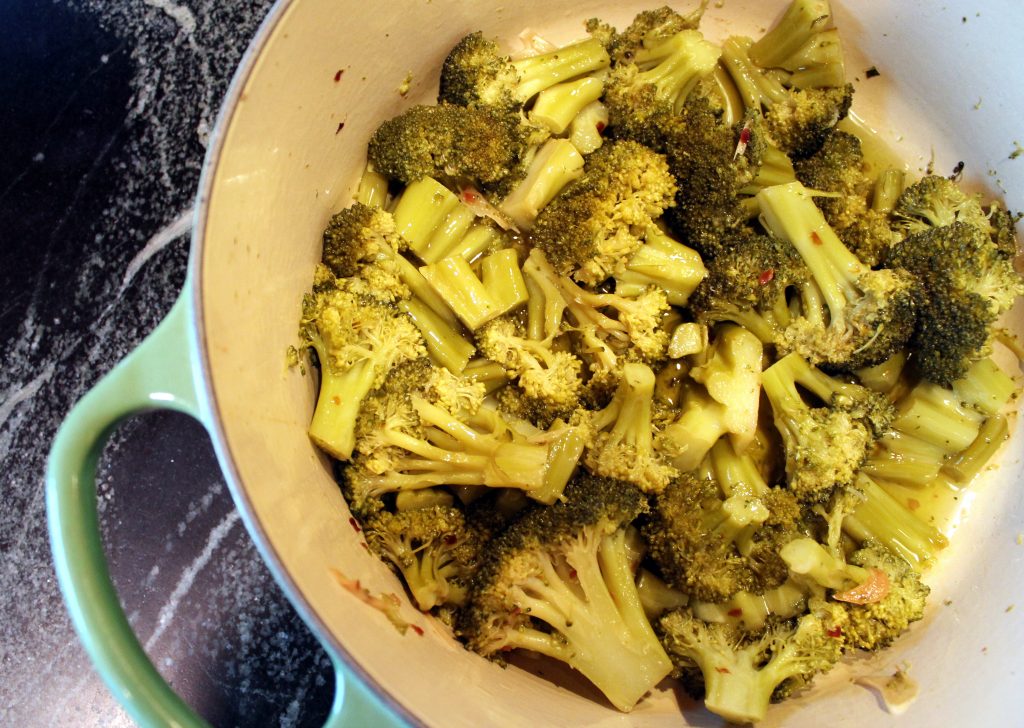 It cooks in the oven for two hours, which keeps the broccoli soft yet still firm enough to be served as a side without falling apart.  Cook it a bit longer and you can spread it on crusty bread as an appetizer.  It is good hot out of the oven or cold as leftovers in a salad.
Slow Cooked Broccoli
Author:
Prep time: 10 mins
Cook time: 2 hours
Total time: 2 hours 10 mins
Ingredients
2 heads of broccoli
1 cup Olive Oil
3 cloves garlic, sliced thinly
1 t. crushed red pepper
1/2 t. – 1 t. kosher salt
Instructions
Heat oven to 200 degrees F.
Cut heads of broccoli, and slice stems.
Place olive oil and garlic in an oven proof pot.
Heat until garlic begins to bubble/make noise. Turn off heat.
Stir in crushed red pepper, salt, and broccoli. Stir to coat.
Cover pot and place in oven for 2 hours.
3.1.09