August. It is August already. There are so many things on my summer list of things to do that still need checking off! Time to start fitting it all in, up first the farmer's market. I have not been to a farmer's market all summer. This summer we did not even sign up for a CSA. I miss all the fresh produce. Last year we subscribed to a local CSA, but she lost her "city" plot to political BS and has since moved to greener pastures. At any rate, I had already decided not to subscribe to a CSA this year, we were scheduled to be out of town a lot so I did not want the veggies piling up and feeling like a chore. No doubt contributes to not cooking too much up in the kitchen lately.
Last week I had a date with my friend to go to the farmer's market and do lunch. We'd both been curious about he farmer's market at the Veteran's hospital a few towns over. We headed over there and were surprised to see that the hospital is just one small part of larger campus, it is like a town in itself. It was actually quite beautiful. The only complaint, not one single parking spot to be found, anywhere. And then when we passed the market we had to laugh because it was just a few tables. We ended up parking illegally and hoping for the best. The market was small, but full of great stuff, including fresh grilled corn on the cob. Bonus, Purple Leaf Farms had a table (our former CSA). I picked up peaches, plum tomatoes, pickling cucumbers, dill, fresh flowers, and an O'Henry oatmeal bar for the littlest. On the agenda, pickles. Grilled pickles to be exact!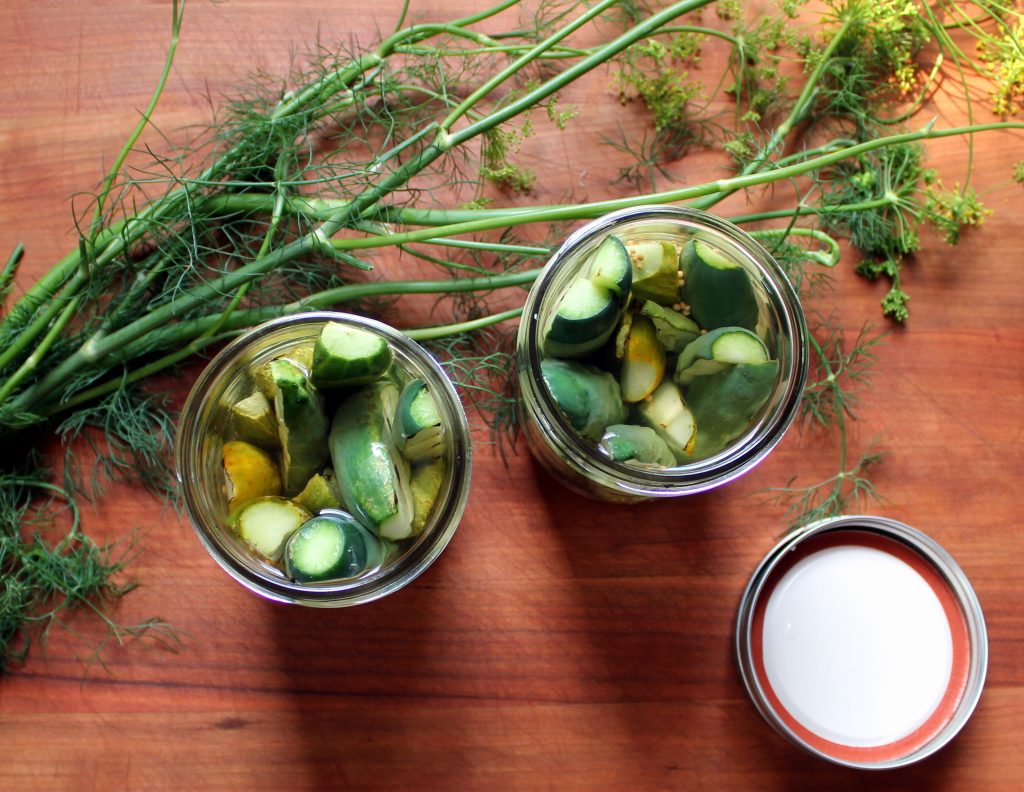 I love dill. I love pickles. So I hit the jackpot at the market. I grilled the red onions and the pickling cucumbers and made a quick pickle.
Grilled Pickles
Author:
Prep time:
Cook time:
Total time:
Ingredients
1 pint pickling cucumbers
1/2 red onion
6 sprigs fresh dill
4 cloves garlic, sliced thinly
1/2 t. mustard seeds
3/4 cup white vinegar
1 cup water
1/2 T. sugar
1/2 t. kosher salt
Instructions
Half or quarter cucumbers (depending on size).
Slice onions in think slices.
Grill cucumbers and onions.
In two pint jars, pack cucumbers, onions, dill, and garlic.
In heavy saucepan combine vinegar, water, and sugar, and salt. Bring to boil and cook until sugar and salt are dissolved.
Pour hot liquid into jars, cover cucumbers with liquid.
Let cool and seal.
Store in fridge up to 1 week.
Well, when in Rome…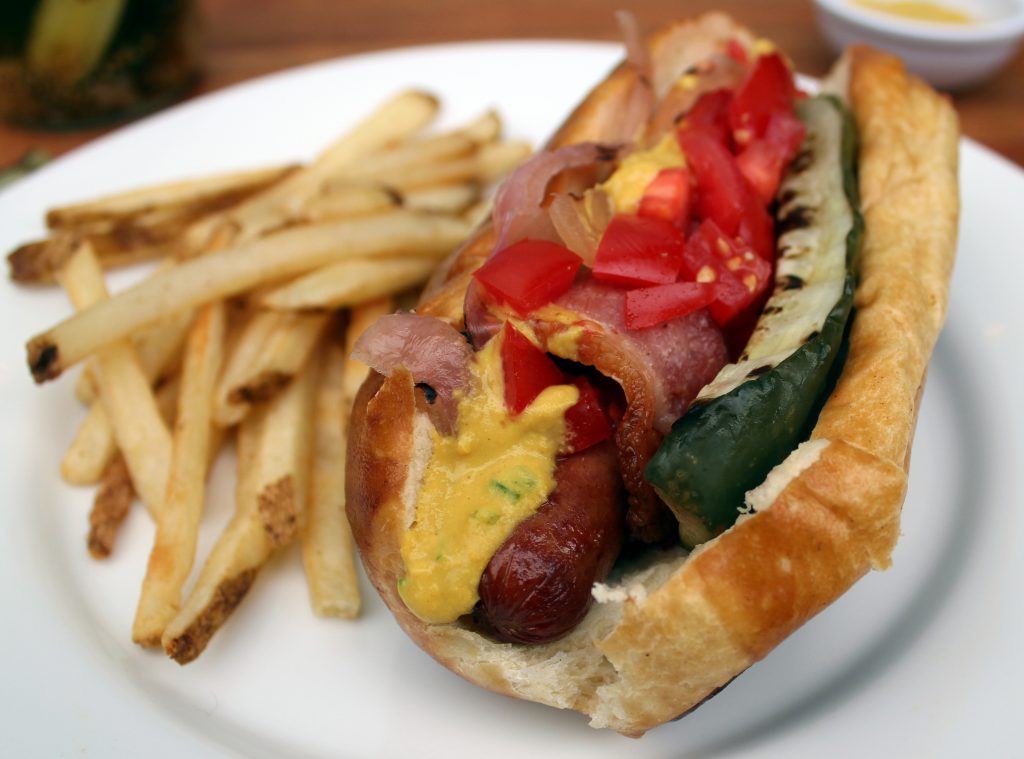 Chicago in my case, you put pickles on a hot dog. A bacon wrapped hot dog. With jalapeno mustard, chopped tomatoes seasoned with celery salt, and pickled grilled red onions. All served on a pretzel bun. Sometimes you just have to indulge.
Though my son chose to eat it plain. Plain as in just wrapped in bacon. This meal is likely my daughter's worst nightmare. She hates bacon and hot dogs, needless to say she is out east visiting with cousins for the week. Maybe THEY can talk some sense into her.
I mean, because this meal was pretty awesome. Though the mustard could have been spicier. It was 3 parts yellow mustard, 1 part Dijon mustard, and a chopped jalapeño. The jalapeño failed to bring the full heat, even though I of course scorched my eye after touching it shortly after dicing the jalapeño. No matter, the pickles were the star partner. Crunchy and tart, they were perfect for a quick pickle, the grilling helps make them the perfect texture. The flavor was right on, but next time I will add some heat. Maybe some grilled jalapeños or crushed red pepper. Luckily they are quick pickles, and as the name suggests they can be enjoyed quickly.