The past few summers we have been members of a community supported agriculture (CSA) and have loved getting our vegetables that way.  The first one we belonged to stop servicing our area after two summers we tried a new one last summer.  The one we used last summer delivered huge quantities, which is great but it became a bit overwhelming.    When it came time to sign up again this year I missed the deadline for the discount and ultimately decided to hold off signing up until the fall.  I knew it was going to be a busy summer and I didn't want to risk stuff going to waste or feel like it was a chore.
Well a few weeks ago I saw info on a new local CSA, very local as the farm is in the next town.  Who knew , a farm in suburbia.  I signed up right away and it started last Friday night.  I picked up the first week's goodies at farmer's market, not only did I get vegetables and herbs, but also fresh-cut flowers.  Nice touch!
This week's basket included a big bag or arugula, lemon basil, cucumbers, squash, and broccoli rabe. The lemon basil smells amazing and was perfect in my happy hour lemonade. I made a simple syrup with it to sock in the freezer.
Broccoli rabe is new ingredient for me so I can't wait to give that a try. We have been eating a lot of arugula lately so it will definitely go to good use.
Actually, I had just bought a huge bunch earlier in the day.  This batch from the CSA was so much better, so peppery.  I wanted to make something with it and use the store-bought for salad.  Figured pesto was a good bet to top pizza later in the week and to freeze for later.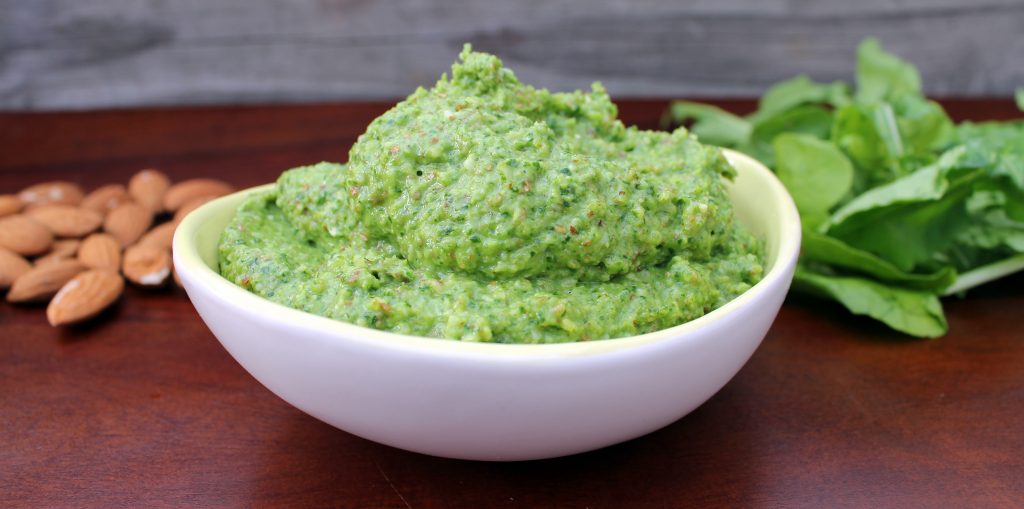 Prep time:
Cook time:
Total time:
Ingredients
6 garlic cloves
¾ C. almonds, toasted
3 C. arugula
2 oz. Parmigiano-Reggiano, grated
¼ t. salt
juice from ½ lemon
½ C. olive oil
Instructions
With the blade a food processor running, drop in garlic cloves.
Turn off processor and scrap sides. Add almonds, processes until finely chopped.
Add arugula, cheese, salt, and lemon juice to processor bowl and process until combined. Drizzle in olive oil while processor is running, blend until desired consistency.
Add more oil if needed. Season to taste.
Pesto was a good option, one container in the fridge and two in the freezer.  I prefer the richness of the almonds over pine nut or walnuts, they work well with the peppery bitterness of the arugula.  No, what to do with the broccoli rabe?