It was all apples and pumpkins this past weekend. Fall must be close, it is my favorite time of year! Pumpkin waffles with cinnamon sugar butter, pumpkin beer, grilled cheese and apple, pumpkin cupcakes with Nutella buttercream and salted butterscotch, warm caramel apple cider, farmers market donuts. It was out first trip the farmers market this year, Fall is the best time to go. We got donuts and flavored butters, ya know all the best stuff grown on farms. The main purpose (beside the donuts) was to get some honey crisp apples, my all-time favorite! We also brought home some red Swiss chard.
We had a rare weekend of nothing planned, and man were we looking forward to it. It gave us some much needed time just hanging out, getting stuff done, and enjoying some time to cook and enjoy a great meal. We brined pork chops for the first time, our first experience with a brine actually. For some reason I thought a brine was complicated. Could not have been more wrong. Basically dissolve equal amounts of salt and sugar in boiling water, add seasonings of choice (I used garlic cloves, peppercorns, herbs, mustard seeds), add in some ice cubes to cool the mixture down. Once cool, poor it over the meat to cover and park it in the fridge over night. Rinse the meat well before cooking. We grilled the chops, and they were tender and delicious. A little on the salty side, but tasted just right to me.
When our friends visited last month they brought us a basket of goodies, one of the items was a cookbook, An Apple a Day. It has an apple recipe for every day, some great recipes in there. I've had it on the counter waiting to make some of the recipes. I got to two of them, actually three since the grilled cheese was in there too, this weekend. red Swiss chard with apples was one of them and it went really well with the brined grilled pork chops.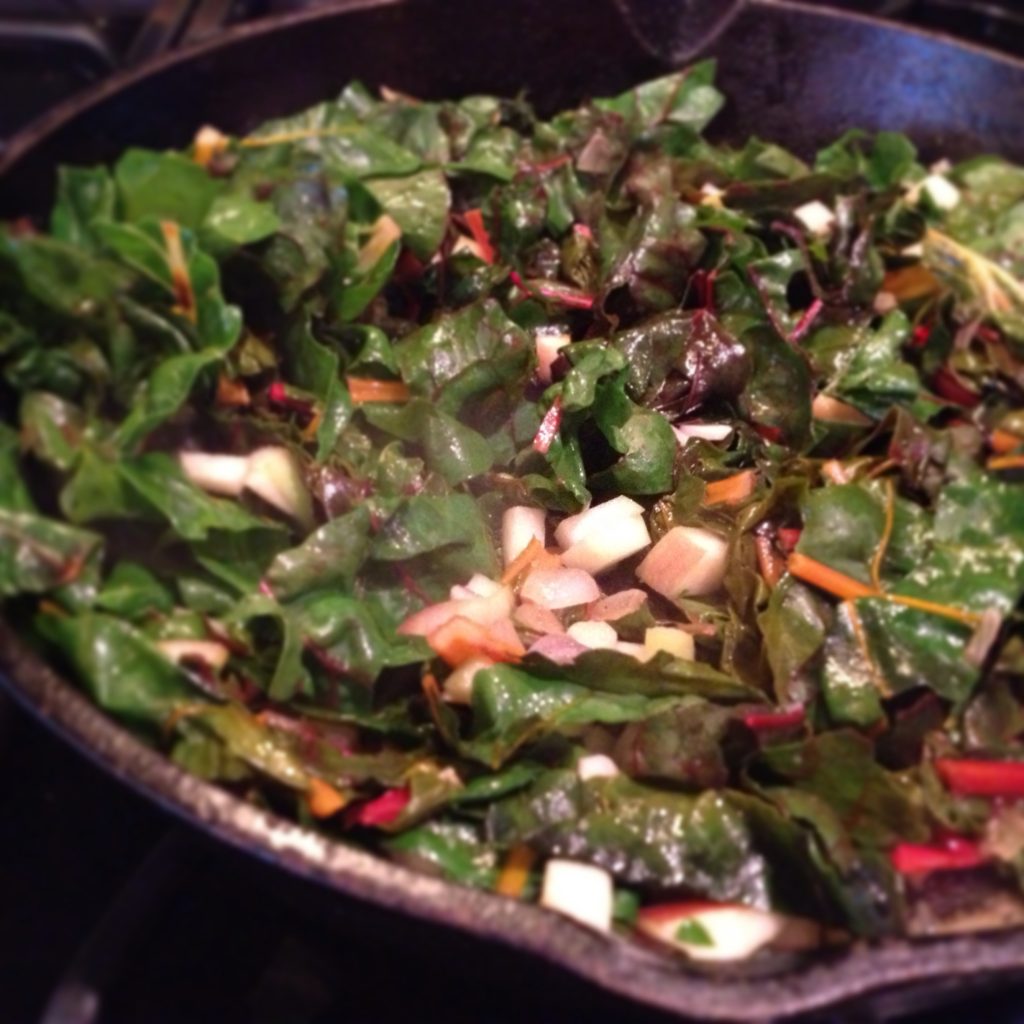 Red Swiss Chard with Apples
Author:
Prep time:
Cook time:
Total time:
Ingredients
1 Tbls. olive oil
2 garlic cloves, diced
1 apple, diced
6 cups red Swiss chard, sliced in strips
2 T. apple cider vinegar
1/2 tsp. salt
1 tsp. pepper
Instructions
Heat oil in a large skillet over medium-high heat.
Add garlic and stir constantly, until fragrant.
Add the apples and stir to coat, cook about 1 minute.
Add red Swiss chard, stir to coat.
Add vinegar, salt, and pepper.
Cover and cook for about 10 minutes.
Vinegar and greens go hand in hand! The acid cuts the bitterness and the apple adds just a touch of sweetness. This recipe made me miss having a CSA, we always got such great vegetables in the fall. I ran across a great recipe for pork shoulder cooked in apple cider, can't wait to give that a try this weekend. Hopefully with an apple dessert from my new cookbook.