Making dinner is hard work.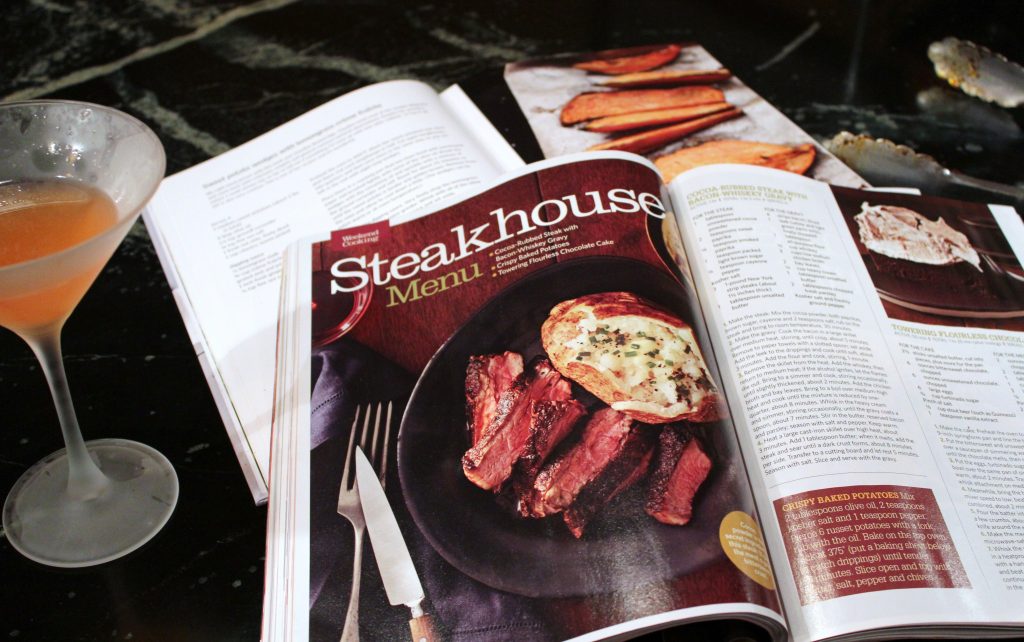 Lucky for me I had a fresh squeezed blood orange cocktail sustenance — 2 parts blood orange juice, 2 parts Tequila, 1 part Aperol.  Fresh and bright, a delicious cooking companion.
On the menu this night was cocoa rubbed steak and sweet potato wedges with lemongrass dipping sauce.  My husband got me the Food Network magazine for Christmas.  Over the past few years I've let most of my magazine subscriptions run out.  I was looking forward to this one arriving, it took a few months but it finally arrived.  No surprise the February issue was all about chocolate.  The cocoa rubbed steak recipe had me at cocoa!  I didn't have a number of the ingredients so I just winged it with what I had…
Prep time:
1 hour 10 mins
Total time:
1 hour 26 mins
Ingredients
1 T. unsweetened cocoa powder
1 t. packed light brown sugar
2 t. smoked paprika
1/4 t. cayenne pepper
1/4 t. chipotle pepper
Kosher salt
2 Ribeye steaks (about 1 1/2 inches thick)
1 T. unsalted butter
Instructions
Combine cocoa, brown sugar, paprika, cayenne, and chipotle.
Pat steak dry and rub mixture on steak to coat. Top with kosher salt to taste.
Place steak in fridge for at least 1 hour (mine sat for 8 hours).
Heat a grill pan, melt butter and grill steak about 8 mins per side (depending on personal taste).
Oh my goodness was this good.  By far the best way I have made steak to date. The cocoa and heat from chipotle make an amazing combination of savory and heat.  DELICIOUS!  Helps to use butter when grilling too, what isn't better with a little butter.
Love my cast iron grilling pan from the camping department at Sport Authority.  Grilled to perfection!