I've been intrigued by the food swap movement for the past year.  I was so happy when a few local foodies established the Chicago Food Swap, and bonus it was so close to home.  I attended the first swap and came home with lots of goodies.  Gosh, that was last year, so I was glad to attend another swap this past weekend.
For those not familiar with a food swap, you bring your homemade goodies and trade them for other people's homemade goodies.  The bulk of goods traded are canned, and as much I has have been canning over the past year, canning still makes me nervous and I am still not comfortable passing them off to strangers.  Or friends or family for that matter.  I have learned a ton  about canning, but HELLO botulism is no gift.  Maybe next time I will feel brave enough.
One of my all time favorite food blogs is Food in Jars, I mean the name alone come on!  Food in jars, drinks in jars, who doesn't love jars.  We grew up drinking out of mason jars, jelly jars, whatever.  My parents were always ahead of the trend. Anyway, Food in Jars focusing on making the most of what you have in season and canning and preserving it for enjoyment year round.  There is also an accompanying photo group to highlight readers photos and offers lots of preserving inspiration.  There is also a sister site that is a photo view of daily life, love this site too.  I felt like a rock start when my photo was featured (now my header photo).  My point?  Well, the women behind these blogs, Marisa McClellan, was at this months food swap!  And she was signing her awesome book with the same title of her blog, Food in Jars.  Tons of excitement for a rainy Sunday!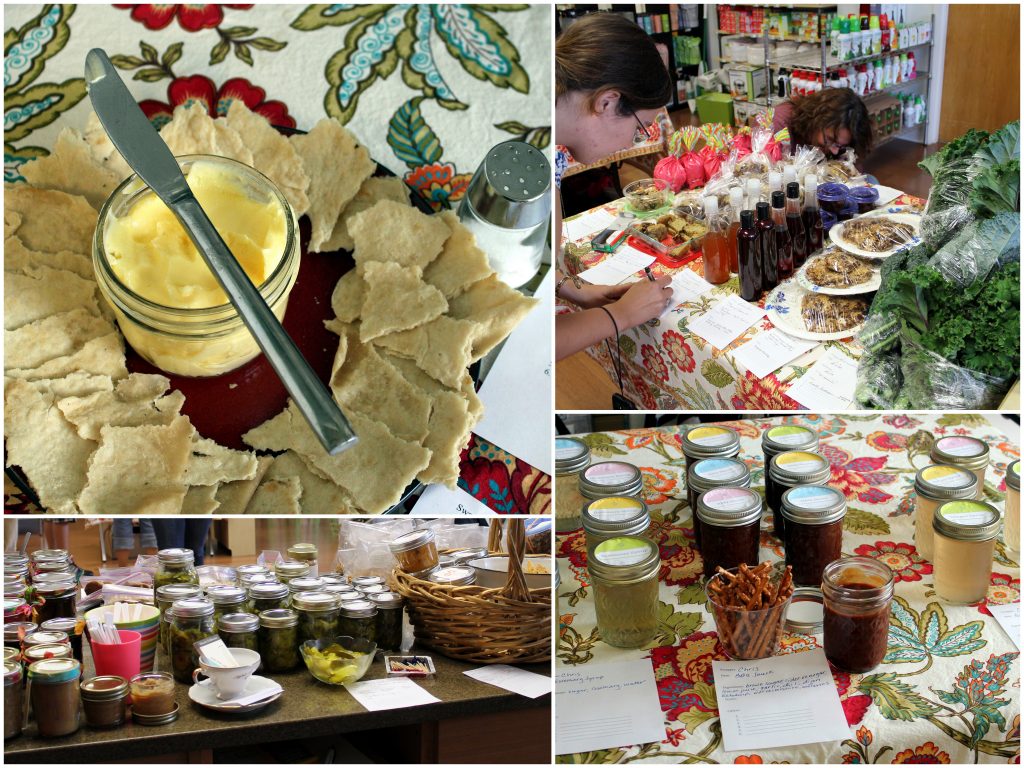 An abundance of creative tasty treats available to choose from; bbq sauce, butter, buttermilk, tortillas, baked goods aplenty, dill pickles, bread and butter pickles, bread, mustard, truffles,  homegrown kale, pickled cherries, pickled grapes, fruit butters, syrups, the list goes on and on.  My offerings were bourbon soaked cherries and charred chile oil.  I brought tasters of each.
Trouble is the swap is a two-way street, and the two items I really had my eye on (chocolate chunk cookies and banana rum butter) didn't come home with me.  No worries, I brought home lots of homemade goodies this weekend with minimal effort, bonus of attending a food swap.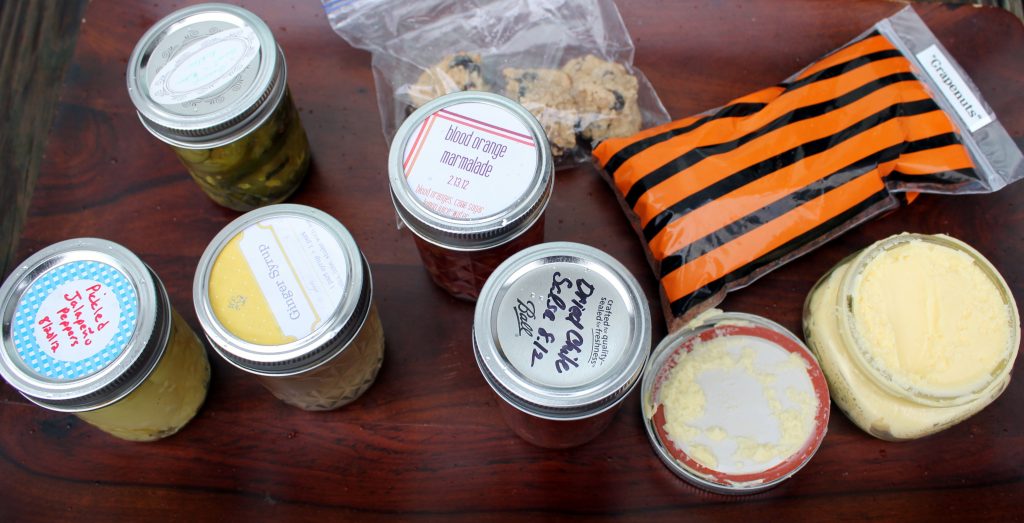 Pickled jalapeno, ginger syrup (had to get this again), bread and butter pickles, oatmeal raisin cookies, blood orange marmalade, dried chile salsa, grape nuts, and unsalted butter.  The butter was taste test by the family about 2 nanoseconds after walking in the door.  So good, by far my favorite item!!!  Homemade grape nuts, genius!  This was a favorite cereal in our house growing up.  My breakfast this week has been plain yogurt, blood orange marmalade, and a few scoops of grape nuts.  Delicious and inspirational.  Definitely lots of new recipes to try.