Appetizers, my favorite meal of all.  Seriously, I could live on them for every meal of the day.  But I always struggle with deciding that perfect appetizer to make, especially when bring it so someone's house.  Aiming for something that goes with the meal being served, is not too filling, and that everyone will like. Yes, I have a ton of cookbooks and the never-ending rabbit hole of the  internet, but still spend way to much time and energy deciding. I had three to make this weekend, I do love a challenge though.
Saturday was chilly so I narrowed the options to something served warm.  After looking over a few options I went with a one I have made before and really like.  The recipe calls for the dip to be served up fondue style, but I baked it and it was just as good. Serve with crackers and celery sticks.
Blue Cheese Dip with Smoked Almonds
Author:
Prep time:
Cook time:
Total time:
Ingredients
8 oz reduced fat cream cheese, room temp
4 oz blue cheese, room temp
1 clove garlic, minced
1/4 cup milk
4 slices bacon
few dashes hot sauce (to taste)
2 Tbls. chives, chopped
4 Tbls smoked almonds, chopped
Instructions
With a blender, combine cheeses until smooth. Blend in garlic, milk, bacon and hot sauce.
Transfer mixture to ovenproof dish. Top with chive and almonds.
Bake in oven heated to 350 degrees for 20 minutes.
Sunday, a bit warmer, appetizer two.  Cheese it is!  Using a lot of the ingredients I already had on-hand.  This this a cheese ball that was both spicy and sweet, flavor it to your liking. This is a great recipe to use up those little bits of jelly/jam/preserves hanging out in the fridge.  I used the remaining habanero rosemary jam Leah made. Served it up with some carbs and low-carb options, cucumbers (and in season tomato slices) make a great cracker alternative, and celery is a great conduit for any dip/spread.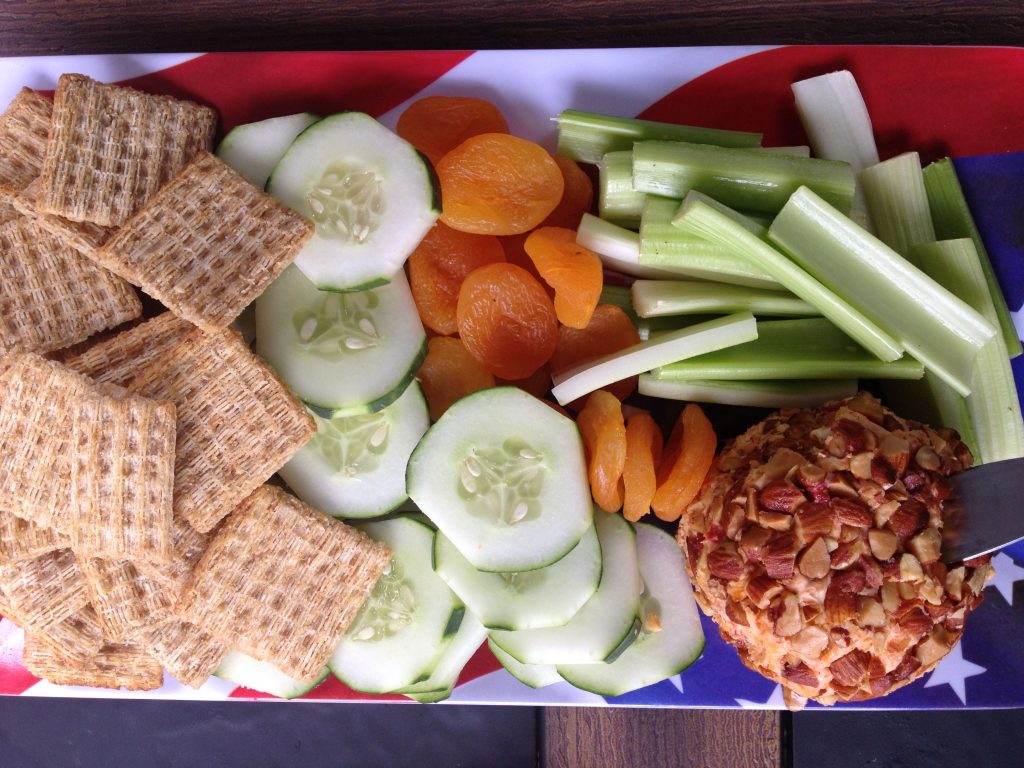 Spicy Cheddar Cheese Ball
Author:
Prep time:
Total time:
Ingredients
8 ounces extra sharp cheddar cheese, finely shredded
8 ounce package reduced-fat cream cheese, room temp
2 ounce jar diced pimento, rinsed, drained and patted dry
3 Tbls. jalapeño jelly (or any spicy preserve on hand)
1 Tbls. milk
1/2 tsp. Worcestershire sauce
1/4 teaspoon hot sauce (or to taste)
4 slices bacon, crisp cooked and crumbled
1/2 cup smoked almonds, chopped
Instructions
Using a mixer, blend to combine cheddar and cream cheese, pimento, jelly, milk, Worcestershire, hot pepper sauce and bacon. Beat on medium speed until almost smooth.
Cover and chill cheese mixture for 2 hours or until easy to handle. Divide into portions (can make two medium cheese balls or one large); on waxed paper shape into balls. Roll in almonds to coat. Cover and chill until ready to serve.
Long weekend, yea! I ran across this roasted red pepper and artichoke tapenade recipe on Pinterest, I like that is what a bit lighter than the above cheese options.  Besides it was another opportunity to use the preserved lemons, I substituted a slice of preserved lemon for the lemon juice.  Could not be easier to make and was a nice light starter.
This makes a great spread, or pour it over goat cheese and bake it, stir into rice or pasta, and I think it would make an amazing pizza topping covered lightly with asiago cheese. That pizza is my next challenge, and to make a list of go-to appetizers!