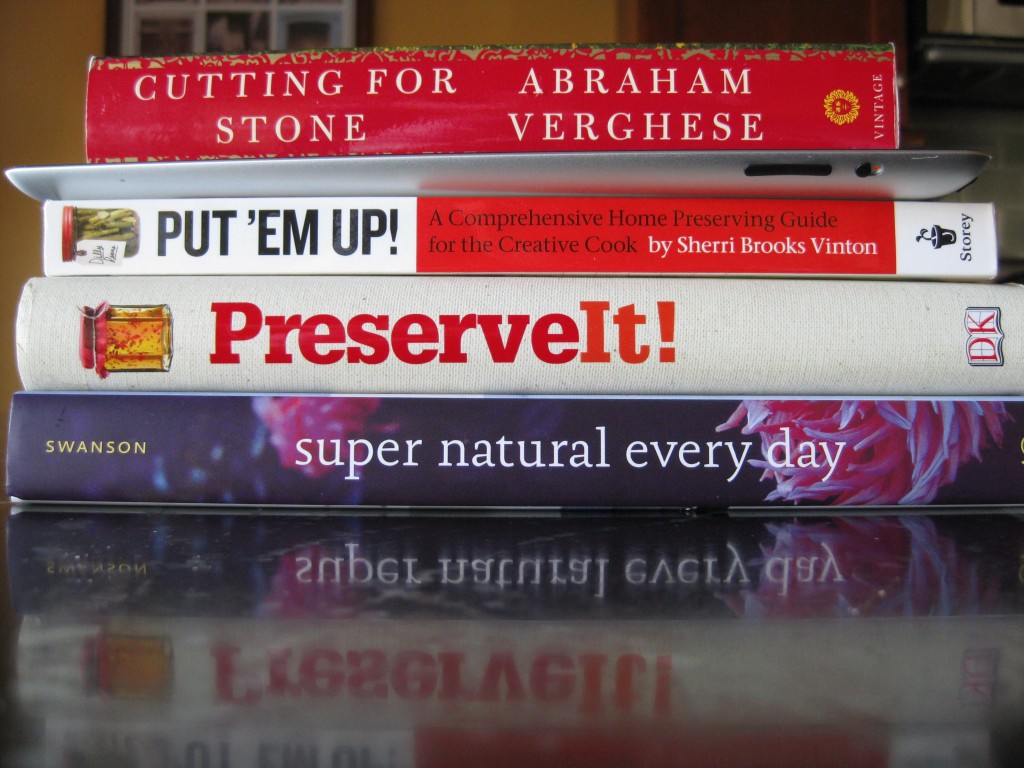 Not much reading happening with me these days. Even the long flight to and from Ireland were spent watching movies.  I suffered through Cutting for Stone a bit more, even got the audio version from the library.  I just could not commit the time, I will have to have someone in book club tell me how it ended.
Cookbooks, now that is more my pace lately.  My friend let me borrow two book on preserving that I spotted while I was snooping around her house at her son's birthday party.  She kindly overlooked that and let me borrow them, I did pay her in whoopie pie so I'd say we are even.  I also bought another cookbook, not that I needed one.  I'd had my eye on this one for awhile and on impulse I bought it, it was inexpensive and I thought it would be helpful with CSA season starting.
Super Natural Every Day by Heidi Swanson is already one of my favorite cookbooks.  The recipes are straightforward, the pictures are amazing, and it is a great book to just read and enjoy.  Great purchase!  I have been a huge fan of her blog 101 Cookbooks for a long time so I knew I would like it, but it exceeded my expectations.  I've already made a recipe from the book for our cheese tray dinner, a dip using quince paste, garlic, yogurt and lemon juice.  It was a good way to use up some quince paste I've had hanging in the fridge and the kids loved it.  I also made a spinach and goat cheese strata for Easter.
I recently got an iPad 2 and I am still discovering how and why I want to use it.  Very slow process since I don't have much time to mess around with it.  My first experiment is as using it as an eReader.  I love books, I mean physical books, I really had no interest in buying an eReader.  Sure I get the advantages, like having 50 books loaded on it.  Um great, but I tend to read one book at a time.  And I love to go to the bookstore and library and discover new books.  Browsing in the Kindle store at Amazon is just not the same experience.  Whatever, I am giving it a try.
For a true test I figured I had to rule out blaming the content, so I bought Tina Fey's new book, Bossypants.  I loved this book.  In fact, I think it may be one of the best business books I have read.  Seriously.  And Yes, I know it is not a business book.  I think twenty and thirty somethings will relate to the advice in the book from her perspective.  She takes lessons from improv and applies them to her career and her life.  They totally work.  Anyway, I think she may be a sibling I was unaware of, could be possible with six of us.  She has the same father I do, right down to the ability to wear a hat and a seersucker suit.  I'll admit the fact Fey says this in the in the first five page may have sealed my decision on the book.
Maybe you bought this book because you love Sarah Pain and you want to find reasons to hate me.  We've got that!  I use all kinds of elitist words like "impervious" and "torpor", and I think gay people are just as good at watching their kids play hockey as straight people.
Awesome.  Though make no assumptions while I am not a fan of Palin in the political spotlight, they have little to do with her politics.  Stories for another day.  Needless to say, my opinions of reading a book on the iPad were not tainted by bad content.  The jury is still out on eReader vs. book in my life but I highly recommend Bossypants.
Tonight is book club, this month's pick is The Talent Code by Daniel Coyle which I read last year.  I didn't do a full read but did skim it again.  I am excited to hear everyone else's opinion.