The fresh tomatoes in the CSA box of course make me so happy but so does getting lettuce again.
Juliet Tomatoes
Slicing Tomatoes
Specialty Tomatoes
Eggplant
Hot Peppers
Lettuce
Basil
Nothing going to waste this week.  The tomatoes and peppers were of course used in the peach and pepper recipes, any leftover tomatoes along with the basil made a great tomato pie for a quick dinner.  Any dinner with pie in the name the kids love eating.
Eggplants were the highlight again this week.  There were two small eggplants, one went into  eggplant and turkey taco meat.  I used this recipe swapping the turkey in for Chorizo, also omitted the hominy and added in some taco seasoning.  The eggplant blends right into the turkey meat and the kids didn't even catch it was in there.  It was great as taco salad with the fresh peach salsa.  The other eggplant, along with some of the remaining basil was great in this spicy side dish.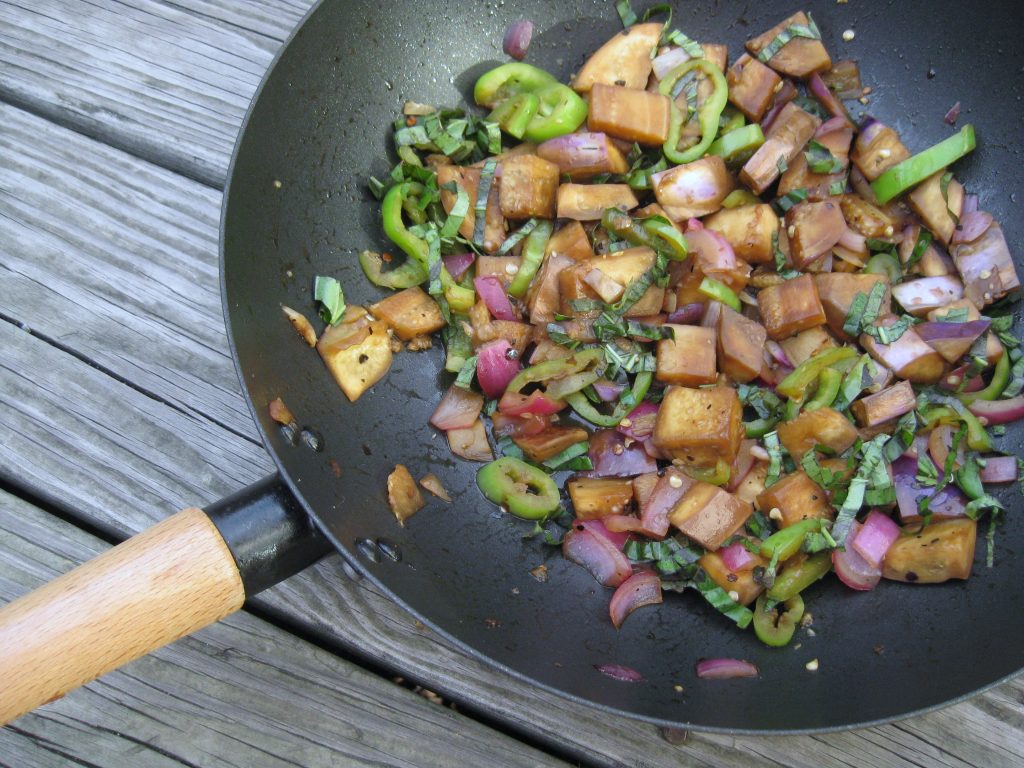 Ingredients
1 T. peanut oil
1/2 t. crushed red pepper, or to taste
1 eggplant, cubed into bite-sized chunks
1 small onion, diced
1 bell pepper, seeded and diced
2 cloves garlic, finely chopped
1 T. white vinegar
2 T. soy sauce
1 T. dark brown sugar
10 basil leaves, shredded
Instructions
Heat a wok or heavy bottom pan over high heat.
Add oil and crushed red pepper, and let sizzle 15 seconds.
Add eggplant and stir-fry for 3 minutes.
Add onion, bell pepper and garlic, and stir-fry for 3 minutes.
Add vinegar, soy sauce, and brown sugar. Stir and cook about 2 minutes.
Remove pan from heat and add basil leaves.
Notes
This is so fast and easy to throw together. Great as a side dish or over rice/noodles for a entree.
Recipe adapted from Vegetarian Times
This was so good and a great way to use up random vegetables.  I actually used a large green mild pepper, you could really throw in whatever you have and cook to the doneness you prefer.  I like it on the crispy side.  We ate it along side pork chops (glazed with the peach pepper jelly).  I mixed the little bit we had leftover with the little bit of leftover eggplant and turkey taco meat and ate it on top of a lettuce for lunch.  Spicy is so satisfying!