Breakfast, yes breakfast again.  Honestly I find cooking quinoa to be a pain in the arse.   I inevitably get the little grains all over the place.  Probably just me.  Here is my latest breakfast creation my goal to incorporate quinoa for a meat/egg free protein boost.   Another breakfast with grains.  I had some spare almond milk from the lemon oatmeal ricotta  pancakes so I figured I would use that as the liquid for a nutty breakfast quinoa.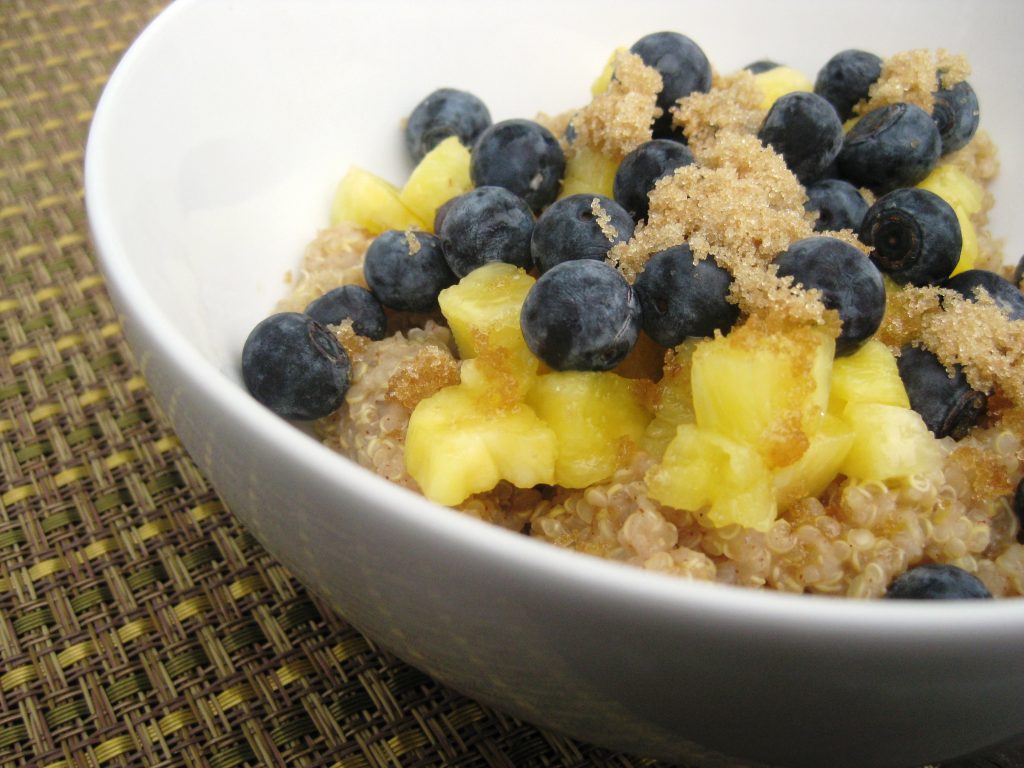 Breakfast Quinoa
Author:
Prep time:
Cook time:
Total time:
Ingredients
1 c. quinoa, rinsed
1 c. almond milk
1 c. water
1/2 t. cinnamon
1 1/3 c. blueberries
1 1/3 c. pineapple
4 t. brown sugar
Instructions
Combine quinoa, milk and water in a pot with a lid. Bring to a boil. Lower heat and cover the pot, simmer for 15 – 20 minutes until most of the liquid is absorbed.
Turn off heat stir in cinnamon and let sit for about 5 minutes.
Top each serving with blueberries, pineapple and brown sugar.
Pineapple and blueberry is my current favorite fruit combination, but obviously any fruit combination would work.  Strawberries and banana, kiwis and mango, peaches, whatever strikes your fancy (or is on sale).  I was planning to top this all off with some sliced almonds but turned out we did not have any.
The serving size is very generous and is filling (my number one criteria in breakfast) but not heavy.  The almond milk adds a touch of richness, the brown sugar a light sweetness.  This is a good option for a make ahead work day breakfast because it can be eaten, hot cold or room temp.
I am sending this off to BSI Breakfast, look forward to the recap on Monday for even more new breakfast options.  In the meantime, anyone have tricks for rinsing quinoa easier?
Shared on Tasty Tuesday